If you had asked Su-Jin Lee as a young girl what she wanted to be when she grew up, she would have said "a lawyer . . . and work at Disneyland," Lee laughs. "I wanted to help others and to be a part of something magical and inspiring." Now a vice president and general counsel at media and technology sensation PopSugar, Lee has the magic and inspiration she asked for.
When Lee was first starting out in her career, however, she wasn't always sure that the law field would provide what she was looking for. After graduating from law school, Lee found herself in Silicon Valley, working with venture capital firms, tech start-ups, data analytics companies, and more. But one particular experience from her time in the Valley stands out in Lee's mind.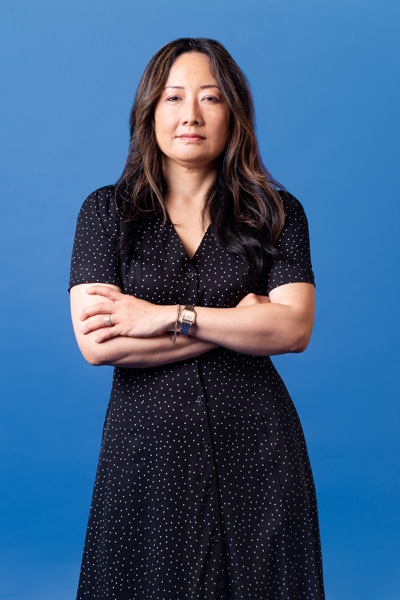 In her first year at Wilson Sonsini Goodrich & Rosati, Lee was invited to sit in on an initial client intake meeting along with a few other partners and associates. "I remember it like it was yesterday—we walked into a conference room, and one of the founders of the company jokingly said, 'Here come the lawyers, where our dreams go to die.' And, of course, everyone laughed," she recalls. "But I never forgot it, because I didn't want to be that kind of lawyer."
Rather, Lee says, what excited her about the legal industry and the clients she worked with was the creativity involved: the teams that drove innovation and helped build products and services that in many cases were changing people's lives. "Now, at PopSugar, I am surrounded by some of the most actively creative people, people who inspire other women around the world," Lee offers. "I am very proud that I am part of that team."
PopSugar is far more than a media publisher. "We're a leading digital brand for women globally. In the past few years, our focus has been on revenue diversification, which has led us to create more innovative technology, products, and services for our audience and our partners," the GC explains. "We've also established new licensing partnerships, including a makeup line called Beauty by PopSugar and a women's apparel line, PopSugar Collection at Kohl's."
The company also has a subscription box service called PopSugar Must Have and has been expanding its experiential business, Lee notes, which has presented new challenges and opportunities for her and her legal team. "We recently had our second annual PopSugar Play/Ground, which is a weekend festival with more than fifteen thousand attendees in New York City. It's like millennial heaven," Lee chuckles.
It is nevertheless a monumental feat to ramp up to a large-scale event like that, Lee points out, requiring the legal team to support every other team at the company, help the creative and sales teams flesh out ideas very early on in the process, and dive into more granular logistical or legal issues at a moment's notice. "Sometimes the conversations and negotiations continue straight up to the day of the event," Lee notes. "So we have to take a nimble-solutions approach to understand and support what our advertisers want to accomplish, what we want to accomplish for attendees of the event, and what our business and marketing teams want to bring to life."
While that type of environment may seem overwhelming to some, Lee revels in it. "I'm always trying to operate with one foot in what I call my stretch zone, which is just outside my comfort zone," she says.
"At PopSugar, I am surrounded by some of the most actively creative people, people who inspire other women around the world. I am very proud that I am part of that team."
"Su-Jin nails the delicate balance every corporate lawyer struggles with—weighing risk against business pragmatism," says Ivan Gaviria, a partner at Gunderson Dettmer. "She skillfully leverages outside counsel's input and experience to put herself in the best position to make those fine judgment calls across a range of issues."
Lee also gives a great deal of credit for her success to her team and the culture of family, happiness, and community that the company has cultivated. "Many companies strive for a culture that supports collaboration and teamwork, and here at PopSugar that culture also has to be positive and make room for kindness," she says. "I always try to encourage my team to prioritize trust, and we have a great deal of fun, too."
Lee's team is actually a bit of an oddity in the tech industry, she says. "It's incredible—more than 80 percent of the employees here at PopSugar are women, and 64 percent of our VPs and above are women," the GC shares. "For so much of my professional life, I was the only woman or the only person of color in the room. That's rarely the case here, and I do what I can to promote diversity, mentor other women, and implement these ideas in my hiring practices so that this can be a norm for future generations."
The past five years have flown by, Lee says, and she cannot wait to see what the future holds for both her and PopSugar. "The digital media industry is evolving and we're evolving with it but practicing law out here in Silicon Valley has always been like the Wild West—you have to be comfortable going into the unknown," she laughs. "It's an exciting journey, so I just try to be open and spontaneous because I never know what will happen down the line."
Emoting Happiness
From the legal department to the company website, PopSugar's sunny optimism and creative flair shines through.
Su-Jin Lee's employee bio details her career history and educational background, but it also includes a unique twist: her favorite emoji, the tongue-out emoji. "It's kind of cheeky and fun, just like PopSugar," Lee says of the emoji. "We often laugh at ourselves and at some of the crazy, tricky situations we find ourselves in. Our mission is to be a positive brand, and I really try to inject that culture of happiness into my day-to-day work."