Being nimble and adaptable may not be traits typically associated with attorneys, but Ryan Bates says that's what it takes to work in the renewable energy field.
As assistant general counsel and deputy compliance officer at Clearway Energy, one of the largest clean energy company in the US, he explains, "We're in a very dynamic industry. It's not easy to know what's going to happen and when. You have to be OK with that kind of uncertainty."
Born into a military family, Bates moved around a lot, so he learned to embrace change at a young age. After earning a degree in business administration and finance from the University of Arizona, he spent two years as a financial analyst at Motorola. "I got to work with the in-house attorneys during a divestiture and loved seeing the company's overall strategy, rather than just my financial niche," he recalls.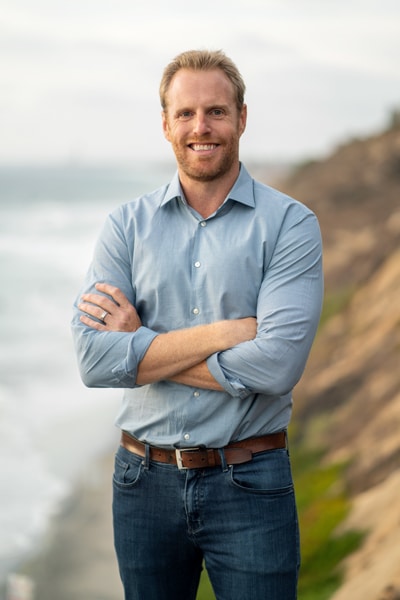 So instead of getting an MBA, he graduated from Northwestern University School of Law, spent a year at Morrison & Foerster, and then joined the project finance and real estate group at Latham & Watkins, representing clients in acquisitions and divestitures; real estate, hotel, and casino developments; sports stadium financings; and energy-related projects throughout the US, South America, and Asia.
"I liked building tangible things and being able to see the results of my work," Bates remarks.
In 2011, he joined NRG Energy as senior counsel. The Fortune 500 company had just started partnering with some of the NFL's most high-profile teams to provide wind and solar power to their stadiums. "Renewable energy was relatively new to NRG, and I had worked on some solar projects at Latham, so it was a really good fit," Bates says.
In 2014, Bates was elevated to assistant general counsel of renewables. Four years later, NRG sold its renewable energy business and development pipeline to Global Infrastructure Partners, creating a stand-alone company with more than 4.1 gigawatts of solar and wind energy assets called Clearway Energy Group. Most of NRG's renewable energy employees, including Bates and four other attorneys, made the move. "Clearway was like a start-up but already had funding, so we could focus wholeheartedly on growth," Bates says.
"It's great to be on the front lines of such an exciting industry," he adds. "And being in a new, comparably small company allows us to shape things the way they make the most sense. We don't have anyone telling us, 'This is the way it's always been done.' We're able to take a fresh look at everything to empower the business and help it succeed."
That includes building up Clearway's legal team and compliance program as well as identifying ways for the company to increase efficiency, both in-house and with its outside counsel firms. That is especially important given that Clearway has wind and solar projects underway in twenty-six states, entailing myriad different regulations and permit requirements.
"This is a constantly evolving industry that is helping transform the world we live in. You have to stay one step ahead to help your company be successful."
The company is even working with outside counsel to explore ways to use artificial intelligence to streamline processes. "For instance, when it comes to financing our projects, instead of paying highly compensated professionals to dial into an all-hands call and update a closing checklist, you could utilize a program that automates the closing checklist process based on documents input into a database. It frees attorneys up to do what they do best," Bates explains.
In this vein, Clearway's legal team is also creating matrices for the common provisions of oft-repeated documents and procedures. "This will empower people working on deals by showing them what to look out for, what the acceptable parameters are," Bates says.
This strategy, for example, could be used to more effectively negotiate provisions of an M&A purchase agreement, such as the survival period for representations and warranties. The survival period represents the length of time during which claims may be brought. "This period can vary greatly depending on the deal and the involved parties, but once you've done a number of deals, your company will have a range within which it is comfortable," Bates notes. "We can make that information available to whoever is working on a project for us so everyone can be on the same page."
Staying on top of the best ways to tackle whatever comes his way lies at the center of Bates's work strategy. "It requires continuous effort—reading, going to conferences, meeting with finance professionals, regulators, and other lawyers, brainstorming with members of our team. This is a constantly evolving industry that is helping transform the world we live in. You have to stay one step ahead to help your company be successful."
Big Brother Booster
Ryan Bates enjoys taking on big endeavors in his personal life, just as he does in his professional life. For many years, he served as a Big Brother and has served on the Board of Big Brothers Big Sisters of San Diego County, a nonprofit youth mentoring organization, since 2015.
His wife, Lauren, is an adoption attorney, and their dedication to youth has been nourished at home via the adoption of their now two-year-old daughter, Charlotte ("Charlie").
"Bringing her home from the hospital and having her in our lives has been so amazing that we're planning to adopt another child soon," he shares. "We can't wait!"
***
Baker Botts L.L.P.:
"Ryan excels at finding sensible, practical solutions to challenging issues based on innovative thinking and thorough legal analysis. He consistently demonstrates that he possesses the legal knowledge and skills to successfully support Clearway's growth."
–Martin Toulouse, Partner