Mentorship might mean a little more to Lori Bennett than the average GC. The lawyer was the beneficiary of two strong women whose backgrounds couldn't be more different. Both helped the young Bennett find the career path she had been struggling to define for herself. As an occupational wandering soul whose interests ranged from genetics to Irish literature, Bennett's first foray into the law as a paralegal put her off the field entirely. It wasn't until she encountered the broader responsibilities of an in-house role—as demonstrated by a strong attorney more than holding her own in a field dominated by men—that Bennett began to see how good a life in the law could be.
Now, as the GC for mission-driven healthcare technology company Aetion, Bennett is intent on passing on her mentorship and sponsorship experiences, especially to women, by going to bat for young lawyers and being a sounding board for future leaders.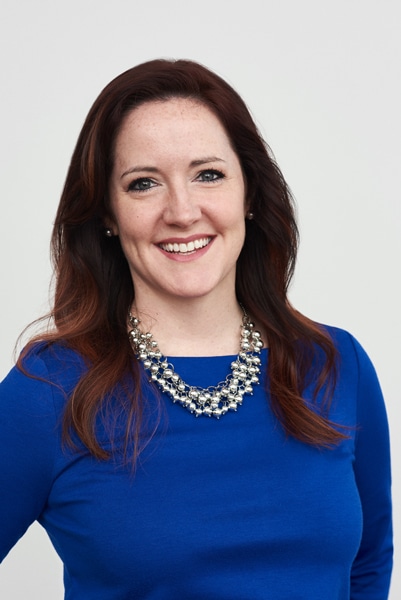 Bennett says that for as long as she can remember, her mother championed her daughter's doing everything she could to use education as a springboard to better things. "She wasn't a professional and her education ended in high school, but she saw the value of education and emphasized doing everything I could to get into the best college possible," Bennett says. "And while it may sound archaic today, she also emphasized the need for financial independence because it was not something that most women had when she was growing up; she wanted me to be able to make my own decisions without reliance on financial support from anyone else."
While the support was there, it took Bennett time to figure out where she belonged. Initially a molecular biology major, Bennett wound up switching to English after realizing she didn't want to spend her life in a lab. Upon graduation, a paralegal job in a big New York firm left her thinking that she wanted to go anywhere but law school.
It wasn't until Bennett took an executive assistant position for the GC of the Metropolitan Opera, Sharon Grubin, that she saw the side of the law that would help define her own path. "[Grubin] was an incredible mentor and role model," Bennett says. "Her experience was impressive, and her command of the law and her role was, frankly, intimidating when I began." Bennett saw a strong woman who wouldn't suffer fools and often led meetings.
Bennett's office overlooked Fordham Law School at Lincoln Center in New York City, and the school's reputable night school program soon became Bennett's evening reality. The GC says had her boss not supported her workload, she never could have made it through. She worked full-time, went to law school at night, and studied during downtime at work.
Following her graduation and a handful of successful stints at firms, Bennett was asked to come in-house at Aetion when the healthcare start-up barely had double-digit staff. "We have a saying here that two years at a start-up equals about ten years of job experience," Bennett laughs. "Things are happening so quickly and at once that your experiences are definitely compounded."
"Traditionally, women struggle more with confidence than men, and having a mentor . . .  allowed me to better understand and then address those challenges."
As a woman in leadership, Bennett says she focused on combating the well-documented struggle of women's confidence in the workplace. "Traditionally, women struggle more with confidence than men, and having a mentor to talk through the various related challenges allowed me to better understand and then address those challenges," Bennett says. "This was a critical factor in landing the GC role at Aetion and something I want to pass on."
"Lori is a role model as a mentor and champion for others," says Anthony O. Pergola, a partner at Lowenstein Sandler as well as the cofounder and vice chair of Lowenstein Sandler's tech group, "and is an amazing attorney who has earned the respect of her own supervisors and peers."
Bennett says that along with mentorship, she takes the idea of "sponsorship" very seriously. "It differs from mentorship in that a sponsor advocates for you when you aren't in the room to do it yourself or aren't in a position to identify when an opportunity arises that can advance your career," Bennett says. "I've been the benefactor of sponsors acting as advocates for me, and now I want to be that advocate for others."
Bennett was asked to act as executive sponsor for Women at Aetion, a group open to anyone at the company interested in equality and parity in the workplace. "It is one of my greatest honors and privileges," Bennett says. "This groups asks tough questions and wants to have necessary conversations that challenge workplace norms."
Including all voices in the push for equality is a necessity, Bennett says, and she has had important male mentors and sponsors as well. But it's still vital for women to validate each other's experiences because it builds support and confidence that ultimately opens doors that previously seemed closed. "Not only does this help advance our careers, but together allows us to push for changes that might need to happen in the workplace."
***
Professional Insurance Associates:
"As an insurance agent, it's a real pleasure to work with Lori. She professionally and efficiently manages the complex, fast-changing insurance needs relative to the protection and contractual needs of Aetion Inc." 
–Charles J. Cavadini, Vice President