Meaghan Nelson is unstoppable. As the associate general counsel, corporate, and assistant corporate secretary at Veeva, a leader in cloud-based industry solutions, Nelson naturally leverages years of experience with C-suite coordination, investor relations, corporate communications, IPOs, and more. But Nelson also brings to the table a talent for exceeding expectations—both her own and those of individuals all around her.
A graduate of the University of Illinois College of Law, Nelson performed much better than she expected in terms of grades, she says. "I graduated close to the top of my class, which gave me opportunities to work in top firms in New York City," Nelson explains. "I believe I am actually the first woman from my law school to work at Cravath [Cravath, Swaine & Moore]."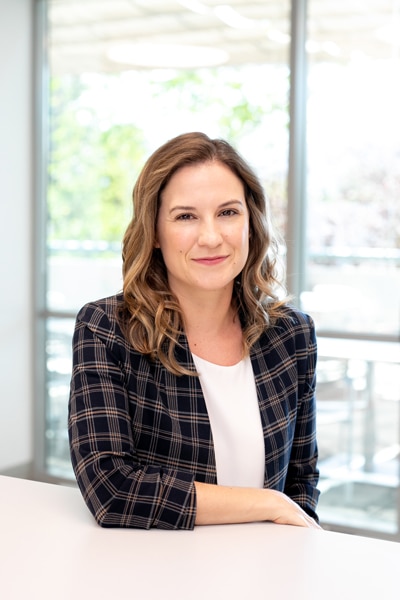 After leaving Cravath in 2011, Nelson found new opportunities to work on IPOs at Wilson Sonsini Goodrich & Rosati in Silicon Valley. Nelson proved well suited to IPO work because "I could pull consecutive all-nighters and outwork pretty much anybody else," she says. "I just didn't need a lot of sleep—I'm naturally caffeinated."
In 2013, the strong impressions Nelson had made on her colleagues through her diligence and persistence paid off. Richard Blake, a partner at Wilson, was offered a new position at Gunderson Dettmer, where he would be running the IPO and public company practice group. He asked Nelson to be his second-in-command. "I was still pretty early in my career at that point. It was a chance to run deals several years ahead of the traditional schedule," Nelson says. "So, I said yes, and my first day at Gunderson was the organizational meeting for Veeva's IPO."
While working with the Veeva team as a Gunderson associate, Nelson took on some of the most challenging projects of her career. "I took three companies public, simultaneously, in 2015," she says. But after reflecting on that process, Nelson says, she began to consider finding an in-house position. "I had done pretty much the hardest thing I could imagine doing at a law firm. I was ready for the next challenge," Nelson remembers.
There wasn't an in-house position open at Veeva at the time, she says, but the general counsel there had become a mentor, "like a big brother." When Nelson told him about her potential plans to leave Gunderson, he immediately told her to come to Veeva. "It was a very natural fit because I had already been working with them for so long. I was already acquainted with my counterparts in finance, too," Nelson adds.
"While at Gunderson Dettmer, Meaghan was extraordinarily focused and driven—qualities I have seen firsthand add tremendous value to Veeva," says Brian Patterson, a partner at Gunderson Dettmer. "Meaghan has earned the board's trust, and they count on her to drive difficult legal-related initiatives forward."
"I had done pretty much the hardest thing I could imagine doing at a law firm. I was ready for the next challenge."
Since Nelson came in-house at Veeva in 2016, both her team and the company as a whole have rapidly expanded. "It's been a time of dynamic change. We've more than doubled in size, our market cap has grown more than five times, we've set a goal of getting ten thousand employees by 2025, we made the decision to move outside of the life sciences industry, and we've hit a billion-dollar revenue run rate," Nelson says.
Because of this dynamism, Nelson focuses on maintaining a start-up mentality in her legal work. "You have to think about how you can facilitate a very quickly moving business," Nelson points out. "And that's about getting up to speed on something you might not be an expert on and approaching problems with a business-centered mind-set."
High business growth also creates new opportunities for employees, Nelson notes. "I give everyone on my team opportunities to learn and grow," she says. "People want to do well. They want to feel empowered and like they have ownership over their part of the process. I give them room to do that."
In addition to managing her team, Nelson is heavily involved in Veeva's corporate matters, from managing strategic transactions to US Securities Exchange Commission (SEC) reporting to compliance with New York Stock Exchange (NYSE) regulations. Nelson notes that these matters are key parts of her role. "A big part of my job boils down to communicating clearly: I review all our public communications once they rise to a certain level."
In the course of her corporate governance work, Nelson has helped overhaul the company's proxy statement. "I own that document from start to finish. It's really my baby," Nelson chuckles. "We've made a lot of enhancements since I started, both from a way-finding perspective and in terms of what we're communicating to our investors."
Nelson has received a lot of positive feedback on that document, she says, including feedback from Veeva's board members. Nelson values her relationship with the board—in addition to covering nominating and governance, compensation, and audit committee matters, she strives to dedicate at least thirty minutes of each day to professional reading so that she can keep an eye on topics of interest to board members and of importance to Veeva's corporate governance. In accordance with her passion for maximizing stakeholder engagement, she has consistently dedicated herself to keeping the lines of communication with Veeva's stockholders clear and open, especially on environmental social governance (ESG) issues.
While this may all seem like an overwhelming amount of work, Nelson prides herself on her ability to stay on top of things. "I don't like to preach to others and tell them I know best," Nelson says. "But people always say, 'Meaghan gets stuff done.' I've given presentations on how to manage all the work that comes in and why you can't let the tyranny of everyday work get in the way of your long-term goals. If you take your eyes off the prize, you can miss the mark."
***
Expertise Spotlight
Gunderson Dettmer, celebrating its twenty-fifth anniversary this year, is one of the few international law firms singularly focused on the global venture capital, growth equity, and emerging companies ecosystem. The firm's more than 280 lawyers provide comprehensive service for company and investor clients worldwide from nine offices located in Silicon Valley, Ann Arbor, Beijing, Boston, Los Angeles, New York, San Diego, San Francisco, and Singapore.
The firm supports more than two thousand, five hundred venture-backed companies with guidance at every stage in their life cycles, from launch through IPO and beyond, becoming extensions of their management teams as they prepare for their next stage of growth. For the last six years, Gunderson Dettmer has been recognized by PitchBook as the number one law firm globally for venture and growth equity deals.
Gunderson Dettmer also represents more than four hundred fifty of the world's top venture capital and growth equity firms, including thousands of their underlying funds. The firm routinely negotiates nearly one-third of every venture capital dollar raised worldwide. Gunderson Dettmer is the recognized global leader in the representation of venture capital and other growth equity funds in its investment activities, negotiating more than a thousand venture and growth financings for fund clients every year.
Selected Practice Areas:
Corporate/emerging companies
Fund formation and fund representation
Mergers and acquisitions
Public offerings/public companies
IP and technology transactions
Executive compensation
Recent Recognitions:
Most Active VC Law Firm Globally, PitchBook Global League Tables, 2019, 2018, 2017, 2016, 2015, 2014
Band 1 Nationwide in the Investment Funds: Venture Capital: Fund Formation and Startups & Emerging Companies categories, 2019 Chambers USA
Deal of the Year for Asia, Best M&A Deal in Asia, and Best India Deal, Finance Asia Awards, 2018
TMT Deal of the Year, Asia Legal Awards, 2019
PE/VC and AI Deal of the Year, China Business Law Journal, 2019