As a law firm litigator, Jennifer Judge used to think one thing when she heard about lawyers who went in-house after an opportunity just fell out of the sky: "Yeah, right." But then it happened to her.
One of her former coworkers—a mentor from when she was a summer associate—had recently gone in-house at Caliber Home Loans, and called her up on a Friday to tell her about a new position for labor and employment work: Judge's specialty. At the time, Judge was a senior associate at Littler Mendelson, on track to make partner. She loved her job, and said she wasn't looking to make a move. But she also had two young sons and a husband who traveled extensively for work. "I ended up working Friday night and all weekend. On Monday morning, I asked my mentor to do lunch. I thought there had to be a better way." Within a week, she had an offer.
Judge came on board at Caliber Home Loans in 2015 as vice president and assistant general counsel and, just thirteen months later, was promoted to senior vice president and deputy general counsel. Her responsibilities are broad, encompassing white collar and capital markets issues, internal investigations, real estate management, vendor contract review, and corporate governance. A newer addition to her responsibilities is overseeing cybersecurity and IT issues—she makes sure Caliber's bases are covered legally and, in the event of a breach, heads up the review and investigation, working closely with the company's CISO and CIO. She's also twice acted as interim HR chief, requiring her to perform two roles simultaneously for months at a time.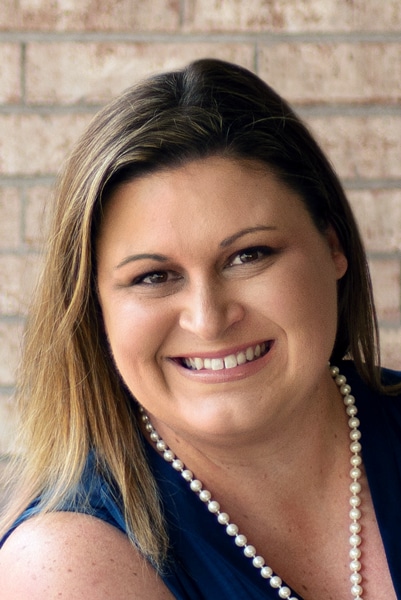 It wasn't a path Judge had ever expected to take. "My entire goal had been to go partner, but specializing in noncompete, nonsolicit work meant a lot of temporary restraining order and emergency injunctive work, which is unpredictable and heavy on the hours and simply not sustainable long-term for my family," she says.
Although the move to Caliber was an unexpected twist in Judge's career, she has thrived there, particularly in earning the trust of the business and tailoring advice for individual stakeholders. "So much of in-house work is not what you say but who you say it to and how you say it—you're not giving legal advice in a vacuum," she says. "You can't just say 'no'—you have to engage them in a dialogue and provide guidance that's practical and effective so the business can reach its goals in a way that's compliant."
Case in point: Judge's work advising and collaborating with loan officers, whom she describes as naturally entrepreneurial and creative, full of ideas to benefit the company. "Because the mortgage industry is heavily regulated, it's often tricky to do what they want without introducing risk," Judge says. "As opposed to me saying 'no, you can't do that,' I try to understand what they're hoping to achieve and we work together to find a better solution."
The mortgage industry poses additional challenges outside of its regulatory standards: It's also heavily male. But Judge is doing her part to make it a more welcoming sector for women by mentoring and partnering with female attorneys, hiring them onto her team, or engaging them as outside counsel. "My biggest piece of advice is you have to play the 'game' with the boys club and learn to talk like them so they learn to trust you, and they gain confidence in your abilities," Judge says. "Once you gain that trust, that's your opportunity to push back and challenges biases. You have to gain that power, then use it to make an impact."
Judge says she is lucky in that Caliber's CEO and executive team value and promote diversity and empowering women—they recently chose her to participate in an intensive women's leadership institute in Dallas that is only open to the top senior managers in the city. The company, and her team especially, are also understanding of the complications of nonwork life, particularly the demands of family. "My company is extremely considerate and know I have to pick my kids up at a certain time and they may hear kids in the background if I'm taking calls from the car or home," Judge says. "It's never a big deal—it's one of those things where everyone here understands life happens."
"You have to play the 'game' with the boys' club and learn to talk like them so they learn to trust you and you gain their confidence in your abilities. Once you gain that trust, that's your opportunity to push back and challenges biases."
The people Judge works with appreciate her wide-ranging skills. "Imagine problem-solving and litigating with a modern Renaissance lawyer who possesses the skills and vision of a business leader, a regulator, a law firm partner, and a mom—and you have just imagined Jennifer Judge," says Michael J. Fortunato, president of Rubin, Fortunato & Harbison. "She has intellectual firepower, boundless energy, and cool judgment, while never losing sight of the business goals. She also affords us the freedom to exercise our expertise. With that wisdom, we believe that we never work for JJ; we feel that we are working with JJ."
It also doesn't hurt that Caliber's legal team has a supportive dynamic with low turnover, and professional development available for anyone who wants it. "We're basically all long-timers and we all like and respect each other," Judge says. "We're protective of this part of our culture, because we know if you're interviewing for a job in-house, that means you can cut it skills-wise, but we want to make sure you're going to fit in with us and be able to advise and collaborate with the business."
Modeling the example set by her general counsel, Judge manages her own team with a similar balancing act of support and trust. "My hope is that I can trust people implicitly to do their work," she says. "I don't want to smother them with things like status updates—it's inefficient and we're all professionals here, so I trust they can go get their job done."
The company-wide appreciation for work/life balance was exactly why Judge made the switch to go in-house in the first place. She still works hard, of course, but toiling away on the weekends is now a rarity, freeing her up to live a fuller life and spend more time with her husband and sons. "I feel lucky because I genuinely enjoy my job, and I wake up thankful I had a job like this fall into my lap," she says. "As a litigator here each day is different, and I still get that thrill of thinking on my feet and solving problems."
***
Expertise Spotlight
Rubin Fortunato earned a national reputation for enforcement of restrictive covenants and protection of trade secrets in the securities industry, especially through swift and deft filings for injunctive relief when minutes matter. The practice has grown. Today, the firm's long-held "minutes matter" approach applies to every client, spans many industries, and drives all of our legal advice, whether writing employment contracts, hiring from the competition, drafting employment policies, providing advice, counseling on disciplining and separating employees, investigating allegations of employee misconduct, providing employee training, enforcing restrictive covenants, or litigating a wide range of employment issues. We get the job done. We get the job done right. We get the job done right away.
Rubin Fortunato is proud to be at the top of the list of law firms in the Commonwealth of Pennsylvania for highest percentage of female attorneys. Our statistics reflect not only our commitment to diversity in the legal profession but also our commitment to the pursuit of excellence for our clients and our community.
***
Stradling:
"Jennifer is smart, practical, and adept at navigating litigation in the challenging context of the mortgage banking industry. She understands Caliber's business objectives and connects the dots internally to get critical buy-in on litigation strategy."
–Jeremy Suiter, Shareholder