Long before she joined the chocolate sector at Mondelēz International, patent lawyer Jamie East was in private practice. Then there was a stint in-house at Johnson & Johnson and a move to Cadbury. Once upon a time, however, East thought she would become a chemist, and she has a BA in chemistry from Cornell University to show for it. "I come from a family of chemists," she says. Some days, after a particularly interesting meeting with R&D—perhaps a deep dive into chewing gum polymers—she imagines herself in the lab, doing research. "But I know I am a lawyer with an interest in the sciences," she says. "One of the fun things about patent law is that you bring science into what you do. In both science and the law, you are problem-solving using analytical processes."
Her background makes food science work an obvious choice. She says, "I sit down with colleagues and I can really appreciate their inventions. Then I want to protect them." East gets to do just that as the chief counsel of patents, IP council, and operations for Mondelēz International, which employs around 80,000 individuals and owns some of the world's most popular snack brands. Her job duties are expansive and impressive: presiding over patents, portfolios, and IP operations, including IP systems and processes.
"A patent is about the right to exclude. We have to look at costs and assess," she explains. This means overseeing IP management databases that guide filing, registrations, and maintenance on a global level. East must also ensure correct and up-to-date ownership for acquisitions and divestitures of IP assets and support third-party relationships and joint collaborations.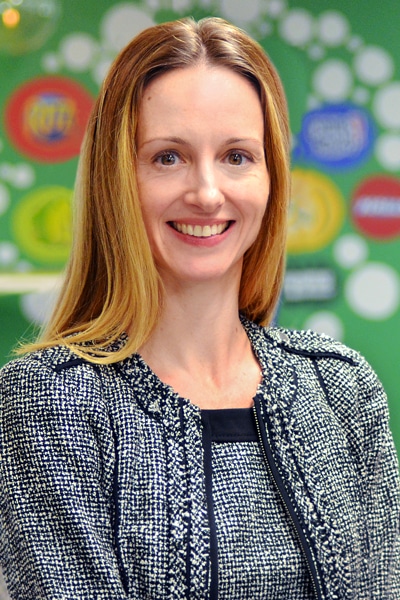 East works with the business side of Mondelēz International as well as R&D to understand best practices around patent and trade secret decisions, a complex process based on factors such as launch locations, manufacturing questions, and competitors. "You have to think about the innovation, the end product, how you make it, ingredients, packaging, the look of packaging. You have to think about all of it," says East. "It's all about growth."
These skills got a workout in 2012, when Kraft spun out from Mondelēz International and East helped handle the separation of technical IP assets. She undertook the mammoth job of developing a network of processes to govern shared management of patents as well as trade secrets and know-how. Even today, though the system works, the process evolves. "If we had not put the appropriate agreements and governance system in place, everything would have been a mess," she says.
An internal shift in structure came two years ago, when Mondelēz International decided to unify two IP departments, patents and trademark, under one umbrella. Patents, East explains, concern the functionality of the product or pack, including formulations and methods of manufacture. Trademarks is about brands, artwork, and packaging. The impetus for combining teams came from the reality of dealing with fast-moving consumer goods: form and function affect each other. "We have to look at what is unique, and that can be the taste, the make, the overall look and feel or what it takes to achieve it," East says. Before the patent group began to work with trademarks, East says, "We had missed that perspective."
East now manages the patent team and a combined IP Operations team across patents and trademarks. In her career, she has come to understand the importance of cultural experience and the work that must be done to unify a group. "Team is important. It is who we are, why we like to work together," she says. She is happy to report that her focus is paying off and Mondelēz International is full of engaged, supportive colleagues.
These days, the company focuses on local brands and markets, and East and her team are evolving to best support this change. As they do, East says that they are implementing a team-based, strategic approach for projects: a flexible structure with clear deliverables, timelines, and dedicated staff. "It used to be more like getting people to work on a project felt like asking for a favor," she says. The IP council is formalizing this cross-functional strategy. "It's start. Finish. Celebrate. Start a new project," says East. The result is an improved ability to support an ever-changing business.
As East develops new tactics and structures to guide her teams and formulates international patent strategies, she is inspired by a true enthusiasm for the products Mondelēz International develops and the science behind them. The smell of Oreos still provides simple joy; she is a strong advocate for the new Triscuit varieties. With a certain awe, she says, "The cracked pepper is really good."