For Danielle Sheer, the Value of Trust Is Key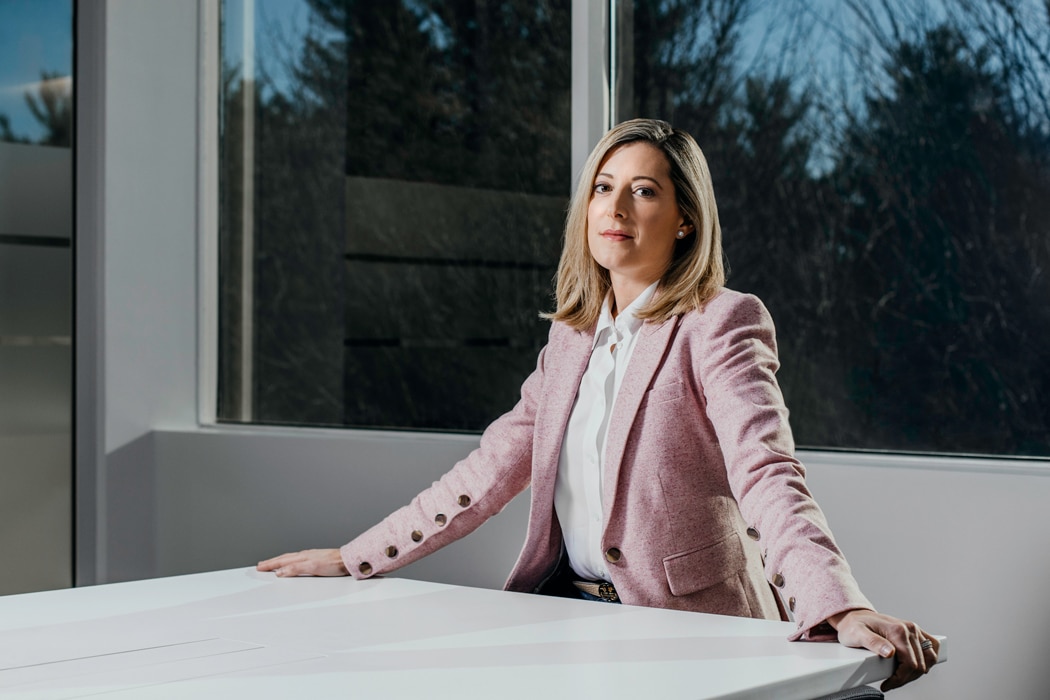 "When most people think about trust, especially with their lawyer, they think of being in a safe place to speak their minds," says Danielle Sheer, general counsel at Bottomline Technologies. "When I think of the general counsel role, building trust with others is fundamental to serving as a trusted advisor to a business. We have a unique ability that can extend beyond ourselves and help teams develop trust amongst each other."
Sheer spent a decade as general counsel at Carbonite, which provides cloud backup and data protection, before joining the team at Bottomline in late 2019. "I spent the first half of my career becoming a trusted advisor to the business," Sheer says. "What I learned is that the skills I use to build trust between myself and others are skills that can be distributed to help strengthen a team."
To Sheer, helping her clients build relationships is the key to her success as a general counsel as well as the success of the organization she serves.
"Imagine," Sheer says, "as general counsel, you learn about an upcoming product release delay." She describes a hypothetical example involving a product release that's a big deal for a company. Everyone is running hard to hit the release date—sales, marketing, engineering. One of the project managers needs a safe place to think out loud and comes to the general counsel for advice.
"What do you do with this information?" Sheer asks. "You have several options. You can notify your peer executive, the head of engineering. You can discuss with others at your peer level—the head of marketing or the head of sales. Because you know it's a critical release for the company, you might even mention the conversation to the CEO or CTO. Think for a minute, what do those conversations look like? What problem are you solving? Have you helped the project manager?"
Sheer's philosophy is not to solve her clients' problems for them, but to help them find their own solutions. She suggests helping this project manager think through key allies in the organization they can work with to solve this particular issue for the business. "Follow-up is essential, because checking in to see how the matter is progressing is like lending confidence to someone who is trying to do the right thing before they've learned how to build their own internal networks," she says.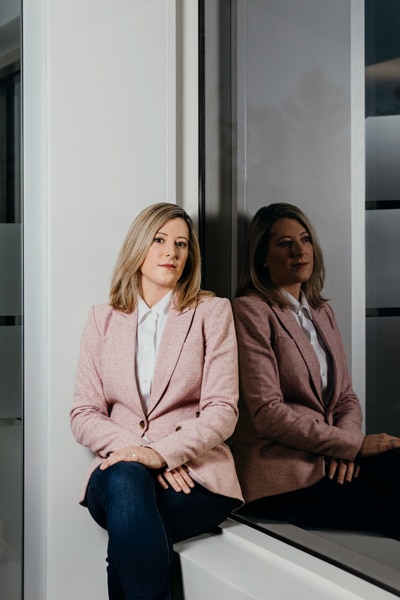 Sheer believes the general counsel can help strengthen cross-functional relationships throughout the organization—particularly in times of high stress. "The best way for an organization to succeed is to empower its employees to work toward finding their own solutions with their colleagues," she says. "Fixing problems on behalf of others may, in the short term, be more efficient. But in the long term, you are not enabling your team to build allies and relationships across the organization, and you as a leader are not demonstrating that you have faith in them to accomplish the company's goals."
It's a simple concept that's not so easy in practice because it takes time and patience. "The rewards," Sheer says, "are a vastly strengthened team and a company culture of people working with and for each other."
Sheer's colleagues recognize her leadership and the many ways in which it strengthens her team. "Danielle is a true leader and we at Simpson Thacher feel fortunate to have the opportunity to work with her," says Simpson Thacher partner Roxane Reardon. "She possesses a keen intellect, is very thoughtful, and displays a principled commitment to excellence that also extends to her team and the company as a whole."
Vishal Sunak, CEO and cofounder of LinkSquares, says, "Danielle embodies what modern GCs should strive to be. Her dedication to innovation, making data-driven decisions, and elevating the role of the legal team within the organization is admirable. These qualities make her a trusted leader not just within her company, but also the industry as a whole."
A Foundation Built on Trust
Sheer was hired at Carbonite by the company's founders as the first general counsel and became part of the team that saw the company go public and graduate from scrappy upstart into an M&A machine, consolidating the cloud backup market. "The global legal team supported the business through rapid growth, complex transitions, challenging corporate events like a hostile takeover, and plenty of M&A transactions," Sheer says. "In the beginning, our legal team had to build trust in order to serve as advisors to our business colleagues. The more we helped others build trust with their teams, the more trust we gained from our businesses colleagues." Sheer found that creating the opportunity to enable productive problem-solving to take place fits squarely within the legal team's wheelhouse.
After her tenth anniversary with Carbonite, Sheer was recruited to Bottomline to help build the company's global legal presence. She was drawn to Bottomline's strong culture of working with and for each other, and the timing was fortuitous: a day before her interview with Modern Counsel, Carbonite announced it had been acquired by OpenText.
The Continuing Evolution of a General Counsel
"I think it's important to remember that everyone has their own goals and objectives, and that's a good thing," Sheer says. "A general counsel's priority is to protect the company, and one of the most effective ways I have found to fulfill that charter is to use our unique skills and vantage point to strengthen the team as a whole." Sheer says that often, capitalizing on new business opportunities involves getting people on the same page with their minds open to new ways of thinking.
"The CFO might be thinking about the bottom line, HR is thinking about resources, sales is thinking about the numbers, and we as lawyers are trained to think through a variety of possible solutions," Sheer says. "By and large, what most of us love to do more than anything is solve a really tough problem." It's in the weeds of problem-solving that this general counsel says she's able to be most effective. "I have evolved my thinking from wanting to be the person with the right answers to wanting to be the person with the right skills who can help develop a productive team," she says. Her colleagues have come to rely on her to be an essential ingredient of the team's success. "It's simple: a strong culture translates into strong business results," Sheer says.
Since coming to Bottomline, Sheer says the company's culture of transparency, trust, and teamwork has been evident from the get-go. "I worked hard to cultivate that kind of a culture over ten years at Carbonite and walking into a place where it just is the culture is incredibly special. I'm excited to be here and to be part of this team."
***
"The ultimate success as a trusted advisor is when the GC enables teams to build trust with each other, cross-functionally, and with customers and shareholders. Danielle is the consummate trusted adviser." –Scott Semel, former multicompany CLO and board member
***
Expertise Spotlight
Simpson Thacher is proud to have partnered with Danielle Sheer across a range of corporate finance transactions. Widely recognized as one of the preeminent law firms in the world, Simpson Thacher offers clients a world-class team of lawyers with decades of experience in structuring, negotiating, and completing some of the most complex and transformative transactions. With a uniquely balanced practice of both issuers and underwriters, the firm is a market leader in advising on IPOs and other equity offerings as well as offerings of high-yield, investment-grade, and convertible debt. A remarkable array of clients, from large multinationals to Fortune 500 companies to smaller and closely held private companies to emerging companies, turn to Simpson Thacher for our commercial and business-like advice and personalized, value-added solutions. A hallmark of our practice is our ability to assemble multidisciplinary teams across our ten global offices and provide an integrated suite of services to our clients with premier practice groups that regularly lead the rankings, including in capital markets, financing, M&A, corporate governance, antitrust, regulatory, intellectual property, tax, and executive compensation.
***
Expertise Spotlight
LinkSquares is the leader in contract management and analysis. Understand your company's risks and liabilities in minutes, not months. Stop reviewing contracts manually and start saving time with powerful text search, automated metadata extraction, and custom reporting.
Powerful Insights
Know what's in your contracts without having to read them one by one with best-in-class OCR, metadata extraction, and proprietary QA process.
Security
Ensure your data is always protected and secure with enterprise-level controls built into each step of the contract management process.
Speed
Find exactly what you're looking for and create customized reports easily. Get started in weeks, not months with our white-glove onboarding.
LinkSquares improves key business activities, including M&A, financing events, due diligence, budgeting and forecasting, reporting, and crisis management.
Our customers include VMware, Wish, Pendo, Carbonite, Asurion, and Twilio. LinkSquares was founded in 2015 and is headquartered in Boston, Massachusetts.