Acting as a plaintiff against her undergraduate university wasn't what drew Erin Shoudt to the law; she just wanted to play ice hockey. Shoudt was the named plaintiff in a Title IX lawsuit against Colgate University in what became a landmark case to establish the first women's varsity ice hockey team at the liberal arts college. Last year, the hockey team she helped bring into existence appeared for the first time and made it to the finals in the Frozen Four, the NCAA women's hockey national championship tournament.
Shoudt is proud of aiding in the genesis of the program, and she says acting as a short but scrappy defenseman carried over well in her approach to litigation. The now associate general counsel for litigation and investigations at PAE has found a way to come full circle with her passions, her profession, and a penchant for finding a way to get even the toughest jobs done.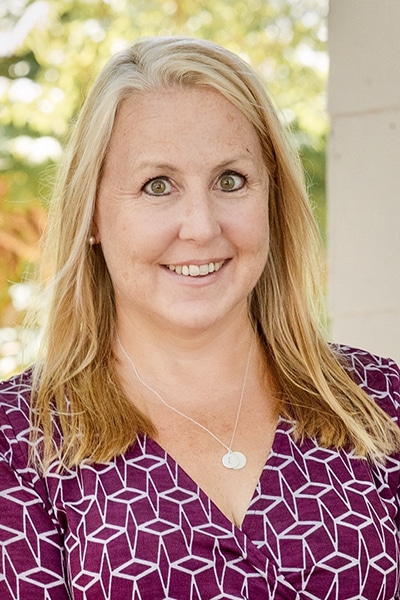 Prior to coming to PAE, Shoudt says her eleven and a half years at the law firm Dentons gave her a litigation education that was second to none. "Over time, I became the senior associate that was staffed on the big, complicated cases because my superiors recognized that I could bring order to a case that otherwise seemed chaotic due to its size or complexity," Shoudt says. By juggling a large portfolio of disparate and high-profile cases that spanned everything from internal investigations to False Claims Act litigation and securities fraud class actions, Shoudt amassed experience in managing large teams and changing priorities quickly from case to case.
A capacity for operating quickly and flexibly would be a near job mandate for Shoudt upon coming in-house at PAE. Having little experience in government contracting and having never worked for a company or as in-house counsel, Shoudt walked into her office on her first day to a desk, a computer, and a list of pending litigation that was entirely under her purview. It was particularly daunting that at least four of the cases already had trials all scheduled for the same day, just eight weeks after starting in the new position. But Shoudt was not intimidated in the slightest.
"My personality is just one that sees the challenge and just digs in and figures it out," Shoudt says frankly. "I picked up the phone and just started calling outside counsel to learn more about the cases and what our next moves would be." She quickly learned the details of each case, including the types of government contracts and programs at issue, the key personnel involved at PAE (none of whom she had met yet), and the various opponents' positions. Shoudt is proud that each case was resolved in some way and none of those scheduled trials occurred.
Shoudt says there was a saving grace to the steep learning curve she faced when she entered the new industry. "In a lot of ways, litigation is litigation, and the same rules apply regardless of the industry you're in."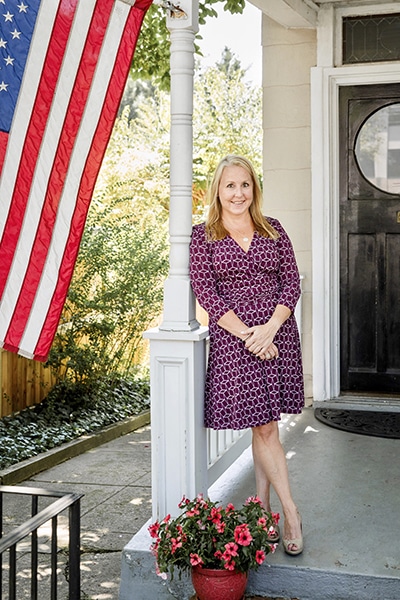 While going in-house in a new industry was a huge adjustment, she attributes her success so far to her resourcefulness, affinity for crossing items off her to-do list, and ability to draw on past experiences, regardless of the subject matter. She recalled when she was a general litigator at Dentons, she had to quickly get up to speed on the internal workings of every new client in many different industries. Drawing on that experience, she knew she could quickly tackle the specifics of the government contracts industry, too, and could be successful by applying the litigation experience she already had to the unique issues PAE faced.
In addition, Shoudt understood the importance of gaining the trust of her colleagues. As Shoudt puts it, "because I was coming from a law firm where I did primarily healthcare litigation and going in-house in an industry that was new to me, gaining the trust of my colleagues was particularly important, which I feel like I accomplished by demonstrating that I could quickly get my head and hands around many different matters and bring results."
At PAE, litigation wasn't the associate GC's only responsibility, and Shoudt says she quickly learned the importance of managing insurance recoveries as a policyholder and how important that issue could be from a company perspective. In addition, she was able to enhance PAE's approach to litigation by bringing her prior knowledge of e-discovery and data preservation issues.
"The biggest thing I've realized working in-house is that the company is my client now, and at the end of the day, it's about how well the company is doing. If I can contribute to the growth of the company through a good settlement, insurance recovery, cost-effective discovery tools, or even pursuing litigation that makes business sense, then I'm doing my job well."
"My personality is just one that sees the challenge and just digs in and figures it out."
One of Shoudt's more notable successes involved a settlement with a bank that included no monetary penalty, a virtually unheard-of proposition. "It was the first settlement of its kind, ever," Shoudt says. "It was a case that was underway prior to my arrival and had cost the company a lot of time and money, and we were able to resolve it on very favorable terms."
Shoudt has also resolved several other breach-of-contract, workers' compensation, internal investigations, and False Claims Act matters in only her first eighteen months at PAE. Shoudt understands that it is important to the company to bring matters to resolution, and her role is to find creative, profitable ways to solve problems that arise rather than create them.
PAE has proven such a good fit for Shoudt because of its mission to do development work internationally. As a political science and African studies double major at Colgate, the lawyer initially thought she would be pursuing a career in international development work in Africa after college. PAE's global presence and development and capacity-building work from Africa to Antarctica and Afghanistan have reinvigorated passion points for her.
"It's so amazing to me that the passion I had prior to working in commercial law has really come back into play. At PAE, I am able to pursue my law career for a company that has contracts and programs that are interesting and important to me," Shoudt says.
Shoudt admits her passions have a habit of digging their way in deep. She may or may not have accrued the most penalty minutes on her college hockey team, a testament to an aggressive style of play that has worked well in the courtroom. Her passion for fostering dogs resulted in her becoming a member of the "failed foster club," composed of people who wind up adopting the dogs they're only supposed to be responsible for in the short term. It's a designation of which she is proud. Shoudt is also in the process of restoring a home from the 1800s with minimal aid from her rescue dog, Suzie. Whether it's taking on gender inequality in college athletics, renovating a nineteenth-century home, or taking an in-house legal position in a new industry, Shoudt has shown she is up for the challenge.
***
Brown Rudnick:
"Erin brings a wealth of practical experience to the table, having spent years litigating cases as outside counsel.  Combined with her common sense, she is able to manage large matters effectively and efficiently through a successful conclusion."
-Mark Baldwin, Partner