"You're very approachable," a colleague once told Elena Banfi. To Banfi, the comment meant she was succeeding in bringing yet one more person into her circle of trust.
As vice president, group corporate counsel and group compliance at Hallmark Financial Services, a specialty property and casualty insurance company, Banfi oversees corporate legal matters and the insurance compliance team.
In her day-to-day activities, Banfi keeps her focus on the needs of the organization and individual business units. The issues Banfi and her team face are varied and complex. "My approach is to listen first and get a thorough understanding, separate emotion from facts, and think with a constructive perspective of 'How can we?'," Banfi says. "You need to find a creative and innovative way to make it work for all parties and that can be both exciting and challenging."
Banfi never saw herself as the confrontational type with respect to the law. "I never thought, 'I'm going to argue a case in court,' and I never thought of practicing criminal law. I've always thought of the law from its business application perspective," she says.
Growing up in Italy, her father told her stories about attorneys working with companies to help them achieve their goals. After taking time to think about her options, she decided to attend law school and quickly fell in love with it. Her goal from the start was to become an in-house counsel. "I always viewed my role as helping a company move the ball forward—and doing so legally, ethically, and effectively," she says.
When she first came to the US, Banfi taught college and graduate-level courses in business and ethics, facilitating classroom discussions. She also spent a year administering Hurricane Katrina loans through the Small Business Administration, working the night shift and putting in sixty hours a week. She says these experiences influenced her approach to working with internal clients.
When it comes to compliance, Banfi and her six-person team take a collaborative and facilitative approach, listening to employees' concerns, taking notes, and digging deep into the applicable laws and regulations before offering guidance. "It always pays to be attentive and meticulous," she says. "Everyone wants an immediate answer, so I tell them, 'We can give you an instinctual opinion on some topics, but to properly advise you, we need to define the scope of the problem and do our due diligence to ensure we are in compliance with state law and insurance regulations.'"
Hallmark Financial's focus on diversity and inclusion has created an environment where everyone's voice is heard. "It's really important for me to work for a company that understands and embraces diversity," she says. "I fully enjoy working with different personalities. Not everybody's the same. Not everybody's an extrovert or assertive and there are often people who do not speak up but can make great contributions in the right environment. Everyone wants to be heard, regardless of their communication style or personality."
Another example of diversity at Hallmark Financial is the company's open embrace of an intergenerational workforce; senior and long-standing employees work closely alongside millennials and everyone's voice is incorporated. It's a juxtaposition that Banfi enjoys.
"I find it unhelpful when people criticize millennials," she says. "Every older generation criticizes the new one. Diverse companies simply perform better."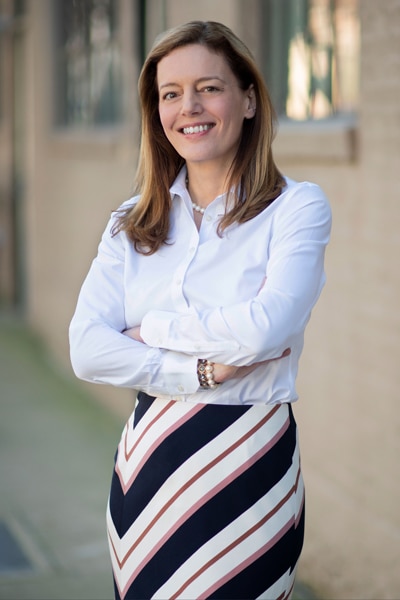 One issue that Banfi sees as crucial for older and younger generations alike is the adoption of new technology. "There is a big divide in society between people that understand and control technology and data and everybody else," she says. In the legal profession, artificial intelligence already has the ability to analyze contracts and help lawyers determine whether necessary language is included, and Banfi only sees more automation on the horizon.
"In terms of practical applications, technology is the future," she says. "If you think the ability to work with emails and spreadsheets makes you technologically advanced, you misunderstood the essence of technology."
Banfi tells students she encounters that today's technology will not last. "If you're young and have your entire career ahead of you, you need to hone your skills," she says. "I assumed that because young people grew up with technology that they were far more talented than people like me. What I'm realizing is that most people are passive users, meaning today's students have come to rely on—rather than understand and control—the tools they need to work with every day."
For Banfi, constant evolution is part of what has made her career enjoyable. "What constantly surprises me is looking back and seeing how many different things I've done in life," she says. "I don't care what stage you are in; things always change—and most change is for the better."