It's been a whirlwind year for luxury retailer Neiman Marcus. The company is on a transformational journey to position itself as a preeminent luxury customer platform, allowing people to shop seamlessly via a variety of digital and in-person services. For senior vice president and general counsel Tracy Preston's team, all that innovation means constantly keeping up with changes driven by the digital marketplace.
"It's an exciting time to be a part of the retail industry's growth," Preston says. No one is sure what retail will look like in five or ten years, or how the role of the department store will change in that time, she says. "Pioneering new frontiers in the digital space has everyone trying out new things."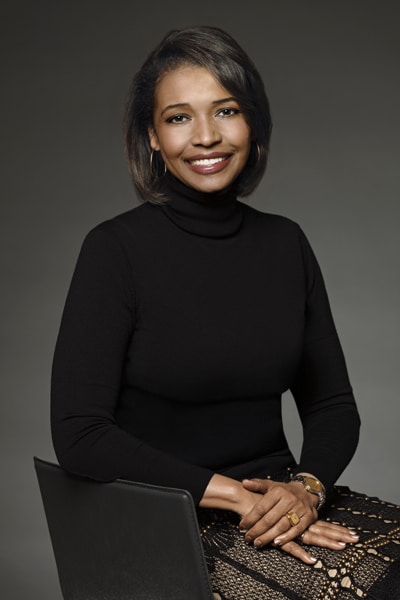 Interpreting technology laws that haven't kept up with the pace of digital change is just one of the many things keeping Preston busy during this time of evolution at Neiman Marcus. She also oversaw a huge transaction to recapitalize the company's debt structure, and has been doing all this work alongside an entirely new executive leadership team.
Preston has been at Dallas-based Neiman Marcus since 2013, after more than a decade with Levi Strauss & Co. Raised in Virginia, Preston went to Georgetown University for her BA before attending the University of Virginia School of Law in Charlottesville. At Neiman Marcus, her legal team works on everything from corporate governance to employment issues to cybersecurity to marketing efforts. The recent debt recapitalization project she led took nearly two years, and essentially provides the company with enough runway to ensure its current transformation will be successful, Preston says.
As Neiman Marcus's business model evolves to serve customers digitally, some facets of law tend not to advance quickly enough to keep up with that pace of change. One example Preston gives is in the sphere of social media advertising. While the Federal Trade Commission (FTC) has provided guidance over the years, it was not until November of this year that the FTC issued its Advertising Disclosure for Influencers.
"Law takes time to catch up to where we are," Preston says. "Sometimes the case law may not be there to give us some direction." That makes for exciting opportunities to interpret and analyze existing laws for the company's needs.
Preston's dedication and leadership have certainly impressed her colleagues. "Through a number of complex and novel transactional and litigation matters, Tracy has proven herself to be a skilled and innovative practitioner and an exceptional leader," says Pippa Bond, partner at Kirkland & Ellis. "The Kirkland team is honored to have collaborated with her on many of these important milestones for Neiman Marcus."
Along with focusing on the business side of her work at Neiman Marcus, Preston prioritizes giving back to her community. She sits on several nonprofit boards, including the Dallas Holocaust and Human Rights Museum, Dallas Theater Center, and the AT&T Performing Arts Center. Preston also provides pro bono legal services when she's able to, for issues ranging from homelessness to landlord and tenant law.
She believes mentorship is one of the most rewarding ways a person can change the trajectory of someone else's life. That value has been a constant throughout her career in part because her parents are both teachers, so guiding others is something she gravitates toward, she says.
"Authenticity is the best directional compass for a successful life."
Mentorship also "diminishes the common pitfalls that we all have, quite honestly—of self-doubt, inexperience, and marginalization as we are developing either professionally or even just in our personal lives," she says. "I think by mentoring, it gives permission to the next generation to express their talents in a productive way."
Preston also frequently gives talks at law firms and industry events, providing guidance for young attorneys. In September, she received an award from the national organization Step Up in recognition of her mentorship work with young girls, and this year Black Enterprise magazine put her on its list of the most powerful women in corporate America. Her leadership work has deepened her understanding of the value of diversity and helped her become more cognizant of the fact that people learn in many different ways.
"The more exposure one has toward any given diverse experience—whether it's gender, race, cultural identity, learning style, or business environment—adds value when it comes to leadership," Preston says. "The broader scope of perspectives, life experience, business exposure, provides access to a greater constellation of solutions to move outcomes forward."
Reflecting on her success as a mentor, Preston says that if she could give her eighteen-year-old self a piece of advice, it would be about the importance of courageousness and authenticity.
"Authenticity is the best directional compass for a successful life," she says. And when it comes to dealing with rejection, she recalls a famous quote attributed to Albert Einstein that embodies her approach: "I'm thankful to all those who said no. Because of them, I did it myself."
The Value of Travel 
Beyond all the work Tracy Preston does in the office and mentoring colleagues in her field, she is an avid traveler and believes deeply in the impact of seeing the world—it affects not just a person's worldview but also their capacity as a leader, she says.
Egypt, Chile, Tanzania, Peru, Mexico, Iceland, Fiji, and Belgium are just some of the international locales she's traveled to or lived in for brief stints.
"I would say that all these experiences definitely informed my work," she says. "It allowed me to understand that while the language we may be conducting business in is the same, there are cultural cues and nuances that have to be understood. I've been more cognizant of things when I've done global or international negotiations or managed people."
Expertise Spotlight
Kirkland & Ellis is an international law firm that serves a broad range of clients around the world in private equity, M&A and other corporate transactions, litigation, white collar and government disputes, restructurings, and intellectual property matters. We offer the highest quality legal advice coupled with extraordinary, tailored service to deliver exceptional results to our clients and help their businesses succeed. We invest in the brightest legal talent and build dynamic teams that operate at the pinnacle of their respective areas. And we believe in empowering our lawyers, encouraging entrepreneurialism, operating ethically and with integrity, and collaborating to bring our best to every engagement. These principles have guided us in building successful long-term partnerships with clients since our founding in 1909.
***
Proskauer:
"We value our longtime working relationship with Tracy, our friend and colleague. She is a consummate professional and a proven leader who approaches every project with a business savvy combination of diligence and innovation."
–Colleen Hart, Partner