"Like so many of us in the financial services industry, I got to where I am today by accident," says Anna Paglia, head of legal at Invesco, an independent investment management company headquartered in Atlanta, Georgia.
Always a "very opinionated little girl," Paglia says that becoming a lawyer was "meant to be." After graduating from Luiss Guido Carli University, the top-ranking private university in Italy, Paglia continued to cultivate her expertise in financial law, working as an associate counsel at Barclays Global Investors, earning a Master of Laws (LLM) from the Northwestern University School of Law, and working her way up to partner at K&L Gates. But today, Paglia is known for more than just a general knowledge of financial law—she has specialized in exchange-traded funds (ETFs) and now supervises all US-based ETFs for Invesco.
"More than twenty years ago, my first boss came to me to talk about ETFs, at a time when the 'ETF acronym' was unknown to many. The novelty of it really drove my curiosity," Paglia remembers of her introduction to ETF work. "It felt right at the time, to use the skill set I had developed to challenge the status quo, find new solutions, and not stop at the letter of the law but rather work with leadership and regulators to find different goals and solutions for everyone.
"And now, I am an ETF geek," Paglia continues, laughing. "This is something you cannot navigate without passion or emotion. It's an area of the law that you either love or hate. If you don't like it, you often don't become very successful—but if you do like it, it becomes so satisfying and intriguing."
"Anna is an acknowledged leader in the ETF industry who brings to bear her considerable legal expertise daily," says Alan P. Goldberg, partner in charge at Stradley Ronon Stevens & Young. "She is highly focused on providing practical advice to Invesco's ETF business in a thoughtful and measured manner."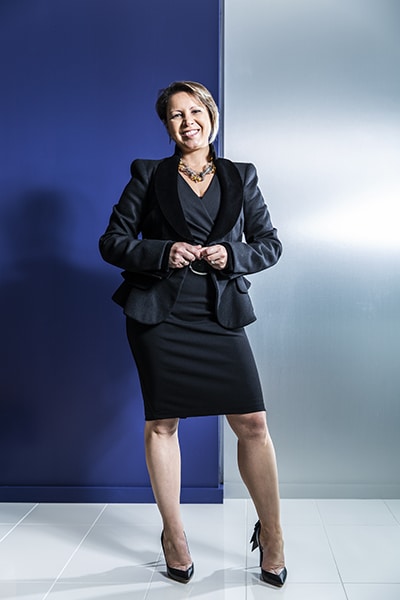 Innovative Investments
As Paglia explains, ETFs have democratized the investment process for shareholders. It doesn't matter how big or small a shareholder is; anyone can buy a share of an ETF, just as they would buy stocks on their phone.
For Paglia, a large part of what makes ETFs so interesting is the creative thinking demanded by that area of work. "The one word that you hear over and over when you speak to people who work in the ETF industry is 'innovation,'" Paglia says. "You can do things that weren't heard of twenty years ago, and everything—all of this progress—was achieved because people started thinking creatively about the investment process."
Innovation is what drives the entire ETF industry, Paglia says, and "good" innovation implies that somebody out there is navigating in a gray area and getting creative to find the answers to looming questions. Lawyers like Paglia are supposed to help drive that innovation, which means becoming an integral player in the product development process as well as the business process.
"No innovative ideas can come to market without the knowledge, the expertise, and the interaction of the legal team with the business team," Paglia says. "Invesco has succeeded, and I have succeeded along with Invesco, in marking a history of many 'firsts'—first to obtain a release to manage active exchange traded funds, first to launch a senior loan ETF. But every time we're first in something, it's not because we're the smartest out there, but because we found a creative way to make something work."
The Future of Financial
While Anna Paglia has found her passion in the financial services industry, she believes that academic institutions can and should be doing more to help educate young lawyers about the industry.
"Financial services should really be introduced to lawyers when they are in law school," Paglia asserts. "It's such an intriguing and dynamic area of the law, and law school is designed for exploring the field. I studied law in in Italy, England, and the US, but with the exception of a few law schools, financial services and mutual funds are not really a part of many law school curriculums."
Not only that, Paglia says, but students should be introduced to the industry as early as possible so that they have a background in it when faced with the industry's complexity and constantly shifting regulations. "It's not at the front and center of the academic process, but it needs to be," Paglia states.
The Invesco Village
Paglia herself has played a critical role in "making things work" at Invesco. She has played a critical role in integrating newly acquired ETF businesses within the Invesco governance ecosystem. She has also served as a key partner in the company's creation of an internal self-indexing business that leverages the "active" and "passive" sides of Invesco to bring new and inventive investment solutions to market.
On top of partnering with internal business leaders, Paglia has been given responsibility of Invesco's governance affairs by coordinating with independent trustees. The entire framework at Invesco is designed to strike the right balance between risks and opportunities, Paglia says, and that framework is based on the close-knit relationship between business needs, disclosure, and oversight. Paglia is responsible for ensuring that trustees receive the information they need to discharge their fiduciary responsibilities.
In short, Paglia notes, "you do not have the luxury of being an island" in the financial services industry. "You need to have a good relationship with your colleagues and remember that you are always, at the same time, a client and a service provider," she emphasizes. "Our internal partners at Invesco include everybody—we work very closely with the marketing team, with the portfolio management team, the product development team, and our business leaders. It takes a village, and you have to be open to other people's views because that only makes you stronger and a better professional in the end."
Great Change and Great Power
The industry has seen a great deal of change even in the relatively short period that Paglia has been involved in it, she says, and those changes aren't slowing down anytime soon.
"The industry today is incredibly competitive and incredibly crowded," Paglia describes. "The last few years, we have witnessed an increased number of mergers and acquisitions, and that is going to continue. The big and the strong will become bigger and stronger, and technology and innovation are only going to play a bigger and bigger role."
Lawyers will have to be at the front and center of that revolution, Paglia says, but she urges her peers in the asset management industry to remember that their jobs are "not just a job." "Working in financial services or asset management—that is a privilege," Paglia remarks. "Our clients trust us to make a real difference in their lives: can that person retire? Can they send their kids to school? Can they afford the lifestyle they're aiming for?
"It's like Spiderman," Paglia laughs. "We have great power over people's lives, and that's a huge responsibility. Working in financial services is a privilege, and we need to take it very seriously, every single time."
Expertise Spotlight
For more than ninety years, Stradley Ronon's investment management practice has helped shape the investment management industry by assisting with the creation of innovative investment products and services. From obtaining industry-first exemptive and no-action relief to assisting in the development of novel products, we have helped our clients become or remain industry leaders. As the investment management industry and our clients have evolved, so have we, adding attorneys with experience in emerging areas, such as next-generation exchange-traded products, Commodity Futures Trading Commission (CFTC) regulation, and swaps and other derivatives trading.
Today, Stradley Ronon's leading investment management practice advises investment advisers, public and private funds and fund sponsors, fund boards and trustees, service providers, insurance companies, and other industry participants in matters ranging from the routine to the most sophisticated. Whether you are a large financial institution with global operations or a boutique firm seeking to remain competitive, Stradley Ronon's team of investment management practitioners can help you achieve success.
Stradley Ronon maintains one of the largest practices in the United States representing registered investment companies. Our clients include more than fifteen hundred separate funds/series, including several of the top twenty investment company complexes in the country by assets under management.