Be humble. Be bold. And dream big. These are the philosophies that have driven Anna Oliveira to achieve the goal she wasn't always sure she would be able to reach—securing an international legal position. Born and raised in Brazil, Oliveira always worked hard to achieve her career goals. "My inclination toward a career in law started early. From a young age, I discussed with my parents the concepts of ethics, justice, and social responsibility, which have been fundamental in building my character and values and guiding me in my personal and professional decisions."
Today, building on a thorough, wide-ranging grounding in legal and business affairs, Oliveira serves as global corporate compliance and transactions counsel at The Kraft Heinz Company.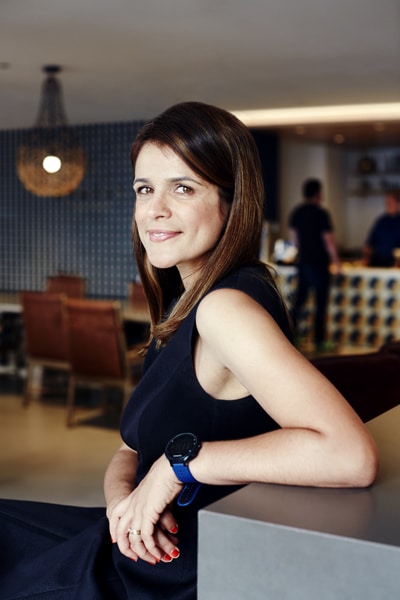 Oliveira moved to Chicago in 2014. "It has been a long and challenging journey since then. I had to start my career over from the beginning," Oliveira says of her biggest career change. In Brazil, she had spent the last decade accruing experience as a litigation associate at Tozzini Freire Advogados, one of the country's top law firms, and as a senior lawyer and investor relations analyst at Valid SA, a Brazilian manufacturing company. At Valid SA, she developed an unusual skill set that allowed her to navigate cross-functional business teams and transition easily between legal and financial matters.
"Working directly with the CFO of the company and supporting the international transactions were fundamental for my career as an international lawyer," she explains. "I was at the top of my career when the opportunity to pursue my dream to be an international counsel was given to me." The decision to move to Chicago came along with a very clear goal: enroll in the LLM and business studies program at Northwestern Pritzker School of Law. Oliveira was thrilled at the chance to expand on her areas of expertise in a new legal landscape.
"I always wanted to be an international lawyer, but for so long that seemed like a far-off dream," Oliveira says. "But sitting in my first law class, it was like a Hollywood scene in my mind. I just kept thinking, 'Gosh, the dream is coming true.'"
At Kraft Heinz, Oliveira has leveraged both her international experience and the cross-functional expertise she honed while at Northwestern. "I love the intellectual challenges of this work, the opportunities to constantly learn from jurisdictions with different laws, risks, and cultures," she says. "International lawyers have very specific skills—we have a foundation of law from our own countries, but at the end of the day we have to promote a balance between the sense of the law as it exists in different countries."
The legal department at Kraft Heinz realized that this global approach would be valuable when Oliveira joined the company in 2016. "They saw that I had cross-border financial and M&A transaction experience from my roles in Brazil and that there is a sort of art to learning from local requirements while working on a global deal," Oliveira explains. "One of my roles now is to support local teams with the required support from world headquarters while guaranteeing the adoption of corporate governance standards."
Beyond the legal norms and requirements of various jurisdictions, Oliveira believes that a successful in-house counsel must learn about the company—its culture, market, and products. "I saw it as a part of my job, to learn about the history of the company," she says. "As a transactional counsel, you need to understand how acquisitions are related to the company's assets and brands."
"I always wanted to be an international lawyer, but for so long that seemed like a far-off dream. But sitting in my first law class . . . I just kept thinking, 'Gosh, the dream is coming true.'"
While Oliveira admires Kraft Heinz's history and legacy, she is even more inspired by the iconic company's culture today, which emphasizes corporate social responsibility and diversity. The company hosts philanthropic initiatives, such as Rise Against Hunger meal-packaging events that support Kraft Heinz's commitment to donate one billion nutritious meals to people in need by 2021, and actively encourages employees to participate. Ownership is one of Kraft Heinz's five values, fostering the idea that "we are all owners of the company and we support each other to deliver the results and to create value."
Last year, Oliveira had her first child, and the company's support during her leave confirmed her belief that the company truly values female leaders. "Of course, I was a little bit nervous to return to work and have to find my space again," she acknowledges. But the company has consistently helped her advance in her career, and she is surrounded at the organization by examples of successful women.
"Diversity is real at Kraft Heinz," she says. "Legal has a majority-female team, all of whom are so supportive and inspirational, and I've had the same treatment and opportunities that I would have had as a man. I was even promoted when I came back from maternity leave, which for me means that the company understands how important the female workforce is."
As a working mom, Oliveira says, she strives to be extremely honest with her son. She wants to be the best she can be for him, and that means being frank about when you need help and keeping yourself open even to potentially daunting experiences.
"I actually feel confident when I'm faced with unknown situations and don't have any previous experience," Oliveira notes. "I challenge myself all the time, in every aspect of my life, and every day is an opportunity to do my best."
Life Training
On top of her work at Kraft Heinz, Anna Oliveira seeks out new challenges and opportunities to connect with people. Since joining a running group in 2014, Oliveira has run seven marathons—she even ran five hundred miles while pregnant with her son. This highly intensive training has given her the strength, resilience, and confidence she needs to manage her responsibilities as a mother and lawyer.
"You have to sprint sometimes in your life," Oliveira advises. "Maybe it's a marathon to get to the finish line, but that marathon is just a lot of little sprints strung together. And training for marathons, while taking care of my child and running to business meetings, has actually helped me train for all those life sprints."
***
Gibson Dunn:
"We are thrilled to celebrate Anna's success. Anna is a talented lawyer with a truly international, business-oriented perspective, and we congratulate her on this well-earned recognition for her contributions to the legal community."
–John W.F. Chesley, Partner