Apart from what he calls "product testing" in college, Martin Voke had no real job experience upon leaving school, let alone knowledge of the spirits industry. When he went to work as a business analyst for the sales and management side of Bacardi at the business's Dallas branch in 1990, he would have been hard-pressed to forecast changing fields entirely, all the while remaining at one of the most recognizable names in the spirits world. Now, nearly thirty years later, as vice president, general counsel, and secretary for Bacardi North America, his experiences have helped align legal to the business. He also continually strives to spread the culture of "primo" (the Spanish word for cousin and how those at Bacardi refer to colleagues) at the company and to make a male-dominated industry more welcoming and supportive of women in leadership.
A year into his new career at the company, Voke and eight other up-and-comers were offered the chance to pursue their MBAs—a chance Voke leapt at. Working for Bacardi during the day and attending classes at night, Voke began a close working relationship with the senior general counsel at Bacardi, who was also in a division advisory role for Voke's Dallas branch. The lawyer knew Voke had always wanted to attend law school, and when Texas Wesleyan (now Texas A&M) opened a night school, Voke's mentor pushed him to move straight from business school into law school. "He said it was going to be really hard, but he also said the company would be fully supportive of me," Voke says. Both predictions wound up coming true.
With a newly minted MBA degree in hand,  Voke again worked days at Bacardi, left five minutes early every Monday through Thursday to speed up the highway to night school, took classes from 6 p.m. to 10 p.m., and then came home to study. "It was my wife Connie that held down the household while I continued my education," Voke says. "She had the hard job while I was able to focus on my path, which she fully supported, sometimes at her own expense. I could not ask for a better partner in life."
Further intensifying the challenge, the same GC who had encouraged Voke to attend law school now further encouraged the soon-to-be lawyer to transfer from Texas to Florida and take up residence in the legal division of Bacardi North America. "There's nothing quite like changing jobs, law school, and packing up your new family and moving to Florida all at the same time," Voke laughs. But he was able to finish his degree in three years and hasn't looked back since.
"Bacardi has been so great about letting me grow and develop," Voke says. "If you're good at your job, the sky really is the limit in terms of the roles you can take on here." From sales and marketing to litigation, employment matters, contracts, IP, and any other matter that helps the business operate more fluidly, Voke has worked on it.
One of the GC's biggest projects to date was in the company's strategic decision to jettison its North American distributor model and open its doors to any and all interested parties. "A lot of our existing distributors and wholesalers at the time were people we had thirty- or forty-year relationships with," Voke says. "Legal had to help create a standardized request for proposals that was fair and helped all the participants put their best foot forward." After extensive interviews, research, and deliberation, Bacardi ultimately wound up terminating contracts with twenty-eight separate distributors and brokers and unifying those deals with one distributor, Southern Glazer's Wine & Spirits, for the majority of the North American footprint.
Prior history indicated that Bacardi would, regardless of the business model it elected to employ, face litigation in response to terminated contracts. Knowing it would face suits in many states, Bacardi filed preemptive litigation to make sure all matters would be argued where its original contracts stipulated, in Florida, not in forty-something different regions and locations. For the legal team, that meant concurrently filing nearly sixty individual state and federal pieces of litigation. "Clearly, this was a difficult process," Voke says, "but the business result—it's always about the business—is that we were able to move forward with as little disruption as possible."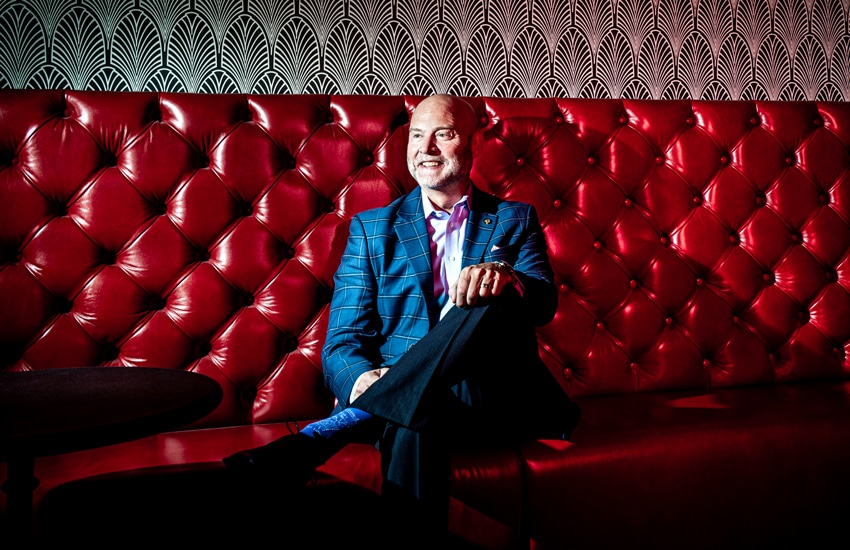 Disruption of another kind has been welcomed at Bacardi. Voke received the Fostering Diversity and Inclusion Award on behalf of judicial events for his efforts to seek more opportunities and equality for women in positions of senior leadership. In the fairly male-dominated spirits industry (although it is getting better), Voke says that making women part of the conversation is vital in helping break down stereotypes and break through glass ceilings. "If you only have men in interviews, it's all you're going to hire, and you're missing that goal of developing a diverse workforce that helps drive us toward better solutions and better decisions."
Bacardi is well ahead of the game, yet Voke says there is room for improvement in terms of sales positions and senior leadership. "Now it's about making sure that we're developing everyone at the same levels," Voke says. "When those positions come open, we want to make sure that we have that same diversity vying for those positions." A big focus of the Bacardi Women in Leadership program is helping achieve just that. Through mentoring, training, and development opportunities, the company is looking to unleash the potential of current and future female leaders of
the business.
Voke's passion for women's issues is multifaceted. His own legal team is entirely female, and as a husband and father of a daughter, Voke says he doesn't want anyone whom he cares about to have to compete in the same unequal capacity that so many other women have endured. As the GC's own daughter continues working toward her goal of becoming a physician assistant, Voke says, "I want to help smooth her path as well as the paths of others to make sure women have a level playing field—so they can experience the same benefits that I was fortunate to receive. My hard work is not different than theirs, and they should share in the same benefits equally."
***
Hogan Lovells:
"Martin Voke is the epitome of 'Modern Counsel.' He is a consummate strategist while also being an integral member of high-stakes litigation for Bacardi. Yet, he still manages to champion and advance women's rights."
–Marty Steinberg, Partner, Litigation
***
Kelley Drye:
"I've known Martin for years and I've proudly witnessed his incredible dedication to Bacardi and efforts to foster a more diverse and inclusive workplace. I'm happy to call him a friend."
—Michael Lynch, Partner