Harley-Davidson, one of the most iconic American brand names and a global leader in motorcycle manufacturing, has been in operation for more than 116 years. The company carefully manages its reputation and the lifestyle that goes along with its brand to maintain an image and identity that people want to be a part of. This type of management is particularly important as Harley-Davidson evolves with the changing times and embraces the advent of new technologies.
With the help of Adraea Brown, legal director of trademarks and brand protection, Harley-Davidson is entering untrodden territory. It has debuted electric motorcycle LiveWire, its first electric vehicle, which has now moved past the prototyping phases and entered production. Even as Harley-Davidson pursues the LiveWire motorcycle and other projects, it remains steeped in its history, never sacrificing the high standard of quality that has led to its being known and beloved all over the world.
Harley-Davidson is a lifestyle brand, Brown explains, and its fiercely loyal fans take that lifestyle seriously. "A lot of people love Oreo cookies. I love Oreos. But do people love Oreos enough to have them tattooed on their arm and go to Oreo conventions? Perhaps, but this is the level of passion for the Harley-Davidson brand."
Since Harley can represent such a significant aspect of customers' lives, the company goes above and beyond to protect its trademarks. "We want people to love Harley. We want people to show their passion," Brown says. For instance, the company has no interest in policing people's passion projects—homages to Harley that they make solely for their own personal, noncommercial use. "But we also want the public to buy genuine products and be safe. Quality and safety are paramount for Harley-Davidson."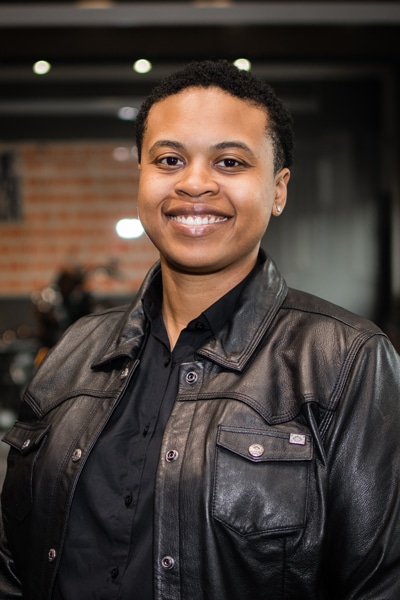 One customer Brown recalls hearing about purchased a neon sign, allegedly produced by Harley-Davidson, that burned down her house. The sign was a counterfeit, as Harley-Davidson did not make or license neon signs. Since counterfeit products can often pose serious hazards, Brown and her team must be vigilant to protect people from goods that are being marketed and sold as Harley products though they are anything but.
Harley's newer products pose different challenges for the legal team when it comes to safeguarding Harley's trademarks. The 2020 model year launched in August 2019, and with it, LiveWire, Harley's first fully electric vehicle. LiveWire is just the beginning for Harley-Davidson, which is currently working on pedal-assist electric bicycles and electric scooters. Because Harley has not made these types of products previously, it is up to the legal team to develop an enforcement strategy to protect the brand from counterfeits, including pursuit of additional trademark registrations.
A few years ago, Brown remembers that the team noticed some counterfeit Harley-branded e-scooters appearing in China and Vietnam. Then the e-scooters started coming through various customs ports. At the time, it was easy to tell customs to simply put a hold on any so-called Harley scooters because the company was not producing scooters. Now that genuine Harley scooters will exist, however, the company must prepare for how it will guide and train customs officers and agents so that they do not delay or confiscate genuine Harley scooters. Things are changing fast for Harley-Davidson, and with innovations ever on the horizon, Brown and her team continually tackle thorny legal issues to equip themselves and the company for the future.
Traditionally, Harley-Davidson has not shared its future plans with the public. That gave the legal team more time to plan and prepare. "2018 was the first year that Harley ever announced future plans to the public," Brown says. "With that, my trademark team needs to be able to reach decisions faster to adapt to the direction and speed of the company. We have to be more agile, more accepting of risk, and more open to change." She is promoting the acceptance of change throughout the company, reevaluating the company's self-imposed rules to make the brand stronger. "We understand that in order to evolve and move forward, we have to embrace change," she says.
This flexibility and open-mindedness are apparent in Harley-Davidson's support of a diverse workforce. "One thing that's great about Harley from a corporate perspective is that when most people think of Harley, they think of our stereotypical customer, who is, for the most part, a white man age forty and above," Brown says. But the image of a typical customer is not necessarily reflective of Harley-Davidson's values or its employees. "We have that demographic, but we also have a lot of diversity. The legal department in particular is very diverse, especially as it relates to women."
"One day there will be diversity without having to discuss it and create action plans. We will hire diverse talent and work in diverse work environments simply because everyone understands that diverse teams produce the best results. That would be my dream."
This diversity is a constant source of inspiration for Brown. "Seeing someone who has been able to excel and who looks like me tells me a lot about the company." As an out black woman, she is aware of the stereotypes but does not allow herself to become boxed into them. The diversity she has observed at Harley-Davidson underscores its commitment to excellence and success. "The idea around diversity discussions, in my opinion, is that one day there will be diversity without having to discuss it and create action plans. We will hire diverse talent and work in diverse work environments simply because everyone understands diverse teams produce the best results. That would be my dream."
As Harley-Davidson continues to move forward, ever nimble as it builds vehicles and strategies for the future, it does so with a diverse lineup of new products coming down the pipeline and a diverse team of lawyers to protect it. Brown has shown that change is nothing to fear. Harley-Davidson will adapt to the landscape of electric vehicles for consumers at every level while maintaining the storied history of a great American lifestyle brand.