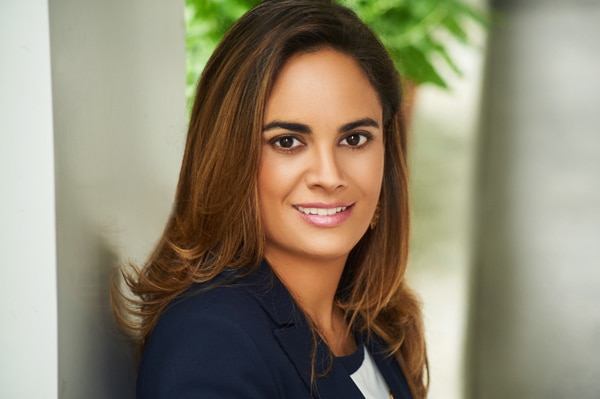 While many people think of in-house lawyers as inhibiting business by telling executives what they can and cannot do, Zamira Zapata doesn't see it that way. Shortly after alcohol and spirits company Diageo recruited her to be its general counsel in the fall of 2011, Zapata joined its executive committee and began incorporating more responsibilities into her role. She's been using her legal prowess and her extended reach to help the company advance its business initiatives ever since.
Zapata's climb up the executive ladder began in early 2014, about two and a half years after she started working at Diageo, when the company expanded her position as general counsel to include corporate security. "Normally, lawyers are the head of the legal function," she says, "but Diageo, through the years, has been consolidating other responsibilities into that role."
The executive team didn't decide to give Zapata more duties simply on a whim, either. Its members understood that she had the right prior business experience to handle the work and improve Diageo's practices and processes. "It has a lot to do with business skills and leadership skills you develop throughout your career," Zapata says. "At Diageo, we are business leaders who are looking to drive the performance of the business."
Now Zapata is vice president and general counsel for Diageo's Central America, Caribbean, free-trade zone, and border business, and in addition to overseeing corporate security and brand protection, she leads the company's compliance team in this region. She also plays a relevant role on the executive committee and the board of directors for the Zacapa business, which is key for Diageo, especially in markets such as Italy, the US, and Mexico. Each area she runs is critical to the success of the business as a whole.
At the same time, she makes sure the members of her legal department do more than serve as checks on business operations. "We give highly creative, cost-effective legal and business advice to the commercial and marketing teams where we operate," Zapata says. "I think it's critical for the legal function to drive and generate value for the long-term, sustainable success of the business. It's about finding the opportunities, the possibilities, and the solutions to help the business grow and perform."
Zapata and her legal team proactively benefit Diageo and improve its bottom line in a number of ways, including lowering costs by maintaining compliance with local laws and reducing the risk of litigation. "When we focus on having the correct emphasis on risk management, simplification of processes, and timely decision-
making, we generate value for the business," Zapata says. "We have also facilitated the marketing team's agenda and increased the reach of our brands and our products to new customers and consumers."
Today, with labels as varied as Smirnoff, Johnnie Walker, Baileys, Don Julio, Buchanan's, and Guinness, among others, Diageo operates in thirty-seven different countries—many in Central America and the Caribbean—and has a wide consumer base. Zapata's work for the company is quite different from that of her previous job, as general counsel for Genomma Lab, which operates primarily in Mexico and Latin America.
"It's a challenge to be able to contribute to a business in different jurisdictions because sometimes there are similarities in terms of the regulations but there are others where regulations are very different," Zapata says. "In Central America, you have some countries that follow the roman system—like Belize, El Salvador, Panama, Nicaragua, Costa Rica, and Guatemala—but then, in the Caribbean, you find a mix of jurisdictions where there is influence from European law or UK law."
At the same time, that challenge has helped make Zapata a better lawyer. "When you expand your responsibilities to other regions, the complexity of having different regulations across regions is one of the areas where you expand in terms of your legal expertise and your legal development," she says.
As she continues to refine her own know-how, she's also making sure the rest of her team has the right skills and commercial insight to deliver and remain agile in its execution. "We have to have not only the right team," she says, "but the right capabilities and the right judgment to correct and drive the business's performance."
Photo by Alice Ray
Beyond Beverages
Zamira Zapata and her team are also involved in a couple of socially conscious initiatives for Diageo. These initiatives are important to Zapata personally, but she points out that they're also important from a business perspective. "In many countries and many companies," she says, "it's crucial to always do the right thing and, at Diageo, I feel proud to say that's something that we have incorporated into our day-to-day operations." Here's a look at the two programs Zapata and her team are helping with.
The "Drink Positive" Initiative: Through this program, Diageo is working with governments all over the world to encourage responsible drinking and reduce drunk driving. The company has started a conversation around the topics internally, too, by having employees share stories about how alcohol can play a positive role in society.
The Equality Initiative: Diversity in the workplace and in positions of leadership remains a concern for companies worldwide, and through this internal program, Diageo aims to increase the diversity of its team dramatically.