It's a visceral memory for Javier Espinoza: He was a young Mexican immigrant standing in an office elevator, old clothes splattered and stained with paint from the early morning's work. The doors would open, and office workers in crisp suits would trickle in to spend a day in an air-conditioned life he could hardly imagine. The words and thoughts that might have crossed their minds would sear him: Mexican, immigrant—or worse.
It would take many more years for Espinoza—now forty-three and at the helm of his own successful and growing personal-injury law firm, the Espinoza Law Firm, in San Antonio, Texas—to see the dirt beneath his and his father's fingertips as a source of pride, or his Latin American roots as a heritage to embrace. Early on, who he was—an immigrant who spoke no English when he first started school, whose father, a construction worker, and mother, with only a fifth-grade education, both left Mexico for Odessa, Texas, in search of a better life—was something from which he wanted to run. So, when he saw those office workers—neat, tidy, comfortable—he would ask himself a question, again and again: "Why not me? Why can't that be me?"
"Why not me?" became Espinoza's battle cry, a way for him to plan for a difficult-to-grasp future of success and acceptance. "I just started reflecting: 'What am I going to do with my life? Am I going to be a construction worker? Should I get married?'" he says. "I just decided that wasn't what I was going to do with my life. My only way out, I decided, was school. I knew I wanted to do something more. I would study and work harder than anybody. In my mind, that's the way I was going to show them that I belonged."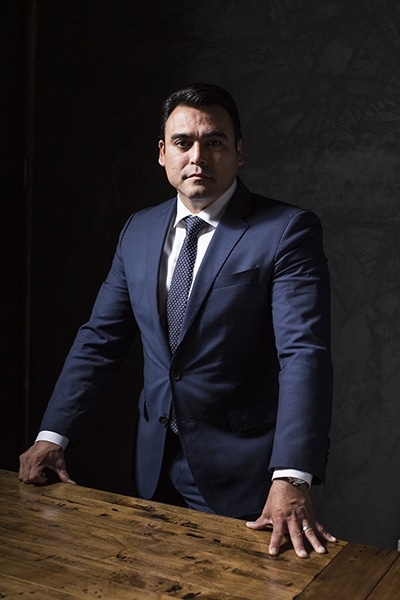 And, he decided, that meant he couldn't go small; he needed to go to the University of Texas–Austin, the state's flagship university. While attending a full slate of classes there, he also worked forty hours per week at a Budget rental-car counter, chatting with business travelers. One summer, because his roommates had left temporarily for home, he found himself living out of his car, spending his nights sleeping in it in the Budget lot or on coworkers' couches. Still, he didn't doubt his plan. "I don't recall ever thinking about giving up," he says. "I saw those people on the other side of the counter, and that helped motivate me. I thought, 'Someday, I'm going to be on the other side of this counter.'"
It wasn't all hardship in Austin, though. He met his wife, Anjélica Jiménez, now a district court judge, with whom he helped found an activist group, Helping Everyone Reach Opportunities and Education, which provided tutoring and mentoring to low-income high school students. The work inspired him, and he began to notice something: whether it was school issues, civil-rights issues, or worker-rights issues, it was always lawyers who seemed to give a voice to the powerless. Once again, he said, "Why not me?" He decided he would become an attorney who would fight for the working class.
So, he returned to west Texas and worked construction jobs to sustain his family while at Texas Tech University's School of Law. When he became an attorney, his clients became his passion. "I could speak their language," Espinoza says, noting that they often worked in construction or warehouses or performed other kinds of manual labor. "I would see people come in, and that was my uncle or my aunt, that was my dad—they looked just like my family. They were working class, and that became who I really put my flag down for. I'd go to war for them."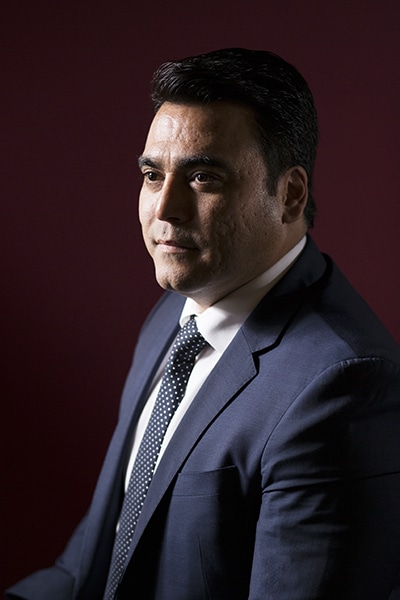 Today, from its San Antonio base, the Espinoza Law Firm continues to expand and now has six attorneys and a staff of more than twenty. It focuses almost exclusively on work injuries and workers' rights throughout the state.
Espinoza no longer worries about his own acceptance; he wants others to thrive and for others like him "to have a seat at the head of the table." He is happy to have the trappings of success he so craved and now focuses much of his energy on the local political arena, "always behind the scenes," he says.
"I want my leaders to reflect my values, for my community, my clients, and my family," he adds. "I know there are many people out there asking themselves the same question I did: 'Why not me?' I want the door behind me to remain wide open for other hardworking individuals who desire a better life."
Photos by Cass Davis