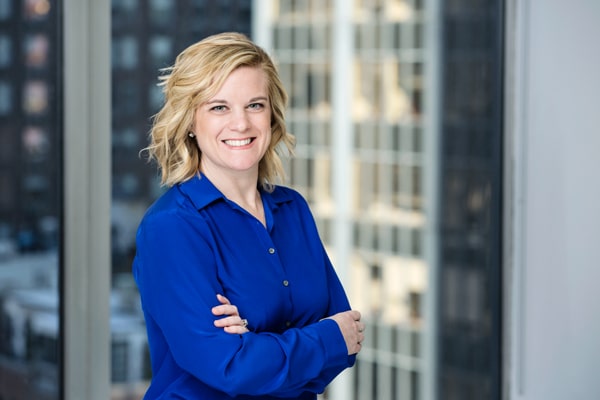 What Alison Wisniewski values most about her work as chief legal officer at Epiq, one of the top providers of tech solutions for the legal industry, is the number of accomplishments that her team is able to pull off on a day-to-day basis. "We handle virtually everything legal for the organization, and I do mean everything," Wisniewski says, including contract review, service and licensing agreements, guidance on data protection, real estate and employment law, litigation, intellectual property, and corporate governance. And, because her six-person team is able to do so successfully, she adds, "Each day is a win for us."
Having joined the company as in-house counsel in 2010, following several years at firms such as Kramer Levin Naftalis & Frankel LLP and Sidley Austin LLP, Wisniewski has also been able to provide her company with wins over a period of steady growth. Document Technologies, LLC acquired Epiq in a major 2016 acquisition, and the organization is now valued at $1.2 billion and has expanded both its client base and its geographic scope. As a result, Wisniewski says, having in-house counsel is more vital than ever, and here she explains some of the reasons why.
1) Speed
"We run the gamut around what we do from a legal perspective in this organization," Wisniewski says. When those from other departments have questions related to any of the varied legal subjects her team works on, they're able to get answers quickly by reaching someone in-house directly, rather than engaging with outside counsel. And, from a litigation perspective, when a complaint or subpoena comes through, Wisniewski's team is able to easily and quickly respond to it without clearing conflicts or determining rates with outside counsel.
Equally important is turnaround time on any task, including completion-of-service agreements. Wisniewski's team generally manages about a hundred such agreements each week across all business units. "By doing this review and negotiation in-house, we engage with the business and understand its risk profile," she says. "It helps us with our revenue generation and also provides the organization with protection against risk."
2) Communication
In addition to having a legal team whose members communicate well and know one another, having one whose members understand the company and its players provides a level of ease and prevents everyone from having to navigate new personalities. The members of the business team at Epiq know that, in addition to a litigation specialist, there are five lawyers at the company who understand the issues they deal with in reaching company goals. Likewise, the lawyers know the businesspeople they're working with. "We understand what they want or don't want, who is more risk averse, and why," Wisniewski says. "That helps us to know what they need to accomplish their goals."
3) Comfort & Counsel
Wisniewski's team frequently gets brought into conversations that aren't necessarily about legal decisions. "The business often wants our opinion on certain issues because we can creatively think like a lawyer and offer alternatives," she says. She cites liability limitation as a common example: often the business sits down with her and her team to weigh the risks of data it's obtaining to come up with a liability number.
Other times, when an issue comes up that Epiq is unsure how to handle—whether related to an employee or a client—it immediately loops in the legal department. This, Wisniewski says, has the added value of providing assurance. "When someone thinks they're doing the right thing and wants to do the right thing," she explains, "running it by someone in the legal department who understands the business as well as what is legally appropriate gives them comfort."
4) Business Knowledge
"I could probably create a services agreement in my sleep for any business unit and know which provisions of that agreement are important," Wisniewski says. This cuts down on outside counsel costs and time, ultimately making the process much more efficient while eliminating the need to reach out to specialists.
Having a strong knowledge of how the business works also provides value in subjects ranging from negotiating contracts to corporate governance to setting up companies in other countries. "When you have an in-house counsel that understands the business and the organization, it makes it a lot easier to get work done in a more efficient manner, because you don't have to learn the background information about that organization and what it has done in the past," Wisniewski says.
5) Strength Through Change
During the integration process with Document Technologies that started in 2016, having an in-house legal team was vital. "Combining two similarly sized organizations within the same industry is a challenge," Wisniewski says. That all sales team members knew there was a legal team who could assist them—and assist with integration efforts globally—helped to ensure a swift and efficient process.
As the company continues to expand, it will be able to rely on its legal team to tackle any new challenges that arise. And, Wisniewski's team will continue, as it always has, to have its day-to-day wins, whether successfully negotiating large contracts, navigating changes such as becoming compliant with the European Union's General Data Protection Regulation, or coming back with favorable verdicts in litigation cases.
Epiq will always have a legal department that understands the ins and outs of its business. "Our client is the organization, and we all have the same breadth of knowledge about what it does," Wisniewski says. "No matter what is needed, they know that they can come to us."
Photo by Matt Greenslade