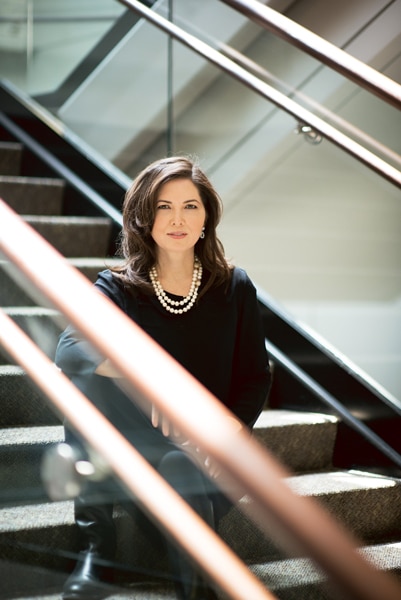 When Lisa Tomiko Blackburn was a child, her family had racehorses. While assisting with their training, she discovered that horses exposed to lots of different activities and terrain were calmer and more reliable. "For example, a green horse freaked out the first time I rode it into a stream," she says. "It bucked me off onto the rocks and stepped on me as it bolted from the water. That was a painful lesson, but it taught me that the more exposure we have to a variety of experiences, the better we are at staying levelheaded and generating productive solutions."
Blackburn has since applied this idea consistently to her own life and career, and it's led to one opportunity after another. During a break from college, she worked at several investment firms in Southern California, handling currency options and limited partnerships and eventually earning her Series 7 license. Then, law school called, and after earning her JD from the University of Michigan, she focused her practice on commercial real estate, first at Santoro Driggs, in Las Vegas, and later at Patton Boggs, in Dallas.
"Working in those hot markets during the real estate boom facilitated access to sophisticated projects and enabled me to have more responsibility than I would have during a down cycle or in less robust real estate markets," Blackburn says.
Following the 2008 recession, she was general counsel of Cypress Equities, a real estate development company with $1.5 billion in assets. "That period took a lot of grit," she says. "Every day was a fire drill. I got lots of experience negotiating tough positions and refining litigation-avoidance strategies."
Then, in 2015, Rudy Rodriguez—Blackburn's former outside counsel, who was then general counsel at CEC Entertainment (the parent company of Chuck E. Cheese's and Peter Piper Pizza)—needed a real estate law expert. "He is a highly skilled professional and a deeply interesting person, committed to the community, his family, and making the world a better place," Blackburn says. "I jumped at the chance to work with him again."
Since joining CEC as associate general counsel and deputy compliance officer, Blackburn has continued to find time for new experiences, including DiversityInc's yearlong webinar series on diversity and inclusion and a certification in "Brain-Based Conversation Skills" from the NeuroLeadership Institute. And, she has been working toward an MBA at the University of North Carolina's Kenan-Flagler Business School. As of press time, she was scheduled to graduate in December 2018.
"The knowledge imparted in my MBA courses has been invaluable in an in-house legal setting," Blackburn says. "It's a different lens that makes me better at my job. I now have a more comprehensive and nuanced view of how business works on a macro level and our competitive advantage on a micro level. Lawyers commonly say that law school helped them to 'think like a lawyer.' An MBA program helps you think like a businessperson."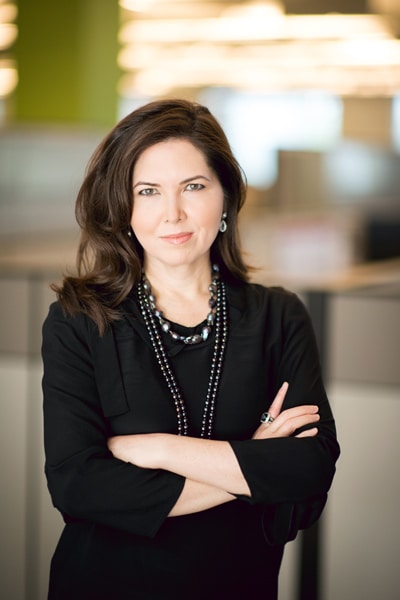 Blackburn applied tactics from her MBA classes to produce a multiyear plan to expand Chuck E. Cheese's in-restaurant dining model in stages, from third-party delivery to traditional company-controlled delivery to, in the future, autonomous-vehicle delivery. "I analyzed the macro business environment, competitors' 10-Ks, Porter's Five Forces, cost parameters, revenue projections, and financing options," she says.
When she presented her proposal, the company already had plans to test third-party delivery, but CEO Tom Leverton told Blackburn that her proposal "pushed his thinking." "That was the best response I could've imagined from a CEO I view as visionary, innovative, and obsessed with the enterprise," she says. The company's fall 2017 delivery test proved successful and rolled out nationally in May 2018. Blackburn's five-year proposal would add a proprietary ordering app, enhanced touchpoints, and fully branded autonomous vehicles with upsell capabilities.
In addition to promoting innovation, Blackburn looks for ways to combine her professional and personal goals. For instance, she decided to contribute her latest salary increase to Big Brothers Big Sisters. She started participating in the group's Mentor 2.0 program in January 2018. "My mentee, Jennifer, is a high school junior who wants to be the first person in her family to attend college," Blackburn says. "Mentors help mentees with the vision, tools, and structure to achieve their goals. My heart is invested in the program, and I knew I'd advocate a lot harder if I was working for kids like Jennifer rather than just for myself."
Perhaps with Blackburn's help, Jennifer can get exposure to a variety of experiences of her own.
Photos by Costa Christ Media
***
Call & Jensen:
"Lisa Blackburn provides a valuable combination of business savvy and legal knowledge, which helps ensure that CEC Entertainment is always well positioned to make the best decisions for the future of the company."
—John T. Egley, Shareholder