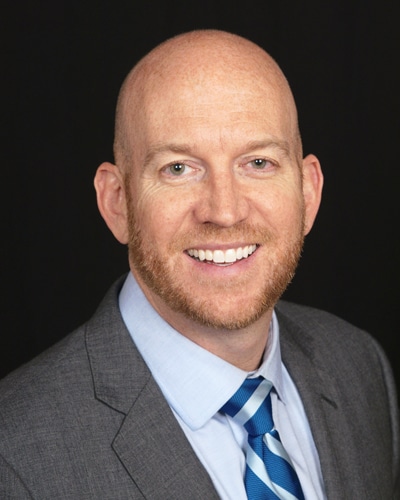 The Endurant made waves at Atlanta's North American Commercial Vehicle Show in late September 2017. The twelve-speed automated transmission is lightweight, efficient, and designed to reduce maintenance. It's an important product for diesel-engine manufacturer Cummins—and one that represents a shift in corporate strategy. In 2015, CEO Tom Linebarger announced plans to grow the Indianapolis-based company through a series of "disciplined investments in organic growth opportunities, partnerships, and acquisitions."
Preston Ray, assistant general counsel at Cummins, is the lead lawyer for the company's corporate strategy function. He specializes in complex mergers, acquisitions, strategic initiatives, and joint ventures, and he helped Cummins form a fifty-fifty joint venture with global power-management company Eaton to build transmissions such as the Endurant. The deal will help the company become an international commercial power train supplier, and Ray and his colleagues pulled off the massive agreement—one of the largest in Cummins's history—in only a little more than three months. Here's a look at how they did it.
January 2017: Letter of Intent
After Linebarger's mandate in late 2015, leaders at Cummins worked with new resolve. Ray, who joined the organization in 2007, transitioned to his current role and started to focus full-time on strategic growth initiatives. Although Cummins was known as a leading independent diesel-engine manufacturer, the company had never made transmissions. As executives discussed expanding into the area and becoming a true power train supplier, one potential partner emerged on top: Eaton. The two companies had worked together before, and Ray says they operated under similar cultures and philosophies. "We were familiar with Eaton and admired their leadership and their abilities," he explains. "It was one of those deals that just made sense."
Ray and others at Cummins saw how a possible joint venture would benefit both companies and customers alike by uniting two leading suppliers so that they could together build the world's most efficient, high-performance transmissions. First, though, Ray started a due-diligence phase, during which his team evaluated Eaton and examined available joint-venture legal structures and related ramifications. Legal and executive teams from both companies met to outline terms, and a deal started to materialize rather quickly. By the end of 2016, Cummins had a letter of intent in hand.
January–March 2017: Signing the Deal
Both companies wanted to move quickly. "It was important that we presented a united front, harnessed the momentum, and gave shared customers certainty," Ray says, adding that he and his peers wanted to sign the deal within sixty to ninety days.
The overriding goal of the joint venture was clear, but, as with any large, complex deal, there were a few surprises along the way. For instance, Ray soon realized the terms outlined in the letter of intent would require between thirty and thirty-five transactional documents. He focused on delegation and communication to get the best results from a team of internal and external legal experts. In fact, he paired external lawyers with Cummins attorneys and embedded them in each key business function. Eaton and Cummins signed their joint venture in April 2017.
August 2017–Present: Monitoring Success
After customary regulatory approvals, the deal closed on July 31, 2017, and the new venture was operational as Eaton Cummins Automated Transmission Technologies on August 1. Initial feedback for its Endurant product has been overwhelmingly positive, and it will continue to collaborate on other medium and heavy-duty transmissions.
Cummins is counting on continued success with the joint venture because its leaders, including Ray, have been careful to do things the right way. Both it and Eaton have equal representation on the board, and they share values such as accountability, integrity, diversity, and inclusion. The CEOs have even spent time together.
"This joint venture is about two cultures coming together to do something bigger than either could do on its own," Ray says, adding that while Cummins continues to innovate its respected line of legacy products, he believes the Eaton joint venture is the start of something new. "This was a big transaction and a fun project, and we hope it's the first of many."