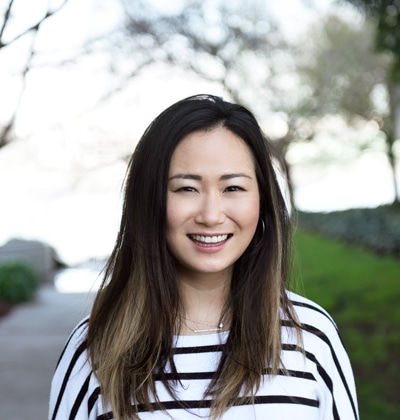 Mia Chiu gifted mugs to her legal team to mark the end of 2017, a marathon year at Ebates. The mugs read, "Tomorrow (n.): a mythical land where I get all my stuff done"—a lighthearted reference to the intensive effort the team put into two recent acquisitions: Cartera Commerce and ShopStyle, completed almost simultaneously last year. "Doing due diligence in-house for both meant better, continuous support for the business, so it was worth the pain," says Chiu, Ebates' general counsel. "My advice? Just keep going."
That mantra is propelling the cash-back website forward, along with its parent company, Rakuten (see sidebar on p. 32 for more). Ebates has experienced a significant growth rate for the past five years, and leadership expected Chiu to help support the business and continue that trajectory when she joined Ebates in 2015 as its general counsel. She spent her first year helping the company expand its mobile offerings to millennial audiences through the acquisition of coupon app Shopular and building a lean yet ultraefficient team.
Now, she oversees three other attorneys and two paralegals. "We're predominantly women and Chinese Americans, and one paralegal is hearing impaired," she says. "To see a big name in retail and e-commerce supported by a team of minorities and people with disabilities amazes me. And we're still actively growing the team as the business diversifies."
Here's a closer look at the Cartera Commerce and ShopStyle deals that helped the business diversify recently.
Cartera Commerce
Headquartered in San Francisco, Ebates provides an enticing online platform for more than twenty million member shoppers: it earns commissions from member transactions on affiliate network links, and members receive a percentage of each commission in return. Ebates seeks dot-com companies and apps to evolve its offerings, and Chiu says Cartera Commerce was a "natural fit" for Ebates' portfolio.
Prior to the acquisition, Ebates had dominated the performance-marketing industry in size, but Cartera had been an important player, too. A deal between the companies consolidated two heavy hitters in the affiliate publishing space. "Cartera was doing exactly what Ebates was doing, but for a different audience," Chiu says. Cartera works with five of the top ten US credit card issuers and five of the six largest US airlines, and since its inception, it has given away more than twenty billion points and miles.
All those obligations are now part of Ebates, and the company and its legal department are excited about the possibilities. "With more technology, more data, and more channels, Ebates is evolving—and so is the scope of its legal engagements and activity," Chiu says
She and her team finalized the deal in January 2017, and the general counsel says less reliance on outside counsel was crucial. "It's markedly different from most larger companies that would farm it out," she says. "But for us, it made far more sense, for postmerger integration purposes, to do most or more due diligence in-house."
But, the biggest challenge for the Ebates legal team during the Cartera Commerce acquisition, according to Chiu, was navigating a second acquisition, for ShopStyle, at the same time.
ShopStyle
About three weeks after the Cartera Commerce acquisition settled, ShopStyle signed its own deal with Ebates, in February 2017. Ebates' shopping portal features deals from more than two thousand online retailers, but the acquisition of product-discovery website ShopStyle strategically augmented the company's position in two new, fast-growing market segments: the millennial audience and the fashion vertical.
The ShopStyle platform, which Ebates purchased from lifestyle media company POPSUGAR Inc., curates content from top bloggers, brands, retailers, and stylists. "Social media influencers are the way millennials decide what to buy," Chiu says. "Its influencer network, ShopStyle Collective, was also important to us because it's diversifying who we go after and how we think about shopping, whether it's by store or product."
ShopStyle Collective ties together merchant partners and influencers to create sponsored-content campaigns. Influencers can generate income by embedding affiliate links for different products in their blogs. The acquisition of ShopStyle, a leading affiliate publisher, is part of Ebates' growing footprint in affiliate marketing for different audiences. For Chiu, the ShopStyle acquisition emphasized the importance of postmerger integration.
Chiu's legal team did most of the due diligence in-house, including all commercial and litigation due diligence, beginning in November 2016. "It was literally all hands on deck," Chiu says. "We also tapped some of the Rakuten USA lawyers to come in and help us. There was a voluminous data room. We had to support this business on day one of close, and we had about a month between signing and closing. Rakuten helped coordinate postmerger integration even before we signed the deal, and that was paramount to our success without a robust transition-services agreement." Cross-functional understanding was also critical, according to Chiu, to identify how departments such as human resources and accounting would be proactively supported.
Now, with the two sizable and influential acquisitions behind them, Chiu and her legal team know they're more capable than ever of tackling what's ahead for Ebates as it continues to change the way people shop online.
Under the Rakuten Umbrella
Japanese e-commerce giant Rakuten acquired American cash-back website Ebates in 2014. Since then, the global internet-services company, based in Tokyo, has successfully supported its subsidiary's M&A work, according to Ebates general counsel Mia Chiu. "We are part of the Rakuten ecosystem," she says. Here are three ways the companies work seamlessly together.
Cross-cultural liaisons: Rakuten USA comprises Japanese nationals and expats, many of whom have worked in both countries. That middle layer bridges the gaps between Ebates, its sister companies, and its international parent.
Increased brand presence: Rakuten has entered into a partnership with the NBA Championship-winning Golden State Warriors to become their first-ever jersey-badge partner. More internationally, it sponsors the FC Barcelona soccer team.
Promotion of work-life balance: Ebates and Rakuten are experiencing fast growth, which often requires legal input. "It's a very exciting time," says Chiu, and she aims to bring out the best in her team by focusing on career development and happiness along the way.
***
Greenberg Traurig:
"Mia is a natural leader. Having worked with her, I have been able to witness firsthand her collaborative, solutions-driven approach to the vision of Ebates that has earned her the respect of an entire industry."
—Joshua L. Raskin, Shareholder
***
Lessani Law Group, PC:
"When it comes to smart and effective in-house counsel, Mia is among the best. I admire Mia's ability to successfully partner with the business and pragmatically handle complex matters. I also appreciate the clear direction she provides."
—Tina Lessani, Principal Attorney, Patents
***
King & Spalding LLP:
"Even after working with Ebates for several years, I am still consistently impressed by its focus on growth. Mia and her team are very diligent, evolve quickly, and are committed to great outcomes."
—Matt Stewart, Partner