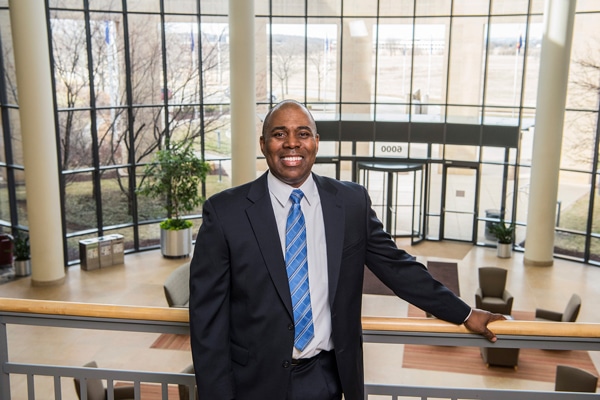 One word unites the many phases of Bryce Tolefree's life: service. The Wisconsin native grew up in a working-class family where others demonstrated the values of kindness and helpfulness. Then, after completing an undergraduate degree in political science, he enrolled in law school, looking for a career that would unite his passion for service with his competitive personality. He's worked in corporate law and as a public defender, but today he's vice president of American Family Insurance's (AFI) claims legal division. In that role, he's applying lean management solutions while working to maintain the same level of personal attention and service the company's clients have come to expect. Here, Tolefree talks with Modern Counsel about why service still matters in the present era and how legal leaders can push for such old-school values while still impacting the bottom line.
What has made you a believer that customer service and personal attention are so important?
I came to this profession because we have an obligation to serve. We're helping people achieve personal, financial, and professional goals. We exist to serve their interests. That means we have to see customer service and personal attention as critical. You have to think about dollars and cents but also about the impact you are having on people and the community.
How does that play out at AFI?
We're seeing our customers through the most difficult circumstances in their lives, and if we can do that while treating them as more than a number on a spreadsheet, it shows. It matters. We're a mutual company, and that means we don't have the typical profit-driven mentality. Our policyholders are owners, and our culture is different. The structure allows us to focus more on our customers.
But how does this play out day to day? How does this underlying philosophy actually impact your legal work?
It guides decision-making. As a leader, my first question is always "What do we need to do for the customer?" I think about how to best serve them first. Our leaders demonstrate this in action. Our president and CEO sets the tone. We have a great partner in the UW Health American Family Children's Hospital, and we support many charities. This shows our employees that the philosophy is real, and it empowers them to make those daily decisions the right way.
You've been researching and implementing lean management principles. Why?
Along the same lines, it's about stewardship. Our policyholders own the company, and we want to perform our fiduciary duty well. These lean management ideas let us enhance our ability to do proactive and innovative work, which means we are delivering results without undue financial sacrifice.
What are some measures that have worked?
The goal is to eliminate waste and allow employees to spend their time on things that benefit the customer. So, again, it all plays back into service. We have offices all over the country. If litigation drags on, it gets more expensive and creates stress. We wanted to decrease litigation time, so we started a controlled experiment, and we found out that these lawyers in different offices were each handling the discovery phase in their own way. We set a standardized schedule that calls for discovery much earlier in the process, and this reduced litigation time as well. We've been able to cut off several months of total litigation. We now resolve cases quicker and have created more capacity in our legal department.
You mentioned a controlled experiment. Is that how the process works?
That's the beauty of it, yes. Someone—anyone—can come to us with an idea, and we can test it out in a fixed environment. If it works, then we roll it out wider. If it doesn't work, then we didn't damage anything because it was a small and controlled test. It really empowers our staff and creates a safe space for innovation. We have lots of lawyers going to the court for proceedings. We noticed that on any given day, we'd have several company lawyers in the same courtroom for a routine hearing. We used one of these experiments to prove that one assigned lawyer could appear on behalf of the others and free up a ton of time.
What's surprised you most about going through this?
There are some unexpected benefits for sure. Employees love it because they get to voice ideas and then see the ones that rise to the top really make a difference. Our internal survey scores have gone way up. Legal was in the middle of the pack for company engagement before we did this, and now we have the highest scores. I love it because I know it means our employees are spending more time serving our customers. It's hard to provide great customer service if you're too busy.
What's next?
We're making progress, but we want to be best in class when it comes to customer service and lean management in legal. We have some of the steps in place, and we're pushing ourselves to develop new innovations to take us where we want to go.
Photo by Jason Rouse
***
Faegre Baker Daniels:
"In our experience, Bryce Tolefree is a seasoned, energetic, and inspirational leader. American Family has recognized those qualities by entrusting him with mission-critical roles in its legal department—where he has excelled."
—Michael McCarthy, Partner