After graduating from Georgetown Law School, Claudius Sokenu watched most of his classmates take lucrative jobs at major law firms. Instead of going into private practice, though, he took a position in the Honors Program at the US Securities and Exchange Commission (SEC), in the Division of Enforcement, because he wanted to get actual investigative and courtroom experience. The decision was an extension of his goals growing up in England. "I was fascinated with courtroom drama, and my intention was to be a trial lawyer, and so I set out to accomplish that goal," he says.
His experiences at the SEC have since led him to a position as deputy general counsel, global head of litigation, and global head of compliance for Andeavor, a Fortune 100 integrated-marketing, logistics, and refining company. There, he oversees all the company's litigation and its ethics and compliance program. In an industry as heavily regulated as the energy industry, that is a major undertaking.
Sokenu's path from the SEC to a major corporation that would hand him a role of such responsibility was a long one, but he was conscious of how every step would lead to the next. Here's a look at the strategic route he took, how it helped him develop a broad set of legal and business skills, and how he uses those skills today while working with a team of incredibly smart businesspeople, excellent lawyers, and other professionals at Andeavor.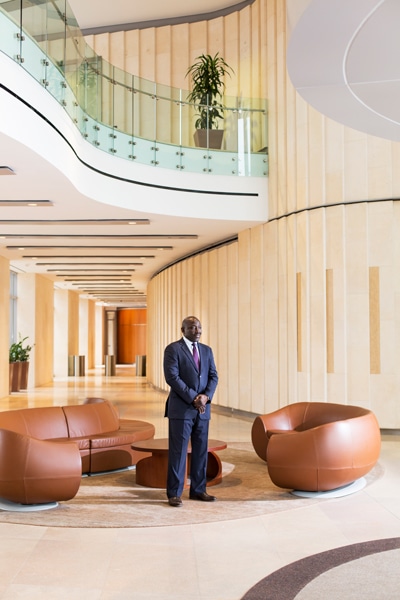 A Smart Play with the SEC
Sokenu's decision to join the SEC meant deferring the pay of a top law firm for a more modest government salary. But, because he had no loans to repay from law school, he was able to make a decision that was aligned with his professional aspirations rather than short-term financial concerns.
"We had a number of current and former SEC lawyers as adjunct professors at Georgetown," Sokenu says. "There was a strong case for going to the SEC before private practice. It was an environment in which one could actually practice law, gain valuable investigative and trial experience, and develop excellent judgment." For instance, Sokenu recalls taking depositions in his first month at the SEC, in major matters alleging violations of federal securities laws.
In his first year at the SEC, Sokenu had his own caseload, managed his own investigations and court docket, and was the commission's lead counsel on several high-profile matters. "A junior associate at a law firm would likely not have gotten such opportunities for five years or more," he says. "I was actually practicing law, and it was a lot of fun. And, that meant that I developed judgment, made decisions significantly earlier—and more consistently—than most of my peers in private practice, and learned through a baptism of fire. At the SEC, there is little, if any, safety net. You learned by doing, and that was scary in the beginning."
Sokenu's first couple of years at the SEC coincided with the dot-com boom, which led to a kind of gold rush, with droves of government lawyers flocking to private practice and Silicon Valley. Consequently, Sokenu's group in the Division of Enforcement saw nearly 100 percent turnover, which worked in his favor.
"As the senior people left, it created opportunities for people like me to handle higher-profile cases," he says. "Toward the end of my second year at the SEC, I was one of the most senior lawyers in my group of about thirty lawyers. I therefore had seniority and a correspondingly bigger docket of cases that I might otherwise not have had for many years. By the end of three years, I had brought a number of big cases, including the SEC's first-ever joint Foreign Corrupt Practices Act [FCPA] enforcement action with the Justice Department—against Baker Hughes, Inc., one of the world's largest oil-field services companies, and KPMG, a big-four accounting firm—and the SEC's enforcement action against Goldman Sachs for violations of the federal securities laws in connection with the initial public offerings of PetroChina Company Limited, China Telecom, Chinadotcom Corp., and GigaMedia Limited, for which Goldman Sachs served as underwriter. After these and other cases were completed, I felt that it was time to leave the SEC and go into private practice for a new challenge."
Sokenu had never planned to spend his entire career at the SEC, nor did he have to. The commission has traditionally served as a springboard between government and big law firms. Sokenu's Honors Program, for instance, was a three-year commitment program. If a lawyer's goal was to go into private practice, the advice was to leave shortly after the three-year mark. Staying longer, the reasoning went, meant law firms could see the lawyer as too senior to go through the firms' training but not senior enough to come in as a partner. The other option was to stay at the SEC for several more years and get promoted up the ranks. At that point, a lawyer could look to enter private practice as a counsel or partner. Sokenu opted to stick with the shorter path.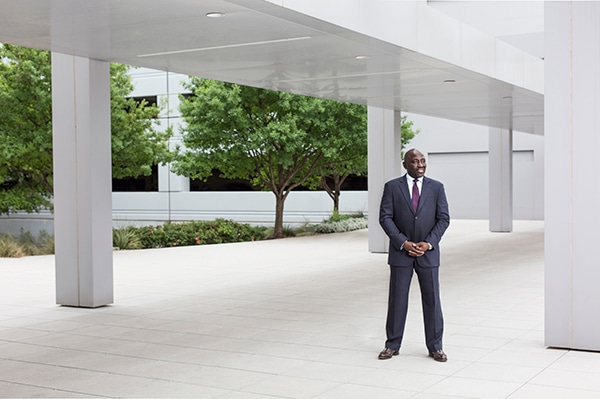 A Holistic Skill Set
In 2001, Sokenu joined Mayer Brown as an associate and made partner in 2006—an ultrafast track by New York big-firm standards. Stints with Arnold & Porter and Shearman & Sterling followed. Among other firsts, Sokenu was the first black man to be elected a partner at Shearman & Sterling, one of the country's oldest and most prestigious law firms. Sokenu has been consistently recognized by both Chambers Global and Chambers USA as an FCPA expert and for his investigative, regulatory, and securities-enforcement practice, and he's also won a number of awards (see sidebar).
Sokenu credits his success in private practice to hard work and the mentorship he received from several lawyers who guided his career. "Hector Gonzalez and Z. Scott were great mentors who helped steer my youthful exuberance," he says. "As I grew in my career and became a partner, I leaned on Michele Coleman Mayes and Ted Wells. In my case, the adage 'it takes a village' is particularly apt."
Last May, after more than sixteen years in private practice and four years at the SEC, Sokenu joined Andeavor. The company does business around the world and is highly regulated, so Sokenu's scope of experience and steady hand is especially valued. He says there have been two big learning curves for him there: The first was making the transition from private practice to an in-house position. As a litigator in private practice, he would get a case, litigate it, and generally that was the end of it, until the next matter came along. Now he has only one client: Andeavor. "My client needs answers quickly," Sokenu says. "The speed with which decisions get made was the biggest surprise for me. The questions are complex. You need to get up to speed quickly to fully understand the business imperatives and the decisions that drive them."
The second learning curve involved gaining a deep understanding of Andeavor's industry from a business perspective. Sokenu had represented energy companies in private practice and investigated them while at the SEC, but he knew that being an in-house lawyer would require him to have a deeper and more holistic grasp of the industry. "I quickly realized the things I needed to learn and set about learning them," he says. "I'm able to take complex information, digest it, figure out business needs, and pick the best option that combines our business and legal imperatives."
Current and former colleagues and outside counsel that have worked with Sokenu have been equally impressed. "Claudius has the qualities we want to see in a leader of the legal profession: legal brilliance, enormous work ethic, professional leadership, and a collaborative personality," says Ashish Prasad, vice president and general counsel of eTERA Consulting and a former litigation partner at Mayer Brown, where he and Sokenu first crossed paths. "He is a great role model and an inspiration to his peers and up-and-coming lawyers."
A Team Effort
Sokenu adapted to Andeavor's culture and industry fast, but he's quick to point out that he couldn't possibly do all the work he's been charged with at the company without an incredibly supportive team of lawyers and professional staff. "My team is fantastic, and we collaborate well to find the best answers for our company," he says. "We also have an amazing general counsel who is constantly challenging us to improve both what we do and how we do it. Every quarter, the litigation team does a 'lessons learned' review, going over our litigation docket and asking what we did right, what we could have done better, and how we can apply what we have learned to our future efforts." Sokenu says such preparation is key to the team's ability to serve Andeavor.
Asked what's next in his stellar career, Sokenu demurres. "I am fully focused on Andeavor and our journey," he says. "Together, we are building a great company where our shared value and purpose is very rewarding and makes coming to work a joy. I love working with my colleagues, the legal issues are challenging, the regulatory outlook is interesting, and I am enjoying being a part of an excellent and collaborative team. My singular purpose at the moment is to safeguard the reputation of our people and our company through excellent and timely counsel."
Photos by Cass Davis
Claudius Sokenu's Career Accolades
2003: The Minority Corporate Counsel Association names him on its Outstanding Outside Corporate Counsel list
2005: The City Bar Association of New York appointments him to serve on the Task Force on the Role of Attorneys in Corporate Governance
2007: Securities Law360 names him on its 10 Under 40 list
2010: Diversity & The Bar recognizes him as a Leading Law Firm Rainmaker
2011: Main Justice name him on its Best FCPA Lawyers Outside the Beltway list
2011: The National Bar Association's Commercial Law Section grants him an Outstanding Outside Counsel award
2011 & 2012: Chambers USA recognizes him on its list of America's Leading Lawyers for Business for International Trade: FCPA Experts, USA
2012, 2013, & 2014: Chambers Global recognizes him on its list of the World's Leading Lawyers for Business for International Trade: FCPA Experts, USA
2013: The Latin Lawyer 250 ranks him for White-Collar Crime and Compliance
2015 & 2016: Benchmark Litigation names him as a Litigation Star
Expertise Spotlight
As a leading eDiscovery company, eTERA Consulting is an international, award-winning organization selected by clients to help solve the challenges of complex data projects in the areas of e-discovery, document review, information governance, investigations, litigation, regulatory compliance, and security breach response. Built by the clients, for the clients, eTERA provides customized data-management solutions and services to Fortune 500 companies and the Am Law 100, where legal, data analytics, security, and information technology meet. The firm's experienced subject-matter experts ensure client-engagement success by using best practices, leading technologies, and proven project-management methodologies combined with exceptional client service. Having passed stringent security audits, eTERA is trusted by the world's largest insurance, financial services, pharmaceutical, and energy companies as well as those in the healthcare, manufacturing, mortgage, and technology industries, among others. Headquartered in Washington, DC, eTERA maintains offices in Chicago, Detroit, Paris, and Shanghai.
The firm supports the legal community and is a proud sponsor and participant in the Association of Corporate Counsel, the Electronic Discovery Institute, and the Government Investigations and Civil Litigation Institute. These organizations help set the standards and best practices of the legal and technology industries, and eTERA is proud to support them.
The firm understands the importance of data security. Through an extensive security framework, eTERA passes an independent SSAE16/18 audit—along with more than thirty-five corporate audits—annually. The firm secures data through physical and electronic methodologies and maintains active monitoring technologies to ensure compliance. The firm also complies with the ISO 27001 certification and is working toward the HITRUST certification. The firm's primary, backup, and international data centers have multiple, extensive layers of security to ensure that only authorized personnel have access to clients' data.
As a data-management provider, eTERA also understands the need to maintain expertise in emerging technologies. The emergence of Office365 continues to change the landscape of e-discovery, with challenges around the management of data in the cloud as well as the new capabilities and limitations of this technology. The firm's professionals are right at the forefront of legal technology, with specific expertise around the e-discovery center of Office365.
On the international front, the EU's General Data Protection Regulation (GDPR) has enhanced the data-protection rights of EU individuals, provided for increased enforcement, and extended accountability obligations to data controllers and processors. As the reach of the GDPR extends to any corporations offering goods and services to EU individuals, corporations require data-protection officers and Article 27 representatives who understand the processes and technology for implementing and maintaining GDPR requirements. Furthermore, they require a data-management partner who will help them through the enforcement actions that may occur as a result of the GDPR. The firm's CIPP/E experts, based in Europe, are already educating, supporting, and implementing these solutions for existing and prospective clients.
The firm has sustained success in delivering first-rate data-management services—and exceptional client responsiveness—is built on its values of quality, integrity, innovation, and creativity.
***
Akin Gump:
"Claudius's intellect, creativity and pragmatism have enabled him—in working with clients and now outside counsel—to address difficult and complex issues very effectively, producing value-maximizing results in both litigation and corporate compliance contexts."
—Susan Leader, Partner, and Ashley Crawford, Partner
***
Manatt:
"Claudius is that rare individual who brings sophisticated real-world private practice experience to his job as Global Head of Litigation and Compliance, merging real litigation chops with sound business judgment. Great to work with!"
—Craig de Recat, Partner