Quinn Johnson grew up just a few miles from Arconic's research campus, and as a child she viewed it as a place of mystery and wonder. If not for Arconic (previously Alcoa Inc.), the company responsible for the commercialization of aluminum, there might not be airplanes, spaceships, or a good number of other innovations as we know them today.
"Growing up, I had a vision of Arconic's research campus as a highly secretive James Bond-esque laboratory; I imagined them coming up with all kinds of new inventions," says Johnson, who now serves as Arconic's chief litigation counsel. "After I joined the company, I couldn't wait to visit the research center. And I have to tell you: I was not disappointed. We are making truly incredible products and technologies there."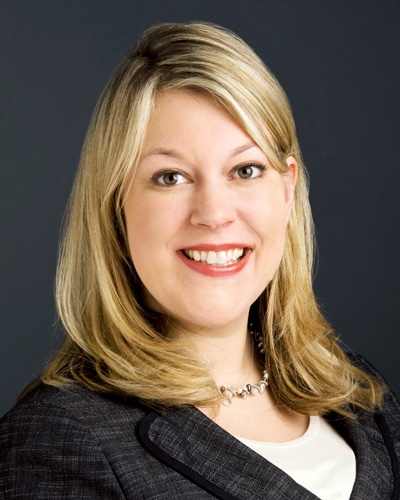 On a macro level, Arconic develops innovative processes for manufacturing lightweight metals via rolling, forging, casting, extrusion, and, more recently, additive manufacturing. The results have fundamentally altered the aerospace, automotive, and construction industries, but for Arconic, innovation is continuous. Last year, for example, the company teamed up with Airbus to explore metal 3-D printing for aircraft manufacturing. The result was the world's first 3-D-printed titanium bracket to be used on commercial aircraft. The company also recently conceived the world's first aluminum-lithium jet engine fan blade and a new surface treatment that makes aluminum-intensive vehicles possible. The Ford F-150, for example, was able to shed seven hundred pounds with an aluminum-intensive redesign enabled by Arconic's technology.
"Arconic is a leader in not only aluminum but lightweight metal development and engineering," Johnson says. "We've stayed on the cutting edge of the industry for more than a century and believe this technology is the foundation of our future. We take that seriously."
Protecting that legacy is paramount for Arconic's legal department. "My perspective—and I believe the company shares it—is that our intellectual property is our strongest, biggest, and best asset, along with our talent," Johnson says. The company has made protecting IP one of its chief priorities, to ensure that no outside forces are permitted to misappropriate or exploit its innovations. 
Johnson doesn't shy away from litigation, should it become necessary. "In my position as Arconic's chief litigation counsel, I already and will continue to enforce our intellectual property rights through litigation," she says. "We feel passionately about it because we've developed this IP over more than a century, through significant effort and expense."
What Johnson and Arconic are working to protect goes deeper than just the actual, usable products the company creates. Often, what Arconic is developing are processes, which can take years or sometimes even decades to perfect. "Our IP comprises not only the final product but also the learnings along the way, the trials, and the experiments," Johnson says. "All the paths and detours are just as important as the process to create the final product, because they helped us to figure out what works and what doesn't. We build upon all of that know-how."
Johnson's focus on protecting the company and its IP is felt by her outside counsel. "Quinn brings to her cases the rare and valuable combination of a trial lawyer's sensibilities and a deep understanding of her clients' business needs and how to use the law to address those needs first," says Courtland Reichman, of McKool Smith, who has handled cases for Johnson for years.
According to Richard Hans, the managing partner of DLA Piper's New York office, "What sets Quinn apart among in-house counsel is her passion for Arconic and ensuring its rights and interests are protected at every turn, and she does it with great cheer."
Determining the right litigation strategy to enforce Arconic's rights is squarely within Johnson's wheelhouse. She describes herself as a problem-solver and says her early career in private practice helped prepare her for the broad range of legal issues she handles in-house at the company. "The wide variety of legal issues that we face is one of the best parts of my job," she says. "That I never wanted to specialize in anything has become quite an asset, because we have every kind of case you could imagine."
And, Arconic's cases are all over the world, from China to Brazil, Australia, Hungary, and more. Johnson jokes that she thought she'd be limiting herself to just one client when she went in-house, but the reality is that she has more than ever; they're just all internal. "Arconic has many different business units, each with different risks, different issues, and different locations, which have varying laws," she says. "I went from being a Pennsylvania lawyer to being a global one."
It sounds overwhelming, and it certainly can be, but Johnson is motivated not just by the work she does but by what Arconic has created and what it continues to innovate, and she still views it with the awe she had as a kid.
"For once," she says, "a childhood vision ended up being an exciting reality."
---
Expertise Spotlight
Arconic partner DLA Piper is a leading global business law firm with lawyers located in more than forty countries throughout the Americas, Europe, the Middles East, Africa, and the Asia Pacific. It's positioned to provide high-quality, integrated advice and assistance to multinational clients around the world, and it provides services across nearly all industries, serving the litigation and investigations, corporate and M&A, finance, employment, intellectual property and technology, real estate, restructuring, and regulatory and government-affairs needs of its clients. DLA Piper is committed to service of its communities and to diversity and the building of an inclusive culture. Its diversified practice and sector focus allows it to work almost anywhere for the world's leading mature and emerging companies. There are few firms with as broad and deep a reach as DLA Piper.
---
Expertise Spotlight
With more than 185 trial lawyers across offices in Austin, TX; Dallas; Houston; Los Angeles; Marshall, NY; Silicon Valley; and Washington, DC, McKool Smith, a key Arconic partner, has established a reputation as one of America's leading trial firms. Since 2006, the firm has secured ten nine-figure jury verdicts and twelve eight-figure jury verdicts. The firm has also won more VerdictSearch and National Law Journal "Top 100 Verdicts" over the past ten years than any other law firm in the country. Courtroom successes such as these have earned McKool Smith critical acclaim and helped the firm become what the Wall Street Journal describes as "one of the biggest law firm success stories of the past decade." McKool Smith represents clients in complex commercial litigation, intellectual property, bankruptcy, and white-collar defense matters.