When it comes to securing your client and company data even the smallest mistake or break in your security system can result in a dangerous cyber hack and large scale data loss.
Legal leaders across specialties and industries should place digital defense prevention and response tactics and education at the top of their organization's priority list going into the new year.
Greg McShea, Senior Vice President & General Counsel at Janney Montgomery Scott, told Modern Counsel magazine, "If cybersecurity isn't in your top three priorities, it should be."
McShea and other leading in-house and general counsel share their best practices when planning against or responding to a security breach. Stay up-to-date on your digital rights with insight from your fellow leaders in the executive report The General Counsel's Guide to Digital Defense. The Legal Side of Cybersecurity.


And here are a few more quotes from some of the leaders in law featured in this legal industry white paper.
"I give security priority over almost every other initiative."
Eleanor Lacey, Senior Vice President & General Counsel, Sophos

"The public has the perception that you can make yourself impervious to attack, but that simply isn't possible."
Pam Krop, General Counsel, RevGroup

"The industry needs to invest more in incident response capabilities versus only on protection investments."
Terry Kurzynski, Senior Partner, Halock Security Labs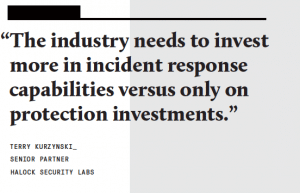 "Litigation with injunctive relief is appropriate, particularly when you have the forensic evidence to show there was actual theft of trade secrets."
Thomas Chow, General Counsel, Chief Compliance Officer & Secretary, Exponential Interactive

"I would love to see more attorneys with technical backgrounds. It truly is a great combination."
Crista Harwood, Senior Vice President, General Counsel & Chief Administrative Officer, Passport Health Communications
Learn more about how to invest your time and resources to address the ever-present threat of cyber attacks. Modern Counsel delves into the issue from every angle in this Industry Insight Report specifically for in-house and general counsel.