The path to becoming an in-house counsel often involves several years of experience in private practice or litigating in the public sector. That simply wasn't the case for Tasha Grinnell.
Following a prestigious judicial clerkship for the late Honorable Marc H. Westbrook in South Carolina, Grinnell married and followed her love to Texas, a state that she was not yet barred in. In order to immediately practice law in Texas, the young lawyer set her sights on in-house law. She joined Chubb Insurance in 2002, where she managed litigation for Fortune 500 clients throughout the country.
She spent six years at the insurance giant before moving on to in-house roles at Dean Foods, Huawei Technologies, McAfee, and Neiman Marcus Group. She gained a diverse array of experience from practicing labor and employment law, litigation, compliance, real estate law, and everything in between.
"I've worked in every attorney position within a legal department," Grinnell reflects. "There is not an area in the in-house legal department that I cannot do myself or help to mentor and advise a junior attorney to do."
Notably, Grinnell had the unique opportunity to serve as the interim chief legal officer at Neiman Marcus for about six months, an experience she describes as "baptism by fire." She credits this role, along with her two-plus decades of in-house experience, as preparing her for her current position as general counsel at the Container Store, where she leads a "lean but mighty" legal team.
"I'm over all of legal, as well as over compliance, corporate governance, ESG [environmental, social, and governance], and procurement," the GC explains. "We have a saying here at the Container Store that one equals three. One of my team members truly does equal three average employees. That's how we're able to really be successful."
Grinnell describes herself as a "collaborative leader" and credits her management style as contributing to a large portion of her career success. "The biggest keys to a successful in-house legal department are the ability to listen and communicate, have empathy, and be knowledgeable and positive," she says. "I always try to make sure that I'm really hearing my team members, listening and keeping abreast of what our external and internal needs are."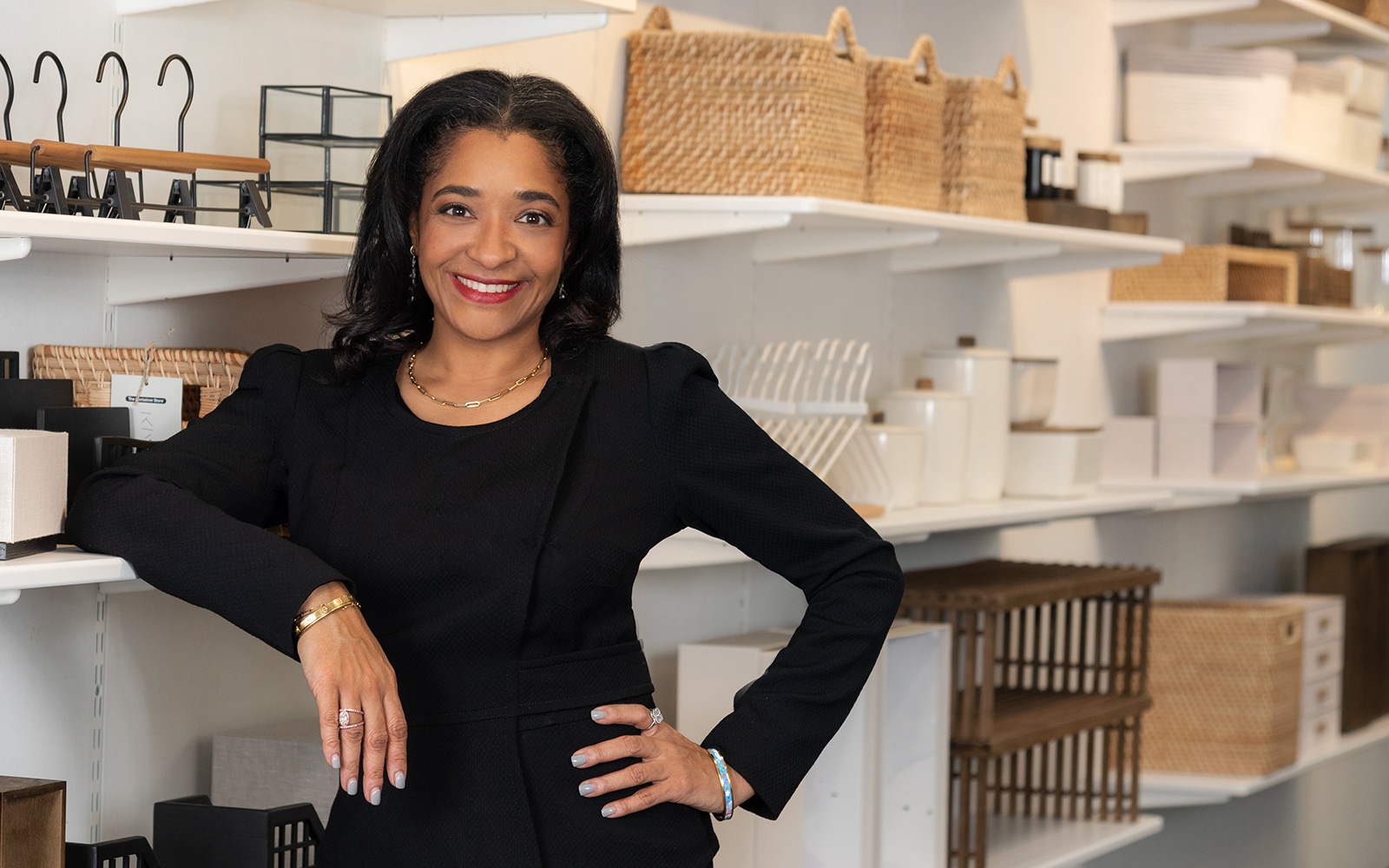 Empathy is also an equally important part of her role as a leader. She cites emotional intelligence being just as important as her legal training in her role. "I am an empathetic leader," Grinnell says. "I try to understand my people and the institution, and really put myself in their shoes. I must keep abreast of what's happening in the legal world, so that I'm always knowledgeable and have an in-depth understanding of what our stores, partners, suppliers, and customers are really facing."
As the oldest child in a military family, Grinnell has lived all over the world. Born in Germany, she has lived in Virginia, Florida, Hawaii, California, and South Carolina, and attended boarding school for students of Hawaiian ancestry.
Growing up Black and Hawaiian, and later attending a historically Black university, she learned early on that her diversity was an asset and that her voice could positively impact society. "If I stood up and used that voice, be it in oratory contests or while lobbying the local legislature, I could be counted, and I could really make a difference," she reflects. "Those are the things that shaped me as a child and ultimately caused me to decide to follow a career in law."
As a leader, Grinnell leans heavily into her early experience on a daily basis. This inspires her to be an active supporter of diversity, equity, and inclusion (DEI) initiatives, as well as serve as a mentor to young and diverse aspiring attorneys.
"The higher you climb in a corporate ladder, the more your voice can be used," she observes. "One of the things that is so beautiful about being a Black woman in this seat is that people can see that it is obtainable. Representation truly matters. The biggest thing that I can do to move DEI efforts forward at a corporation is to be me, be myself, and to actually be present in the room where decisions are made."
The GC also oversees ESG factors at the Container Store, a responsibility the entire organization prioritizes. The senior director of ESG reports to Grinnell and, together, they closely monitor global changes in ESG trends, frameworks, and legislation.
"Everybody in this company is engaged and committed to ensuring that The Container Store holds ourselves accountable and continues to ensure that we keep our climate and our people and our environment safe," she attests.
Behind Grinnell's resume, she is a mother of two daughters, who she proudly describes as "dynamic, young ladies." The attorney reflects on her work/life balance as anything but perfect, instead encouraging fellow working moms to embrace flexibility.
"There really is no one-size fits all solution and work/life balance can mean different things for everybody," she admits. "Unexpected things are going to arise at work, and they're going to arise at home, but we must remain flexible and understand a more achievable goal is integration. I'm a firm believer that when I'm happy in my personal life, I'm more likely to be energized, productive, and focused at work. And if I feel fulfilled at work, I'm more likely to be content at home."
---
"Tasha is a fierce advocate. Her reputation for being a detail-oriented and trusted advisor to her business clients is the foundation of her success in various in-house roles, including general counsel of the Container Store. Because of her intellect, business savviness, leadership, and passion for mentoring, Tasha is a consensus builder who delivers results."
—Amy M. Stewart, Founding Partner