Shawna Fullerton and Allison Riter, both attorneys, are pretty happy about working at nVent, a Minneapolis-based provider of electrical connection and protection products. Their enthusiasm comes from several factors: not least among them is they work in a company that has a female CEO.
The company also has a female CFO and chief human resources officer; half the board of directors are women, as well. Remarkably, the female executives are operating and thriving in an industry where leadership roles traditionally were held by men.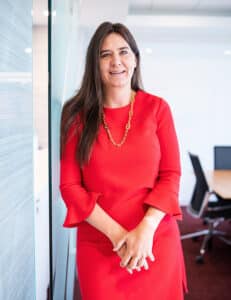 Their situation, working in the closest thing to a gender parity company as one might find, wasn't something either was able to engineer or even envision. Fullerton and Riter both came from traditional law backgrounds, spending time working in law firms and later going in-house. Riter joined the company's predecessor in 2014 and Fullerton joined the team just before nVent was spun off from its parent, Pentair, in 2018. The spinoff resulted in a new publicly traded company, which resulted in an opportunity to take the strong foundation Pentair provided and use it to build and explore new ways to innovate.
nVent's CEO, Beth Wozniak, who leads the $2.5 billion publicly traded company with ten thousand employees working in thirty-five countries, initially attracted the duo to the company. Wozniak had previously served as president of one of Pentair's business units, and before that as a unit president at Honeywell. She holds an engineering degree and an MBA. Wozniak and her leadership team have consistently delivered results for nVent.
"Strong leadership is a priority here," says Riter. "It's who we are, and from an inclusion and diversity perspective, it defines our policies and our actions. The focus we, and our leaders, have on I&D [inclusion and diversity] is important. It's a genuine priority, and I think our employees respond to the authenticity."
Fullerton echoes that sentiment, observing how having an effective leader who happens to be a woman was a strong draw to her and others recruited to work at the newly formed company. She says that such things as an environmental, social, and governance (ESG) ethos being woven into the culture keeps a pipeline of diverse candidates vying to work at the company.
As for the company's board of directors, with half its ten members being women, Fullerton sees it as another indication that the company values all employees, regardless of differences. Employees see a leadership team with strong female representation as well as a board with strong gender and racial diversity, which supports a culture that promotes what companies working in nVent's space value. "The creativity that comes with inclusion and diversity," says Fullerton.
Fullerton's primary responsibilities relate to public company matters including corporate governance, finance, and disclosure to shareholders in the public company. The company's annual proxy statement is a good example. "This document, years ago, was primarily a legal document," she says. "But we have continued to advance the content and we now do a lot to communicate company values. The executive team wants to share what we're doing on ESG and I&D, and to demonstrate what a fantastic board we have, in terms of experience, skills, qualifications, and diversity."
Riter's responsibilities include oversight of the legal designs and processes that mitigate and manage compliance risk. This includes the company's code of conduct embedded in nVent's culture, yet another example of how her work applies to all employees everywhere. "Employees in various functions observe policies and documents relating to compliance," Riter explains. "That's where compliance starts, but not where it ends. At nVent, the culture of compliance is embedded in the organization and is part of how we lead each day."
Fullerton and Riter serve together on nVent's general counsel's legal leadership team. Both have the perspective of previously working during less progressive times where the work culture wasn't as diverse and inclusive. Leadership was often male-dominated, which Fullerton says included effective mentors who invested in junior attorneys, women, and men, which had a different net effect on how they worked. "For a while, I tried to mimic them," says Fullerton of her male bosses. "I tried to speak with the same tone, and even use the same gestures. But it didn't always work for me."
Now, at this new company, which includes people from the former parent but also many new hires from outside, it feels different to her. "People are so relatable here," explains Fullerton. "And it's not without criticisms or authentic compliments. We get quick feedback from senior management, then we move forward."
Outside of nVent, the leading duo has garnered positive attention from the organization's partners. "Working with Shawna is great," adds Christopher McLaughlin, partner at Arthur Cox. "She knows the business and its needs extremely well and, in addressing legal issues, always takes a pragmatic and commercial approach to achieve the right outcome. Friendly and unflappable, she is an excellent role model."
They realize their good fortune from this confluence of circumstances: a young company that values female leadership in the executive suite and on its board of directors, and an active effort in the ESG and I&D realms. It lends itself to being a modern company that operates in a whole different way.
Given the firm's stake in sustainability and efficient energy sectors, that's something every one of us can appreciate.