A lot of people admire a female attorney sitting atop a leading company, but few understand the persistence and resilience that it takes to get there. Regina Himelfarb is the Weir Group PLC's corporate counsel of the Americas. She spent nearly thirty years in other roles before she seized the opportunity to help lead and advise the global engineering business.
Himelfarb had no choice but to be a strong, independent, and determined free thinker. That was her response to an uncompromising evangelical community in her rural east Texas hometown. "Any woman coming from that culture already has one arm tied behind her back and will have to figure out how to deal with it as she grows and develops personally and professionally," she says.
That's what she's done her entire life. Himelfarb is competitive. She was an athlete and a high school coach. The experience taught her to get comfortable when surrounded by men and other ambitious women.
Long before Himelfarb was an in-house attorney in oil and gas, she learned the cutthroat industry from the ground up. Then, the Lone Star State native roamed the panhandle trying to negotiate right-of-way agreements in a contracts and sales role for a local upstream company. Although the twenty-two-year-old sometimes worked alone, she often accompanied a veteran colleague who took her to oil fields, introduced her to the "good old boys clubs" in dusty diners, and showed her how to build effective business relationships.
Himelfarb was glad to have a mentor in the field, but it was the company's two lawyers in the office who inspired her to go to law school. She had an initial conversation with them, and within two months, she was sitting for the LSAT on her way to Southern Methodist University Dedman School of Law in Dallas.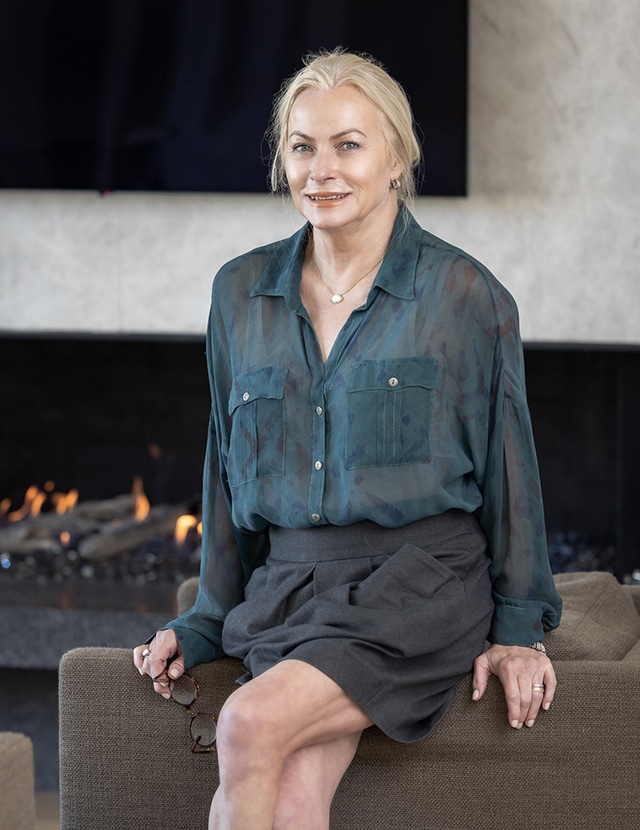 The JD program was exactly what Himelfarb was looking for, but she kept one secret from her professors, deans, and administrators—the law student was still gainfully employed. Her dual status violated the school's policy for first-year learners expected to devote every minute to legal studies.
By the time Himelfarb graduated, she had moved to an oil and gas law firm to get hands-on experience working for sizable industry clients. She experienced her first oil crash, moved to her first in-house role at Union Pacific Resources, joined another law firm after UPR was sold, and later helped take Fort-Worth's Quicksilver Resources Inc. midstream company public as its senior attorney.
In 2016, she went into private practice with Grable Martin Fulton (GMF), which is an innovative, full-service, (certified) women-owned law firm that is composed of a richly diverse group of experienced attorneys. At GMF, she served as an outside counsel for the Weir Group before transitioning to a full-time role in 2019, primarily due to its General Counsel Steve Meck and his leadership philosophy focused on inclusion and team building.
Now, as corporate counsel for all Weir and ESCO divisions operating in the Americas region, Himelfarb handles real estate and certain finance matters, IP and miscellaneous contracts, and supply chain, customer products, and services agreements. She also assists Weir's corporate secretary to provide the documentation required for corporate transactions and participates as needed with the due diligence team on major deals.
Because the company is based in Glasgow and has dozens of entities operating all over the globe, she must stay aware of numerous emerging legal and financial issues in many jurisdictions while finding creative ways to increase efficiency and keep costs down. That's in line with Weir's overall vision to increase inclusion and diversity among its ranks while focusing on its core constituencies.
The 150-year-old company has spent an increasing amount of time and effort to foster its vision for sustainability, inclusion, and diversity. As a result, initiatives have been implemented that include training and education for all employees, which gives Himelfarb optimism that the playing field for professional opportunities will be increasingly equitable and open to all, regardless of color, gender, or background.
"People here recognize that we need input from everyone to really have the right atmosphere for employees and the right results in the business world," she says. "Our global legal team is increasingly diverse, and I believe it stands out as a shining example of DEI [diversity, equity, and inclusion] in action at Weir." 
Himelfarb's past experiences motivate her. She recalls that the female number one student in a prior law class did not get any job offers from big firms and brought a class action to right the injustice, which finally happened. Another female colleague at a previous company did not receive the same perks and benefits of her male counterparts and was often asked to get coffee and make copies. She was referred to, as was Himelfarb, as a "lady lawyer," which reflected the view that a woman was not as capable and did not have the same status as a man.
"The women who have stood up against sexism are the ones who have paved the way for me, and I have the obligation to do the same thing for minority law students, female lawyers, and even our minority and female clients," she says.
Now, as corporate counsel, Himelfarb goes out of her way to unlock opportunities for young female lawyers. She makes sure the women working for her clients shine. "I want the women I interact with to become CFOs and CEOs," she says. "It's important that all women be allies with one another." She participated with her prior law firm's executive retreats for women, which became a model for female lawyers at firms to have the same client development opportunities as that of the standard all-male golf or ski trips that were a regular occurrence.
These are the practices that have helped Himelfarb find a way to level her playing fields and help other women understand, take advantage of, or create their own opportunities and paths.
How to Be a Woman in a Man's World
Regina Himelfarb has spent the past thirty years learning how to advocate for herself in not only law but also the competitive oil and gas industry—two fields traditionally dominated by men. Here are her tips and tricks for going from surviving to thriving.
You need support to do this. Find someone you respect who will be a good sounding board and mentor.
Understand that it takes effort, but it is worthwhile. Don't let the struggle bring you down.
Always be willing to raise questions, but do it in a way that doesn't offend.
There are some unfair things that you simply have to accept. Women and minorities can be seen as confrontational when using a tone that would be acceptable for white men. That's life. Work around it.
Find professional networking groups and communities where you fit in.
Find ways to participate in the extracurriculars even if you're not really interested. Drive the golf cart and go to the football game; this gives you visibility.
Build relationships, earn trust, and let people get to know who you are and what you can do.