From an early age, Maggie Mettler dreamed of success. The Detroit native took immense pride in attending the University of Michigan Law School, and even more in the fact that she earned her JD while serving as executive notes editor of the law review.
"That was the first time I aspired to do something really big. Law school was the hardest challenge I'd tackled to date, but I felt so accomplished at the end, and that really set the tone for the rest of my career," the attorney reflects. "It allowed me to be an advocate for myself and not shy away from things that were hard."
Mettler joined Foley & Lardner LLP's Detroit office as a litigation associate and quickly transitioned to the trademark practice group. She spent more than four years at the esteemed law firm before moving to Silicon Valley to join ServiceNow as senior corporate counsel.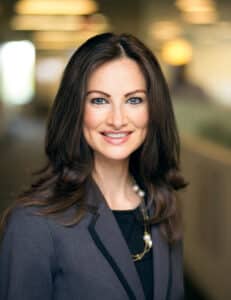 Mettler served as the growing software company's sole trademark and marketing counsel, overseeing risk associated with marketing and advertising collateral, licensing, and transactions. The experience, she says, was a major turning point in her career.
"I had lived in Michigan for all of my life, and the idea of trying something new was really exciting," she explains. "That's what led me to look for an in-house role in a place that was interesting to me, so Silicon Valley was the only place I targeted during my search. Being in the tech community was a total departure from my day-to-day in Detroit."
However, when a recruiter contacted Mettler about an opportunity at Dallas-based Yum! Brands, she was intrigued to learn more about the quick-service restaurant company's unique values and the organization's family of approachable brands. "What sealed the deal for me was the culture," she says. Mettler joined Yum! Brands in April 2019 as director of legal for global brand protection.
"Culture is a word that's thrown around a lot, but our leaders really care about the people on their teams," she notes. "It's not just about getting the work done. The priority [at Yum!] is on personal relationships, employee growth, and ensuring people feel happy at work. I don't think that's the case in all corporate environments."
Mettler, along with her attorney counterpart Larisa Colton, oversee brand protection, from trademarks to domains to multifaceted enforcement programs, for iconic brands KFC, Pizza Hut, Taco Bell, and the Habit Burger Grill. Mettler's work includes managing an international portfolio of thousands of brand assets and advising on global clearance, prosecution, and brand risk mitigation. Her role requires her to draw upon her previous work with Foley & Lardner LLP and ServiceNow as well as her experience as a marketer prior to attending law school.
"It is a privilege and invaluable experience to work with Maggie," says Jin Nee Wong, partner at Malaysia-based Wong Jin Nee & Teo. "We worked on various cases, including a challenging trademark and trade dress infringement case that resulted in a fantastic outcome for Taco Bell. Maggie is clearly a business enabler.
"Her ability to balance her legal expertise with commercially savvy approaches is inspiring. Her remarkable leadership style in motivating outside counsel to achieve best outcomes is unparalleled," Nee Wong adds
During her tenure, the director has worked on a diverse array of projects spanning Yum! Brands' entire portfolio. She is especially proud of her team's creative enforcement strategies that encourage win-win outcomes for all parties involved.
In 2021, Yum! Brands was forced to send a cease-and-desist letter to the Canadian restaurant formerly known as "Taco Ding Dong." The name was a clear riff on Taco Bell and infringed its trademarks. However, the letter was atypical.
"We knew we had to ask them to rebrand, but we did it in a really lighthearted, humorous way," Mettler says. Her team worked closely with Yum! Brands' Canadian counsel, who visited the restaurant for a meal so he could include his experience in the letter. "He wrote that the food was great and that we weren't trying to cast any aspersions on the restaurant's quality. Taco Bell also made a donation to a nonprofit that the restaurant supported."
The restaurant was so moved by this approach, despite having to change its name, that it dedicated an Instagram post to the debacle.
"I think they were really shocked that a big brand would go about trademark enforcement in that way, and they were quite complimentary toward us," Mettler adds. "This is a great example of how we really do think about who's on the other side. We want our strategy to reflect [Yum!'s] culture and the fact that we care about people."
Yum! Brands was especially sensitive to its legal approach during the COVID-19 pandemic, which saw large and small restaurants alike struggle.
"Sensitivity is a huge factor in this job," Mettler explains. "We are not just looking at a trademark application or a trademark infringement on a piece of paper; we are also considering the people behind the operation. Often, these are people who have no exposure to trademarks. We try to work with them and come up with a palatable solution that protects our rights, but also isn't devastating to their business."
Additional projects that Mettler has had a stamp on include Taco Bell's global marketing campaigns like "Taco Swap" and "#ISEEATACO;" the relaunch of Pizza Hut's 1990s classic 'the Edge' pizza as well as its Detroit-style pizza; the recapture of domain pizzahutfoundation.com to support the launch of the Pizza Hut Foundation in 2022; and the acquisition of Yum!'s newest restaurant brand, the Habit Burger Grill, which has been expanding internationally.
When it comes to choosing her favorite Yum! Brands' restaurant, Mettler is torn. "That's like choosing your favorite child," she says, laughing. "I'm the kind of person who can always eat pizza, so for me, I would have to say Pizza Hut because there's never a day when I'm going to say that I just don't feel like pizza, especially Detroit-style pizza. That is a food that speaks to my soul."