Routine work is often the mainstay of internships and similar programs. But Lindsay Sadlowski scored a legal internship that was out of the ordinary.
"During my final year of law school, I worked in-house for a tribal-owned casino in Milwaukee," she says. "With the legal department being small at that time, I directly assisted the attorneys in providing guidance on a wide range of legal issues.
"One of the unique aspects of working at a tribal casino is the intersection of federal, state, and local laws that are not often encountered in the typical legal practice," she adds. "The gaming industry itself is a niche area, and then layered on top of that is Native American ownership, which adds to the complexity."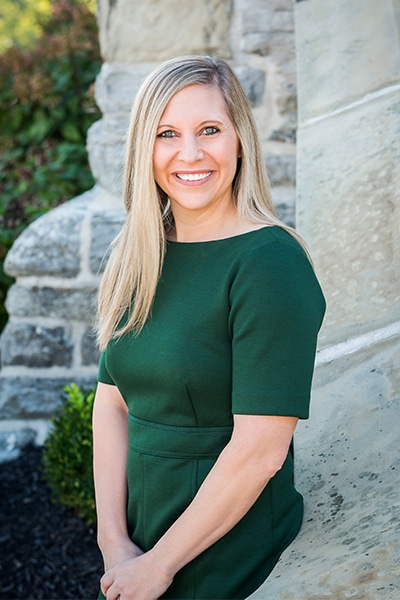 Sadlowski explains that, in addition to the usual rules and regulations that govern the gaming industry, there also are laws and regulations specific to Native American tribes. "The off-reservation casino was an extension of the tribe, which meant that some legal issues impacted the tribal business as well as the individual tribal members," she elaborates. "And the tribe also has 'sovereign immunity,' which means that it is not subject to suit under certain laws and statutes that ordinarily would apply in the industry. Being immersed in such a dynamic and energetic environment gave me a different perspective on legal and business issues that has benefitted me in countless ways throughout my career."
After receiving her JD from Marquette University Law School, Sadlowski cut her teeth in litigation, joining Faruki Ireland & Cox (now Faruki PLL) as an associate attorney. The young lawyer garnered experience in complex cases for Fortune 500 companies, ranging from class actions to data privacy and security matters. She proceeded to earn a four-year judicial clerkship in the US District Court for the Southern District of Ohio, where she broadened her repertoire to include areas such as employment law and white-collar crime.
Sadlowski briefly returned to private practice at the firm Baker and Hostetler after having twins, but soon realized she had a new choice to make. "I felt like I couldn't find the right work/life balance for myself. I decided to step back, to reset my priorities and rethink my goals," she says. "That can be risky professionally, but I knew I had a good foundation and a solid network."
Nine months later, Sadlowski joined the team at Total Quality Logistics LLC (TQL), one of the largest freight brokerage and third-party logistics firms in North America, where she currently serves as corporate counsel. Although her primary focus is on the company's litigation portfolio, including commercial and transportation litigation, she "invests part of her time handling an array of prelitigation issues as well as working with outside counsel."
While the industry shift may seem peculiar, the role was one that Sadlowski had been unknowingly prepared for since she was a student.
"There are many parallels between legal work in the gaming industry and the transportation industry. Because both are fast-paced environments, they require a high degree of agility and adaptability. What I have now that I did not have first starting out at the casino, though, is a broader and deeper well of experience to tap into that makes it easier to keep up with the pace," says Sadlowski, who works with five other attorneys and ten other legal department personnel.
A key challenge is managing TQL's constantly shifting legal landscape. "We are always looking ahead," she says, "so we can have a sense of what is, and might be, in the pipeline. We must be able to respond quickly to new changes to laws, technology, and the supply chain. For example, the recent pandemic has disrupted the supply chain and also has come with its fair share of new directives from the White House that we must be prepared to address. All of that will impact the volume and type of litigation our team must prepare for."
Sadlowski does not merely react, though. "Even as litigators, we must advise proactively as well," she explains, "and always consider how our advice may impact the business overall." And that is a key reason the legal team engages in cross-collaboration.
"Each of our team members has particular areas of expertise, but no one works in a silo," Sadlowski says. "Even if they are not in charge of a particular case or issue, they have different perspectives and knowledge about business or legal matters that could directly impact our case, so I always welcome their input. When you're surrounded by energetic, motivated people who are always thinking, you can absorb that energy and build on it."
As TQL navigates an influx of customers who need help moving goods while carriers are shorthanded, the company continues to expand its solutions across all modes of transportation to provide the best customer service in these ever-changing conditions. Sadlowski's own team takes a similar approach to the situations it advises on. "Although we cannot always predict the next legal issue that will come across our desk, such as a delay issue due to a backlog of ships at the ports, our team is constantly learning and evolving so we can efficiently address new issues for the business as they arise. These are the things that make working in this industry fun and energizing."
It also makes sense that the company in which the new mother found her home when she reentered the workforce is one with a strong sense of camaraderie and defined career/life balance. "Even though we work hard, TQL supports integrating family and work life. Our chief legal officer insists that we make 'family time' a priority," she says.
Sadlowski found her strength in a legal sector that is rapidly paced and transforming and advises others to first identify their own skills when making career decisions. "Be your authentic self. Don't try to force yourself into the mold of a role or emulate someone else's style," she says. "Be aware of your strengths and limitations, and maintain your integrity and values both at the office and at home."
---
Dinsmore & Shohl LLP:
"We have been fortunate to partner with Lindsay and TQL to serve their legal needs. She is a savvy, big-picture litigator whose ability to stay three steps ahead creates an immediate strategic advantage in the cases she oversees."
–Matthew J. Wiles, Partner