The firm of Potter & Murdock has over fifty years of combined legal acumen between Principals Kathy Potter and John Murdock, but Potter says owning her own firm was never her goal.
"I didn't have a desire to build a law firm," she says. "I just wanted to practice law and make a living. John is definitely the one with the entrepreneurial streak."
The success of Potter & Murdock doesn't lie just in law. While Potter and Murdock's professional relationship had its start at a firm the two worked at together early in their careers, a different kind of relationship also flourished: the two lawyers have navigated a long career together in the law as well as in lawful marriage
"I think there was a period in that first year where you figured out when was and when was not a good time to talk about work," Murdock explains of their lives both inside and outside the practice of law. "When one of us is on the couch relaxing, we've both learned it's not a great time to bring up work."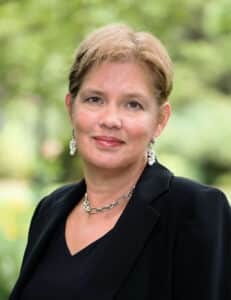 The only place that working relationship hasn't seemed to blossom is on the tennis court, a sport the two used to play on mixed doubles teams.
"We decided we could either be married or play tennis," Potter says, laughing. "He's a much better husband than he is a tennis partner."
Over the years, the pair has built a successful woman- and minority-owned law firm and devoted significant time to supporting the National Association of Minority & Women Owned Law Firms (NAMWOLF) in its mission to provide such law firms with opportunities.
Pioneers in the Space
Their firm didn't start out as Potter & Murdock: Potter originally founded the practice with another woman. Murdock, enticed by the idea of practicing in a smaller environment where he could work both with entrepreneurs and Fortune 100 companies, joined later. In addition to being woman- and minority-owned, their firm was unusual in another way.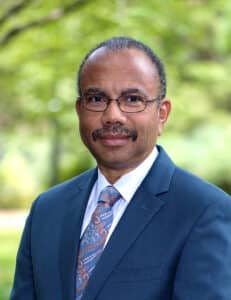 "Since starting the firm in 2006, our model has been nontraditional in that we have been virtual with all of the attorneys and staff working remotely from home," Potter explains. "At the time, we didn't make a big deal out of it because most companies we worked with were accustomed to working with brick-and-mortar law firms."
One day, Potter saw a story about a virtual law firm bestowing the title of "pioneers" on the practice. "We had been doing it for years already, but we just didn't advertise it," she jokes. But when asked to help write remote work policies for companies at the onset of the COVID-19 pandemic, that experience came in handy and helped the firm reassure others who weren't yet accustomed to the virtual lifestyle.
"I had clients calling and, justifiably, freaking out a little bit about how to take on these new employment law challenges," Potter says. "And we were able to come from the position of: 'Just take a breath. It will work. It does work. Just look at us.'"
A Special Group
Murdock says his passion for the work of NAMWOLF (where he currently serves as chair of the board of directors) is quite simple.
"First and foremost, NAMWOLF is an incredible collection of law firm and corporate in-house attorneys committed to the idea of increasing opportunities for women- and minority-owned law firms in corporate America," Murdock explains.
He adds that NAMWOLF is about people connecting one-on-one and building personal relationships. "A hallmark of NAMWOLF is the genuine interest that our members have in promoting not only themselves but other member law firm attorneys to in-house attorneys and referring work," he says. "We see ourselves as a collegial and collaborative network." It's an environment where firms and outside lawyers willingly refer work to one another, all conscious that a victory for one is a victory for all.
"At this moment, we are very mindful of the need to bring along younger lawyers in women- and minority-owned law firms to help take over the work we've done so far, and to bring fresh energy and fresh perspective to the challenge of diversifying corporate legal spend," Murdock says.
Potter, too, regularly serves on committees for NAMWOLF and both attends and presents seminars at the association's meetings. "NAMWOLF meetings are so different, because everyone wants to meet other people and have fun while pursuing our mission," she explains. "The topics are always interesting, timely, and relevant not just to what is happening now but where the future of law and diversity in the law is going."
The proof of the association's success is evident even within the virtual doors of Potter & Murdock. "We get a significant amount of our work through referrals from other NAMWOLF law firms as well as from corporations that participate in NAMWOLF," Potter says. "It's a community of very trustworthy and excellent attorneys."
Inclusive Solutions
Murdock says his confidence in his own judgement and his ability to create an inclusive environment where people feel as though they can be part of a solution is something he takes incredibly seriously, and helping provide that for a future generation of women- and minority-owned legal leaders is a logical extension of both his and his wife's careers.
Potter says the landscape is, unfortunately, still indicative of a backwards perspective. "We're not asking to be given business because of who we are. The fact that we're women- or minority-owned shouldn't matter, but it does. We are treated differently than larger firms, and so it's our goal to keep opening doors for our members and to eventually get to a place where we're all on the same equal footing."