It was a normal weekend at the University of Kentucky when nineteen-year-old Kelly Rezny began her second semester, studying business management. One evening, after leaving a gathering with friends, Rezny's life was changed in an instant when she was struck by a speeding car. The young student went through the windshield and her limp body was propelled onto a nearby lawn.
She awoke in the emergency room to the horrific sound of someone screaming. After a few disorienting moments, Rezny realized she was the one crying out in pain. The next day, her mother relayed what had happened. Rezny was struck and nearly killed by a drunk driver. She had fractured facial bones, broken her wrist and pelvis, dislocated both knees and a shoulder—tearing the major ligaments in them in the process—suffered road rash on much of her body, and received dozens of stitches. Rezny was lucky to be alive.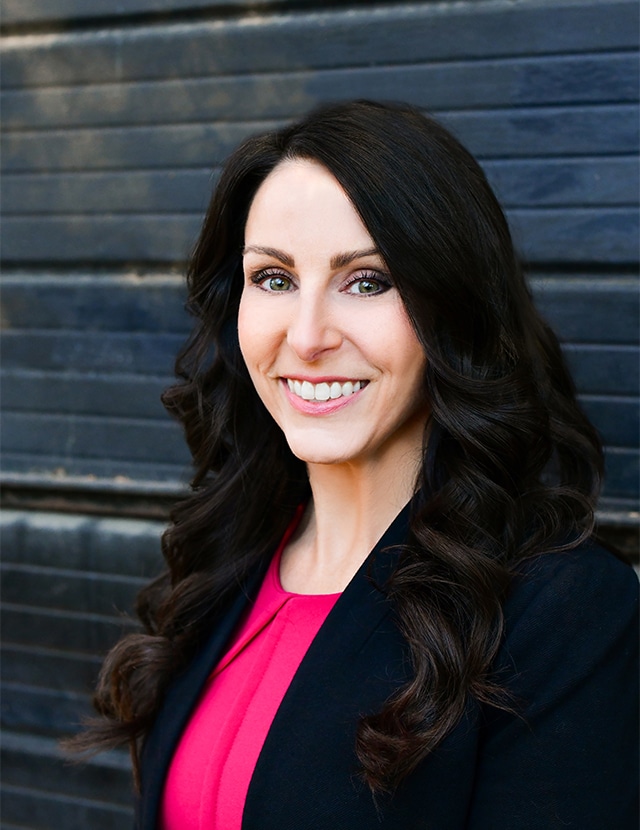 It's been more than twenty years since the accident, and although Rezny still deals with some physical consequences of the hit-and-run, she's made a remarkable recovery. In the days, weeks, and months immediately following the impact, Rezny—a former athlete—had to delay her academic journey and learn to walk again. Multiple surgeries and the ensuing physical therapy were long and painful, but somehow, Rezny was back on campus in time for summer classes.
The ordeal made Rezny a fighter. It made her resilient. And it showed her how to overcome adversity. "The challenges we face make us stronger," she says. "You don't realize how much you can overcome until you're faced with the impossible." Rezny has carried those important lessons throughout her life and career and still draws upon them today in her role as associate general counsel at Dyson.
It was the criminal trial following Rezny's ordeal that opened her eyes to the legal process and motivated her to study law. She knew that combining her business degree with one in law would translate well for a corporate role, but first she gained experience at a prestigious New York firm focusing on aircraft and real estate finance, as well as M&A. After several years away from her midwestern home, she was ready to return and took a job in the Chicagoland area with a Fortune 200 global company, Illinois Tool Works Inc. (ITW).
As Rezny transitioned to the corporate world and ascended in her career, her experience with hardship also helped her navigate the challenges associated with being a woman in the legal profession. With ITW in organic growth mode, she had the chance to expand outside of a contracts role to become the commercial legal partner for two important $2 billion business segments. Frequently, Rezny was the only woman in the room, and she relied on her learned self-confidence to gain trust. "Women are often underestimated in a male-dominated environment. We're not always given credibility; we have to earn it," she affirms.
The adversity kept coming. In March 2020, she received the phone call many of her counterparts around the world were getting. The COVID-19 pandemic had hit, companies were shutting down, and workers were being mandated to stay at home. Leaders across ITW had questions. Were their businesses essential? Should employees return to work the next day? Was it safe to travel? Rezny was appointed the lead attorney globally to monitor local, state, and national orders and developing laws. She updated and advised leaders and legal colleagues on navigating the pandemic and developed protocols and resources. At the same time, she juggled other client needs and helped the company continue to grow, all while keeping employee safety the top priority.
Late that year, Rezny seized the opportunity to move from the manufacturing industry to the consumer-facing industry and stepped in as associate general counsel at an iconic company—Dyson. After operating for nearly a year as the interim head of Americas legal with the top role open, she helped to onboard a new general counsel and other new members of the legal team. With a complete legal team now in place, she is focused on leveraging her expertise to advise on the commercial and transactional side of the business.
Rezny is adapting to her new company and the new COVID environment. Dyson's strategy once relied heavily on representatives demonstrating its products live in-store. Now, legal has partnered with the business and outside vendors to deliver digital experiences and online events to consumers. Additionally, the pandemic has interrupted logistics and created global labor and supply shortages. Rezny has worked closely with the Dyson supply chain team to help with introducing new parcel carriers and other ventures to reduce lead time in order allow Dyson to keep up with the high demand for its products.
"Kelly began at Dyson during the pandemic—a challenging time for anyone starting in a new role," recalls Ross Weisman, a partner at Kirkland & Ellis and colleague of Rezny's. "I was struck by her ability to juggle multiple issues, while maintaining an even keel. Kelly has the unique ability to handle complex matters yet know when she needs help from outside counsel."
The role also gives Rezny the opportunity to continue to work with a global company, implementing Dyson's strategy in a key region—the Americas—where she provides localized input to the British company (which has headquarters in Singapore) and advises stakeholders in America, Canada, and Mexico. She's excited about helping the well-known brand introduce new products and innovations in 2022 and beyond.
While everyone would agree it's a challenging time to be advising companies, Rezny has faced her fair share of obstacles head on—like the time she ran the Chicago Marathon with a fractured femur and no ACL. After the accident, Rezny thought her lifelong goal of running a marathon might never be possible, but rather than accept this, she began running in earnest again in 2013. It was a painful process, but in October of that year, she lined up in Grant Park at the start of the Chicago Marathon.
Thousands of vocal supporters, including Rezny's family and friends, lined the course to cheer her on to the finish line while she raised thousands of dollars for the American Cancer Society. She still cites crossing the finish line as one of the best moments of her life. "It was emotional for me because it reminded me of everything I overcame to get there," she says. "And it taught me to look ahead to everything I can still accomplish."
---
Faegre Drinker:
"Since taking on her new role at Dyson in the midst of the COVID pandemic, we've been privileged to experience Kelly's skills at navigating shifting scenarios while keeping her eye on the ball and also proving that relationships are sure paths to success."
–Cheryl Orr, Partner