A cut from Tom Petty's 1994 classic comeback record Wildflowers serves as the basis for Jamie Katzman's whole litigation philosophy. In "Crawling Back to You," Petty sings, "Sure as night will follow day, most things I worry about never happen anyway."
"My job requires me to constantly be thinking two or three steps ahead, to plan ahead, to provide risk assessments, and to help people think about potential problems or landmines that will hopefully never come to pass," the senior director and associate general counsel of labor and employment and general litigation for Raytheon Technologies Corporation's Missiles & Defense business unit says. "It's as true of my job as it is in my personal life."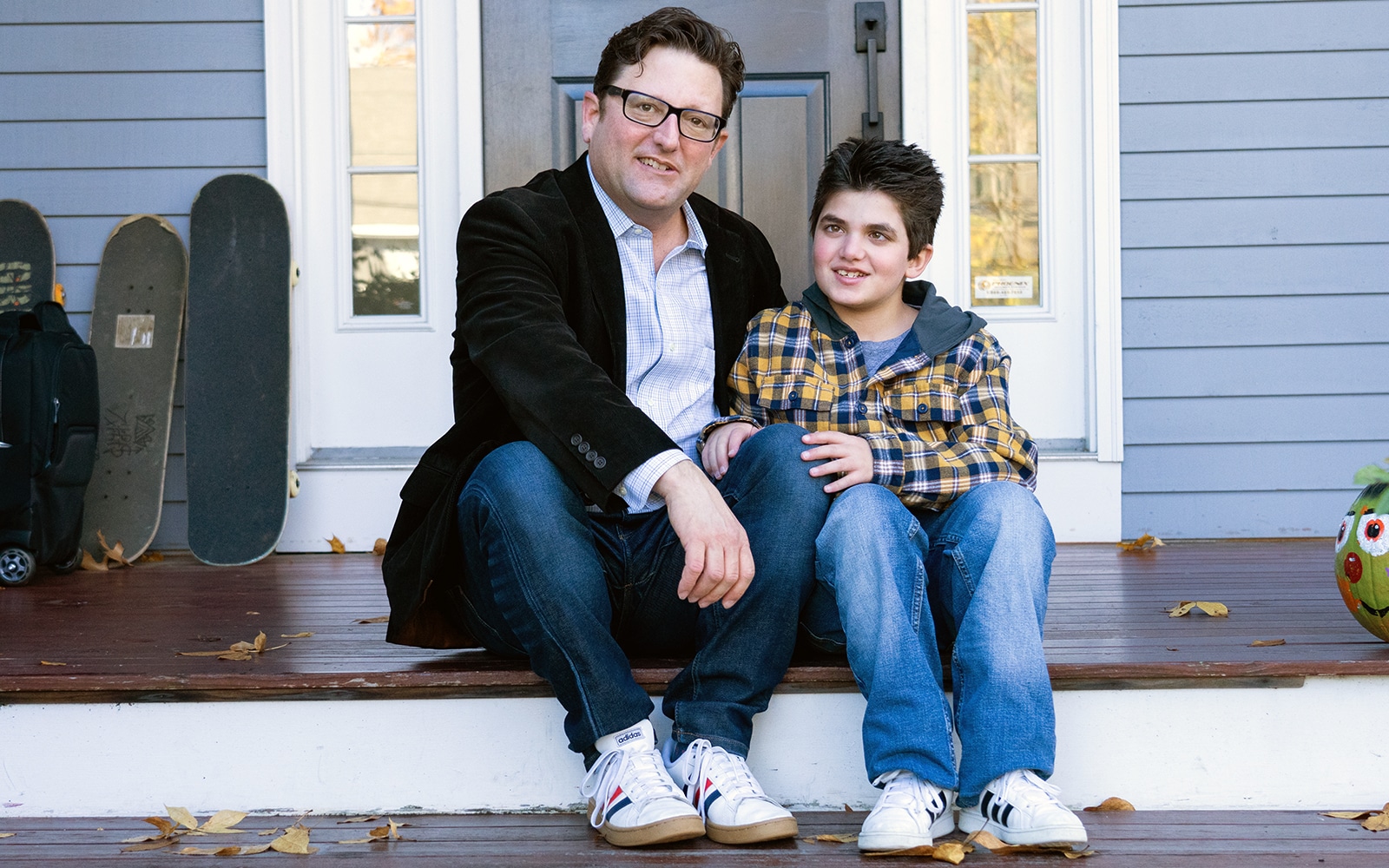 Katzman has become accustomed to planning for the most challenging scenarios. However, despite living by this philosophy in his work life, Katzman could never have imagined the news that he and his family would receive about their youngest of three children, Ethan. In 2010, Ethan was diagnosed with Angelman Syndrome (AS), a rare neurogenetic disorder that affects just one in fifteen thousand people.
According to the Angelman Syndrome Foundation, symptoms of AS include walking and balance problems, gastrointestinal issues, debilitating seizure disorder, and little to no speech, along with significant developmental delays. AS requires lifelong care and support.
It is clear that Katzman and his family will be spending their lives caring for Ethan and making sure his life is filled with as much joy and support as possible. They now must worry on a daily basis about everything from Ethan's safety to his care in the future.
Additionally, in Ethan's thirteen years, the Katzmans have become fierce advocates for those living with developmental disabilities. In this regard, the lawyer seems to embody a different Tom Petty hit: "I Won't Back Down." That song, too, seems to be as much a part of Katzman's practice as his personal life.
The senior director says that work serves as his respite, his place where answers are more easily found. Through his journey with his youngest son, Katzman says a different lens has been applied to his work as a litigator.
"When you have so much going on outside of your day job, you really learn how to put things in perspective," Katzman says. "You really learn not to make such a big deal of things that don't require it. That's so important for a litigator, because it helps you not to get so laser-focused on something that isn't essential. You're looking at the big picture and putting focus where it truly needs to be in your role."
This is as true today as it was when Katzman started his career back in 1999 working for his lifelong mentor and role model, the Honorable Donald R. Franson, Jr. of California's Fifth District Court of Appeals. It was Franson who first taught Katzman "to always make certain to see the forest through the trees" and it was Ethan who helped Katzman truly appreciate the meaning behind this.
Additionally, Katzman attributes his desire and ultimate decision to transition from private practice to in-house counsel to Franson. "I definitely looked up to him, and continue to do so, and he spoke so fondly of his time as in-house counsel," he says. "I was inspired by him and definitely leaned on him before making the big leap to leave private practice behind and I am glad I did."
Katzman's evolution as in-house counsel at Raytheon started in 2009, after approximately eleven years in private practice as an employment and business litigator. Early on in his in-house career with Raytheon, Katzman worked across the entire company handling labor and employment for all the company's business units that had a footprint in California.
Various rotations and additional responsibilities aside, Katzman served in this role, as the company's California subject matter expert and sole geographic lawyer, for approximately nine years. This role provided Katzman the opportunity to work closely with general counsel, chief human resource officers, and various leaders throughout the Raytheon ecosystem.
The role at Raytheon also offered Katzman the unique opportunity to support all of the business units and to learn about all aspects of the company, not generally afforded to others within the legal organization, who typically supported just one business unit. Katzman continued in this role until he was relocated by the company from California to Raytheon's corporate headquarters in Massachusetts in August 2018, to serve as lead labor and employment counsel for Raytheon's Integrated Defense Systems.
In 2020, Katzman's role changed once again when Raytheon Company and United Technologies Corporation merged, ballooning a company of 65,000 employees to 180,000, all while a worldwide pandemic was playing out. "2020 was a truly crazy time, because we were essentially a brand-new company that changed overnight and we did so during an unprecedented pandemic," the lawyer recalls. "It was a lot, but it was also fun to take on all of the new challenges that came along with the formation of our new company."
Not only did this merger create a significantly larger company, with larger and newer business units, but it also created yet another change to Katzman's role. Indeed, following the merger, Katzman became senior director and associate general counsel of labor and employment and general litigation for the new Raytheon Technologies Corporation's Missiles & Defense business unit.
His continued promotions at Raytheon are only part of Katzman's story. While Katzman certainly loves his job and Raytheon, and all of the great opportunities that the merger presents, he also is a fierce advocate for his son and spends much of his off time fighting battles on his behalf and trying to support the special needs community wherever he can. The senior director previously served on the board of the Foundation for Angelman Syndrome Therapeutics, an organization committed to finding a cure for Angelman Syndrome, from approximately 2010 until 2012.
When Katzman was promoted and moved his family to Massachusetts in 2018, he was ready for the challenges that would most assuredly come with moving and relocating three thousand miles with two teens and a child with special needs.
Katzman was ready for the fight and the bureaucratic battle he had become accustomed to in Los Angeles with regard to obtaining necessary services for Ethan. Prior to stepping foot in the state, Katzman had assembled a team comprised of an attorney, an advocate, and a psychotherapist, to best position himself for the battles and worries he anticipated facing with Ethan's placement and related services in the school district.
"I always have to be ready to fight, but we found a school district that has really opened their doors to us," Katzman says. "I had planned for having to go on the attack to make sure Ethan was taken care of, but it was another case of planning for something that didn't come to be. I'm very grateful for that."
Between the incredible support from Raytheon and the amazing services offered by both Massachusetts as well as his town, the fight that Katzman had anticipated and planned so long and hard for did not come to fruition and for that he is truly grateful.
Katzman now serves on the board of directors for the Arc of Massachusetts, an organization whose stated mission is to "enhance the lives of people with intellectual and developmental disabilities, including autism, and their families." Through advocacy, programs that promote inclusion, and engaging in the community, the Arc of Massachusetts creates tangible changes in the community and in the lives of people with disabilities.
"I just want to do my part to help make this world a little better for Ethan and other people who have special needs," Katzman says. "I'm glad to be able to continue my advocacy for a broader community and thankful for the support and avenues Raytheon has provided me in this regard."
There are surely many more hard times for Katzman to plan for. It's the nature of life. But, with a little luck and proper planning, he'll already be three steps ahead, and who knows? Maybe those hard times won't come to pass anyway.