To his colleagues, he's simply James, but in the expansive online gaming worlds they create, he's also JAMS#8441. As members of his fireteam embark on their cooperative mission to vanquish foes and level up in the first-person shooter, they often talk about strategy. Little do they know that JAMS is James Barker, Bungie's deputy general counsel, in charge of managing intellectual property for the hit game Destiny 2. It's a job for which Barker is uniquely suited.
Barker was born in Texas and raised on a horse ranch by his two moms. One raised and trained Arabian horses, the other was among the pioneering women in high tech, with a career that spanned from IBM in the sixties to Intel in the 2010s. "Both badasses," Barker says. As an only child, he roamed the family's acreage or gamed on an MS-DOS computer.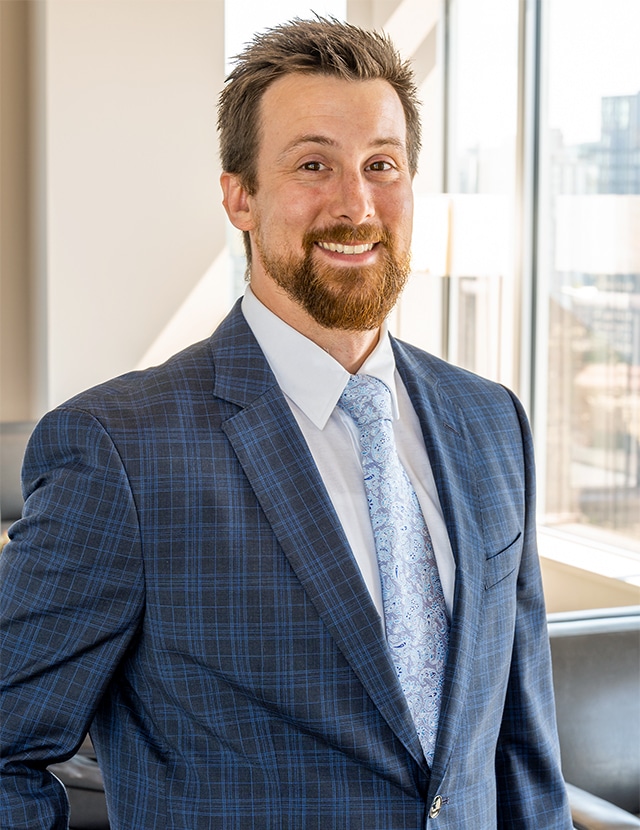 Barker's family eventually moved to Oregon, where he became an avid outdoorsman. He obtained his bachelor's in mechanical engineering at Johns Hopkins University and his master's at the University of Washington. He planned a career in alternative energy research until the post-recession sequesters of 2010 set back the industry. Instead of chasing one of the scarce openings at a national lab, Barker risked a career pivot. He crammed for two weeks, took the last available LSAT of 2010, and enrolled at the University of Washington to earn his JD and focus on intellectual property. "I may have stumbled into law because a research PI once told me that I had 'the attention span of a patent attorney,'" he says.
In 2020, after six years spent immersed in IP law at Kilpatrick Townsend & Stockton LLP, Barker joined Bungie, an American video game company. He brought a specialist's attention to existing IP litigation, and order to Bungie's various IP portfolios, but in so doing found a much wider variety of projects.
Alex Seropian and Jason Jones founded the video game studio in 1991, and today it is most well-known for developing titles like Myth, Halo, and Destiny. With tens of millions of active accounts, Destiny 2 is one of the ten most popular massively multiplayer online games and a leader in the genre of live service games.
IP plays a major role in Bungie's ongoing growth as the company explores new products and markets, and continues to expand beyond its Bellevue, Washington, headquarters. In July 2022, Bungie and Sony finalized a deal to bring Bungie into the Sony ecosystem.
Bungie is expanding its headcount to accommodate the growth. Since Barker started, the company has added over four hundred full-time employees; yet it still manages to maintain and improve upon the strong and aspirational culture that it is known for throughout the industry. "We believe teams are stronger than heroes, and that means we promote fairness and inclusion," he says. "We want to do what's right by our employees, fans, and community of creators."
Barker's role at Bungie is to protect the organization, its people, and its mission. That mission does not end with safeguarding the portfolio of intellectual property rights that power each beloved Bungie title. Soon after he was hired, Barker and Bungie started laying the groundwork for a litigation campaign against companies that profit from violating the player experience. Bungie has, for example, filed six lawsuits since 2021 targeting companies engaged in selling cheat software, some in partnership with peer companies like Riot and Ubisoft.
"This is a great use of resources," he explains. "Defending the integrity of the player experience and supporting our community is an easy decision for Bungie to make, and we will do much more of this." The program he helped design to address this ongoing issue is intended to become more efficient, cost effective, and repeatable over time so that it can become a template to protect Bungie and its community of players well into the future.
Managing the work at Bungie is a high-volume affair, and at the time of writing, Barker was one of just two in-house lawyers at the company. He relies on trusted outside firms and an in-house team of legal professionals that Barker calls "the best in the industry." "Any good lawyer will tell you that paralegals teach them something about their work each-and-every day," he says. "Knowing that I often can't be the expert, I trust my colleagues and the people we hire. I just try to keep the big picture in mind and make sure that what we do aligns with our values and meets Bungie's needs."
These days it has gotten harder for Barker to find time to play the games he helps protect, but he has managed to log about 1,500 hours in Destiny 2 over the last two years with his family, members of Bungie's legal team, and even Bungie's outside counsel (many of whom come together over Destiny 2 in their off-hours).
He enjoys serving as a tour guide for new lights, and he appreciates the ringers who pull him through the endgame. Barker's boss, General Counsel Don McGowan, runs out front to tank damage for the fireteam just as he does for Bungie. Barker's wife, career public defender Pooja Vaddadi (currently running for Municipal Court Judge in Seattle), plays Hunter. JAMS, in contrast, mains a Warlock, saying, "Someone's got to keep my Titans and Hunters alive."