Isabela Lubert was thriving as a lawyer in Brazil. She completed an intensive five-year program to earn her degree and was investigating white collar and environmental crimes in a federal prosecutor's office. But she had other ambitions that stemmed from an early age. At fifteen, she visited Louisiana as part of a high school exchange program. Then, she saw the classic American film Legally Blonde. These experiences inspired her dream to move to the United States and become a big city lawyer. To do so, she would have to restart her career.
That's exactly what she did. At age thirty, Lubert moved from Brazil to the US to enroll in an LLM program at New York University School of Law. In Brazil, Lubert was an established and respected attorney working in a powerful office. In New York, she was an unknown student taking notes in the middle of a crowded lecture hall. When she wasn't studying law, she was studying English. Although Lubert was already fluent in her second language, she needed to perfect her legal lexicon.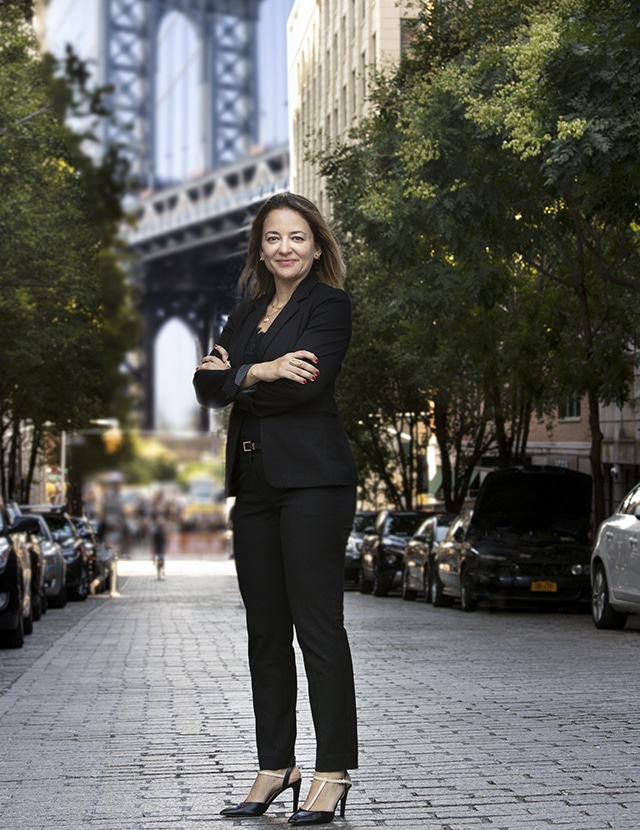 With the program complete, Lubert was ready to sit for the New York state bar exam. Despite taking the test in her second language and encountering some words she hadn't yet learned, she passed on the first try.
It was a major milestone, but then, Lubert faced another obstacle. It was 2010, and the nation was still reeling from the Great Recession. Jobs were scarce, and foreign-trained attorneys like her faced an uphill battle. Lubert found herself looking for a job for up to eight hours per day. When she finally landed an interview at Jefferies, leaders at the well-known global investment banking firm told her she was overqualified for their entry-level opening. Lubert plead her case.
"I needed a stamp of approval in the United States," she says. "I was willing to start from the bottom because I want to learn how everything works so I can run a team in this country someday." She got the job.
The experienced entry-level lawyer found that the job came naturally. In fact, she was done with her work by noon each day and kept asking for more assignments and taking on new responsibilities. Jefferies promoted her every year as she built expertise in the financial services industry. In 2015, Lubert came to JPMorgan Chase & Co.
Lubert started as part of the banking giant's government investigations and regulatory enforcement practice group where she engaged US agencies like the Department of Justice, the Financial Industry Regulatory Authority, and others investigating the conduct of JPMorgan Chase clients or employees. In 2022, Lubert became executive director and assistant general counsel within the group.
The cases Lubert and her colleagues work are better kept under the radar, and that's by design. If they do their jobs well, the bank remains compliant and stays out of the newspaper. Instead of chasing headlines, she's focused on getting assigned more complex cases and managing matters that represent potential risk. She's most proud of being able to handle issues single handedly from start to finish.
Now, Lubert is supervising other attorneys and stepping into more complex leadership roles. As she does, she's careful to advance diversity, equity, and inclusion (DEI) causes and create an inclusive environment for her own team. "I'm proud to be part of a company that sets DEI goals at the top, and we can have a true impact in the legal industry because we are such a big client," she says, adding that her larger team has launched a diverse outside counsel initiative.
A decade ago, Lubert's story was somewhat uncommon. She remembers competing for jobs with young candidates who enjoyed the privilege of pedigree. While she fought for every interview, they used big firm connections, and personal networks. "I want people to know that there is another path to the top," she proclaims. "You can make it if you come from another country with a nontraditional background and put in the hard work."
Lubert hopes that her own story will serve as inspiration for others to follow in her footsteps. To those individuals, Lubert has simple words of advice. "Stay humble and be grateful," she says.
That's how Lubert got to where she is. She mastered the fundamentals of law, developed expertise, and demonstrated an ongoing willingness to learn something new every step of the way. Now, she is living her own version of the American dream.
---
Bradford Edwards & Varlack LLP:
"It's a pleasure to work with clients with whom you can have real collaboration and partnership. Isabela fits the bill on all accounts – technically savvy on the law, focused on the commercial issues and a great communicator. And she's fun to work with!"
–Denver Edwards, Managing Partner
***
WilmerHale:
"Isabela is an outstanding attorney who provides keen legal advice and can deftly see around corners to protect JPMorgan Chase Co.'s best interests. She manages her legal teams in an extremely efficient, organized and collaborative manner."
–Ronald C. Machen, Partner & Co-Chair, White Collar Defense and Investigations Practice