As senior counsel of litigation for Phillips 66, Christine Turcotte holds a top in-house role at a multinational energy company. The high-profile position affords her the opportunity to guide overall business strategy and contribute to a wide variety of matters, including complex commercial litigation, catastrophic disaster emergency responses, international arbitration, and issues related to federal energy regulation.
No law class, summer internship, training program, or professional development seminar can fully prepare someone to handle these nuanced proceedings in a specialized field. To find success, Turcotte charted her own course.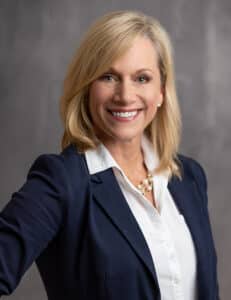 Although Turcotte entered the University of Florida on a premed track, a business law elective piqued her interest. She explored a budding passion for the study of law by interning with the Florida State Attorney's Office for the Eighth Judicial Circuit. Turcotte, then a sociology major, assisted in the penalty phase for "The Gainesville Ripper" Danny Rolling, who murdered five students in 1990. Rolling inspired the Scream franchise and died by lethal injection in 2006.
The experience gave the young Turcotte a look into many aspects of the court system. After completing her undergraduate studies, she briefly worked at an insurance company, followed by a two-year stint at a claims management firm in Florida, which added insight about the efforts of outside counsel and life at a law firm.
When a former colleague tried to leave the insurance company, a noncompete clause prevented his exit. Turcotte researched strategies for him to comply with the agreement, and the exercise solidified her interest in becoming a lawyer. She enrolled in Loyola University College of Law in her native New Orleans.
Turcotte's circumstances forced her to take a nontraditional path. After successfully putting herself through undergrad and working on campus all four years, she left the insurance world to join a law firm allowing her to work as a law clerk by day and take courses by night. She finished law school in three years and stayed with the boutique firm.
"Being at a small firm with supportive partners was the perfect way to officially start my career, because they gave me immediate hands-on experience," she says. In fact, Turcotte appeared in court right away. Sworn in on the spot, she acquired trial experience during her first year, all while starting a family.
As Turcotte progressed, she developed an interest in energy and maritime law. That meant a change was likely on the horizon. "If you want to practice oil and gas, all roads lead to Houston," she says. She switched firms and states, moving to Texas to pursue new career goals.
After a decade spent honing her craft in energy litigation, and making partner at a respected Texas firm, Turcotte felt ready to make the leap in-house. In 2010, she took a job as senior counsel litigation with ConocoPhillips. In 2012, its board of directors approved a spin-off of the downstream/midstream business to make Phillips 66 a standalone company. Turcotte became part of that legal team, assuming responsibility for a varied litigation docket, including some of the company's highest profile matters.
At first, the legal team at Phillips 66 rushed to address a "hodgepodge" of issues across the US and Canada. Turcotte spent her first year adjusting to the new structure and earning the trust of the new management team by handling a diverse docket of environmental matters, IP issues, maritime claims, and contract disputes. Along the way, she continued to inherit large, high-profile, multiyear matters. The diverse experience she built over her long career, earning her the nickname the "one-off queen," allowed her to take the lead.
"I've always leaned on my background and work ethic and try to heavily engage in my matters, both with my business clients and outside counsel," she says.
The size and strength of Phillips 66 helps make that possible. The public company employs more than 13,000 employees and commands over $100 billion in annual revenue. While her counterparts at smaller companies wear many hats, Turcotte solely focuses on managing litigation and takes an active role when partnering with outside firms. Turcotte cocounsels on every matter she handles, directing strategy, prepping witnesses, playing an active role in trials, and spearheading every major decision.
When ConocoPhillips spun off Phillips 66, Turcotte assumed responsibility for an ongoing international arbitration regarding the purchase of crude oil from PDVSA, Venezuela's state-owned oil company. Her team successfully exercised a call option yielding the acquisition of a critical asset for zero dollars and the termination of the parties' joint venture, followed by multiyear lookback arbitrations.
While maritime and admiralty cases once accounted for most of her work, those issues are less common at Phillips 66. Particularly as the company evolved into a diversified midstream and downstream business that purchases, processes, and ships crude oil and natural gas products, while also owning and operating pipelines. Thus, once again, she must stay open to the process of continuous learning. She now spends most of her time interacting with the Federal Energy Regulatory Commission on pipeline regulatory litigation.
As Phillips 66 and Turcotte head into the future, she's continually reassessing strategy and looking at additional ways to add value. Turcotte successfully brought suit against other companies, such as enforcing a right of first refusal to acquire an asset, or more recently, pursuing reparations as a commercial shipper against pipeline owners. "I expect this to become an important part of our overall strategy going forward, as we face increasing constraints on the energy sector and the attendant economic, political, and social pressures," she predicts.
In many ways, Turcotte does what she's always done by assessing the landscape and relying on her own instincts to carry her forward. Looking back, she says it was her clients, opposed to fellow lawyers, who helped her the most throughout her career.
---
Venable, LLP:
"Venable Celebrates Christine Turcotte. It has been an honor to work with Christine in the continuation of our long-standing partnership with Phillips 66. Venable proudly recognizes her accomplishments and contributions to Phillips 66's success."
–Steven Adducci and Dick Powers, Partners
***
Glynn, Finley, Mortl, Hanlon & Friedenberg, LLP:
"Christine is as tough as she is smart. She gets cases resolved, but when they need to be tried, she has no fear. She's an enormous asset to her clients, and we love working with her."
–Adam Friedenberg, Partner