Employers readily praise veterans for their discipline, their ability to take direction, and their commitment to teamwork. But there is one benefit to coming to the corporate space from the military that doesn't get a lot of play. It makes you fearless, says Carole Boelitz, executive director of intellectual property at Seattle-based Lenovo.
Earlier in her career, she recalls, "I was briefing executives at Microsoft. Everyone was nervous, but I was not. Someone asked me why I wasn't scared, because some executives could be pretty direct in their feedback. And I responded with 'what are they going to do, yell at me? I've survived that. Are they going to tell me to drop and give them twenty push-ups? Done that too.'"
Boelitz's career took off when she attended the Air Force Academy. She was inspired by a special semester of electronics in high school as well as a class to obtain a private pilot's license. "The teacher told the class that he'd been teaching the class for five years and no one had ever aced one of his tests," Boelitz says. "Challenge accepted. I aced the first exam and every exam after. He gifted me a flight computer."
The clincher came when her teacher brought into class an issue of Aviation Week and Space Technology Magazine. Featured on the cover was a Boeing plane, which the teacher said his son, an aeronautical engineer, had worked on. "That piqued my interest," Boelitz remembers. "I thought it would be really cool to work on a plane."
So it wasn't tremendous leap for Boelitz to think that "it would be cool to be an astronaut," she says. She applied to Purdue (known as "the cradle of astronauts," with twenty-seven among its alums) as well as the Massachusetts Institute of Technology (MIT), where she earned a full-ride scholarship. Her guidance counselor suggested she apply to the Air Force Academy, and she became the first from her town to get in. "It was an honor," she says.
When medical issues dashed her dreams of being an astronaut, Boelitz resolved, "if I can't fly them, then I'll design them" and earned an aerospace degree. "I loved it," she says. "It was math, computers, structures, a little bit of everything."
She attended MIT for graduate school, where she met her husband, Fred, who was on the same scholarship program. They have been married thirty years. He is presently head of autonomy at Blue Origin. "He's the one who launches and lands the rockets," Boelitz says.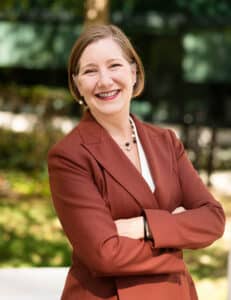 After two years at MIT, Boelitz was stationed at Kirkland Air Force Base. It was the time of President Ronald Reagan and his Strategic Defense Initiative. "I worked research and development," she says. "My last couple of years I worked on GPS, which is now in your car, your phone, and your watch. I have a very odd, specialized knowledge of nickel cadmium batteries."
With Reagan poised to leave office after two terms, Boelitz questioned whether her aerospace gig would be viable in the long term. Her husband remarked that she'd be a good lawyer and suggested she attend law school. She got into Harvard Law School.
It was the late 1990s and the dot-com boom. "I was interested in entrepreneurial business and fell in love with patent law," she says. "It's like opera. Some people love it and some people just see it as a form of law and don't want to be a part of it."
Boelitz has benefited throughout her career from mentorship. When she was an associate at Boston-based Wolf Greenfield & Sacks, she gave birth to her son in the first year with the firm. "A partner said to have as many kids as I can, that I would never regret it, and the firm would support me," she says.
Boelitz joined consumer electronics company Lenovo just over two years ago. After a decade with Microsoft and six years with a couple start-ups, she calls Lenovo "the best of both worlds." Her job allows her to focus on IP licensing as well as portfolio management worldwide. "I get to work with the business, finance, and discuss strategies meeting challenges with patent offices around the world."
She continues, "IP is what gets me up in the morning happy to go to work. By definition, it's always novel. Every new invention is something new to be explored and celebrated. It's like being the OB-GYN of attorneys. You get to be there when something is created. It's an awesome experience that I would never give up."
At Lenovo, Boelitz is also focused on change management, a natural fit for someone who went from aerospace engineering to being a lawyer, and moving from Boston to Seattle. "Change is hard," she says. "But people realize the value of change very quickly, and then the trust for more change accelerates. That becomes the culture."
External partners are also especially important in Boelitz's in-house legal role. "Several of us at FIG. 1 have collaborated with Carole in various capacities over more than fifteen years and have repeatedly benefited from her focused and innovative approach," says Chris Culberson, partner at FIG. 1 Patents. "She brings the full breadth of her extensive education and experience to each project."
"We are fortunate to work with Carole Boelitz to serve Lenovo's patent interests in the Greater China region," add C. V. Chen, Daisy Wang, Scott Lin, Kai Huang, and Jason Chuang of Lee and Li in Taiwan and Lee and Li-Leaven in Beijing. "Her professional experience, wisdom and strategic talent are highly recognized by our team. She is supportive and always brings to us the proactive inputs."
Boelitz praises Lenovo for prioritizing inclusion and diversity metrics. "Not all companies do that," she says. "I've always been an advocate for more diversity in the industry. This is a pipeline problem. We need more girls in STEM in middle school. I can't control that. What I could do was mentor people in my kids' school."
In 2020, Lenovo created a Product Diversity Office to monitor whether Lenovo products were developed according to diversity, equity, and inclusion goals. Lenovo is also a founding pledgee of the Increasing Diversity in Innovation Pledge. The company recently published its metrics as a first step in addressing the issue of underrepresented inventors and facilitating more participation in the innovation ecosystem so that all people and ideas have an opportunity for success. "Everyone has a unique perspective and I want to bring that to the profession and to the teams I work with in the inventor community," Boelitz says. "Diverse teams make more creative solutions, which can only lead to more valuable patents."
She adds jokingly, "So you see, I'm not completely altruistic."
Diversity and support are perhaps the two strongest values instilled in Boelitz during her time in the Air Force. "I had great leaders and mentors," she recalls. "A colonel took me along to a meeting in Boston. It was the company where I did my fellowship and met my husband. We sat down at the meeting table and the vice president of engineering said, 'Carole, why don't you go get us some coffee?' My face flushed. I was twenty-three years old. The colonel looked him in the eye and said, 'I think you should have someone else get the coffee. Carole is here to evaluate your performance."
"It's always good to have allies," she says. "It taught me that I had a role to play and that I was valued."
---
UNITALEN ATTORNEYS AT LAW:
"Carole Boelitz is a magician turning complexity into simplicity with added value. We highly admire her accomplishments and look forward to working with her and bringing more value to Lenovo."
–Wei PAN, Partner
---
Expertise Spotlight
FIG.1 Patents is proud to work with industry and thought leaders like Carole Boelitz and Lenovo.
FIG.1 was founded in 2021 as a boutique IP law firm with the goal to put patents first. The firm invests in people, tech, and infrastructure needed to prepare and prosecute high-quality patents for high-tech clients.
After only its first year, FIG.1 was ranked by Patent Bots in the top 10 for patent quality among firms with at least 250 issued patents.
And FIG.1 aspires to grow. In addition to continually seeking new clients and rock-star practitioners, FIG.1's growth efforts include developing new patent practitioners from the ground up. For example, FIG.1 maintains robust undergraduate internship and law school clerkship programs that have seen multiple participants transition to professional positions in patent law. Further, FIG.1 provides a Diversity in Technology & IP Law Scholarship and Internship which awards incoming student scholarship aid and collaborative training with both FIG. 1 and clients.
FIG.1's patent attorneys have extensive experience in patent drafting, prosecution, and patent asset evaluation, as well as technical backgrounds in numerous technical areas including electrical engineering, computer engineering and science, mechanical engineering, and biomedical engineering.