Abiman Rajadurai was thriving as a senior associate at a major Chicago firm when Rafael Medina, an attorney at McDonald's he had met three years prior, emailed him with a tempting in-house offer. So, he did what any analytical and methodical lawyer would do: he made a pros and cons list.
Pro: he would get to do more direct labor and employment work as part of an iconic global company. Con: he loved the variety of his job and the support from his partners in private practice. Pro: he could participate on the pro bono committee and advance diversity, equity, and inclusion (DEI) initiatives. Pro: he would be surrounded by top-level talent and a strong corporate culture. The pros ultimately outweighed the cons, and Rajadurai joined McDonald's Corporation as senior counsel of global labor and employment law.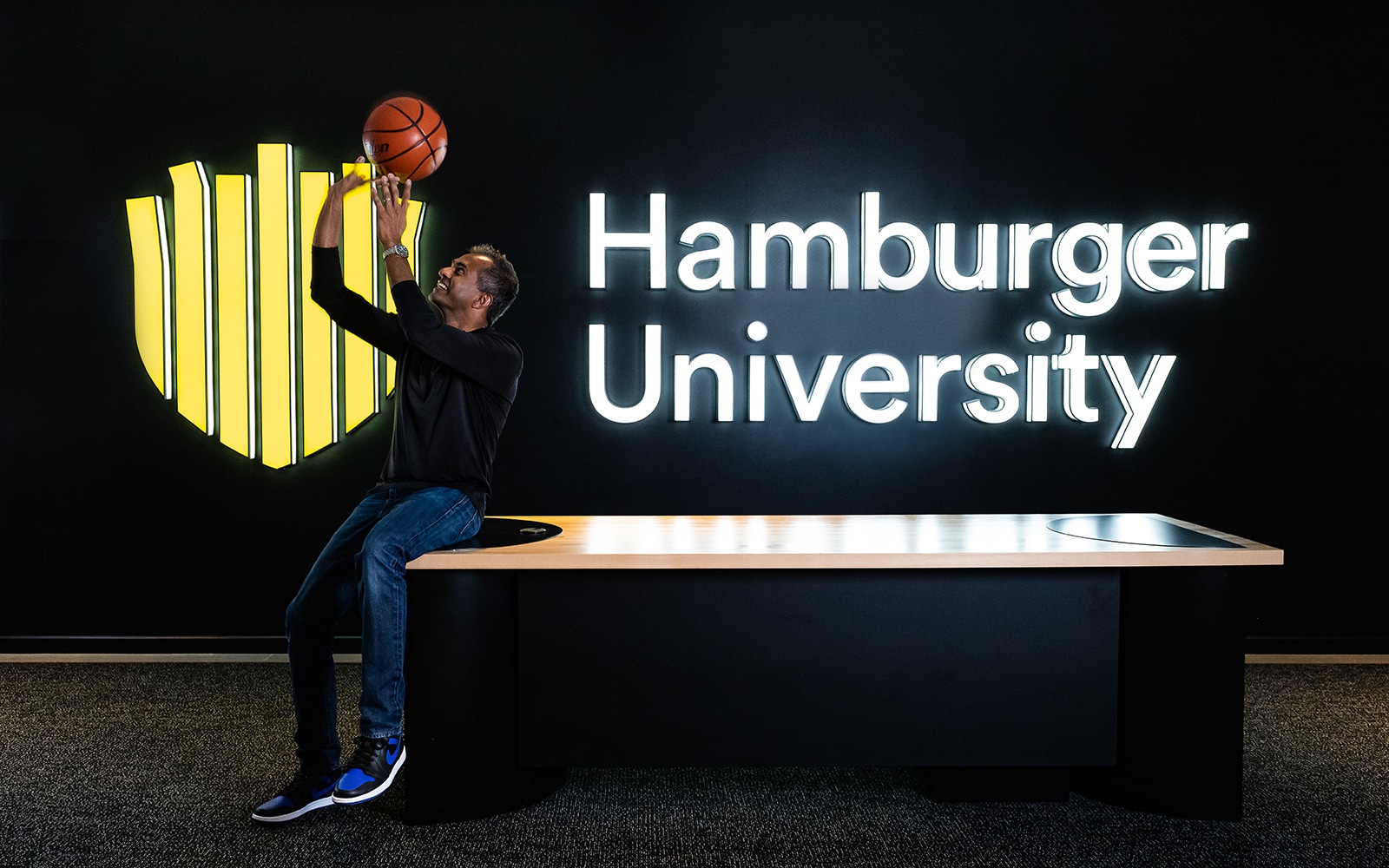 The move gave Rajadurai the chance to develop broad subject-matter expertise, collaborate closely with colleagues on a niche area of the law, and continue what has become an ongoing theme—connection. "I've learned to find commonalities across differences in my life, and I bring the same approach to my career," he says.
Rajadurai was born in India but moved to the United States when he was just two years old. His father's job took him to new homes in midwestern cities like South Bend, Indiana; Columbus, Indiana; Canton, Ohio; Bowling Green, Ohio; Ottawa, Illinois; and Jackson, Michigan. In all of these cities, Rajadurai had to endure feeling like an outsider. After earning undergraduate and law degrees from the University of Michigan, Rajadurai moved to Phoenix before settling in Chicago.
During that time, an interest in basketball (he considered playing in college) helped teach Rajadurai more about teamwork, inclusion, and reciprocity. The sport helped the immigrant from a different social class find his voice and enjoy a sense of belonging. "Sports bring people together because you have to work as one in pursuit of a common goal," he says, adding that the lessons he learned on the court as a student overlap into the work he does today.
At McDonald's, that work is varied, and Rajadurai sees that as another pro for his in-house role. Although he mainly focuses on labor and employment counseling matters, he rotates through various areas, and is now the lead on digital and technology projects that impact the workforce. He also assists on the company's people strategy, including the employee experience and benefits and rewards programs. Last year, Rajadurai seized a growth opportunity by applying to serve as the assistant general counsel for corporate-owned restaurants in the United States.
In the digital and technology space, Rajadurai has been helping McDonald's implement Meta's business communication platform, known as Workplace. He and his team have connected with colleagues in privacy, marketing, and commercial groups to establish the necessary policies to eliminate or manage risk associated with using the new tool.
As he develops these policies and tools, Rajadurai lets his history of making connections lead the way. The skill helps him unite stakeholders who may have different needs, expectations, and desires. "Part of my role lies in finding a solution that works in the short term for some and in the long term for everyone," he says.
When Rajadurai was an associate at Littler Mendelson, the firm selected him to participate in a career advocacy program for diverse associates, and he's continued to unlock opportunities for others. At McDonald's, Rajadurai joined the legal department's DEI committee: since then, he's led a team that developed "Empower," a legal department supplier award that recognizes firms that demonstrate and improve their own commitments to DEI. Proskauer Rose LLP and FordHarrison LLP won the first Empower award in 2021, and Bryan Cave Leighton Paisner LLP and Riley Safer Holmes & Cancila LLP were named as the most recent winners. Rajadurai says he looks forward to expanding and enriching the program.
"A thoughtful and creative lawyer, with experience both in private practice and in-house, Abiman is highly adept at crafting pragmatic legal solutions to complex employment issues," says Jon Linas, labor and employment partner at Jones Day. "Beyond his legal acumen, we also greatly admire his dedication to advancing McDonald's values of diversity, equity, and inclusion both in his work and in the community."
DEI is just one of many ways Rajadurai looks to give back and build up his community. He works on pro bono asylum cases and also serves on the boards of several nonprofit organizations, including the National Immigrant Justice Center and Merit School of Music. Part of what motivates Rajadurai is his own life experience of missing out on or not being considered for opportunities due to being an immigrant and/or having limited means. While his family didn't face intense persecution, he understands how intimidating it can be for disadvantaged people to have a voice and feel heard and especially to find and pay for legal services.
Rajadurai enjoys these endeavors because they allow him to find new ways to build meaningful connections. He encourages other lawyers, both rookie and veteran, to do the same. "We all need to stay curious and stay engaged," he explains. "When our goals align, we can really help, and when they don't, we can address that in simple ways to find real solutions. It's all about finding common ground."
---
Proskauer Rose LLP:
"The experience Abiman Rajadurai has gained managing and counseling McDonald's through some of its most important and complicated matters truly sets him apart from others in the industry. In addition, Abiman's staunch advocacy and leadership at McDonald's and in the greater legal community on issues surrounding diversity and inclusion is truly inspirational. I can think of no one more deserving of this recognition."
–Nigel F. Telman, Partner