Vineeta Bonthala is entering her second decade as vice president and senior counsel at BMO Harris Bank. If it were up to her parents, she would have followed them into the medical profession. "Both were doctors," says the Toledo, Ohio, native, "and I started in premed, as good Indian children do. But I really enjoyed my college history classes; I loved the reading, research, and writing. And much to my parents' dismay (but ultimately their support), I got off the premed track."
When Bonthala graduated, she announced her plan to move to New York, where she "stumbled upon a great position" as a paralegal in a small firm, Richards Spears Kibbe & Orbe (now part of Crowell & Moring). The position focused on fast-paced distressed debt transactions, and her career path was set.
"I did a lot more substantive legal work than I might have otherwise at a larger firm," she says. "I was in the loop with distressed debt transactions and worked hand in hand with clients and senior partners. It motivated me to go to law school to become a transactional lawyer because I loved the adrenaline. I was doing small, fast-moving transactions with few documents. Some days, I was closing twenty-five transactions. It was awesome."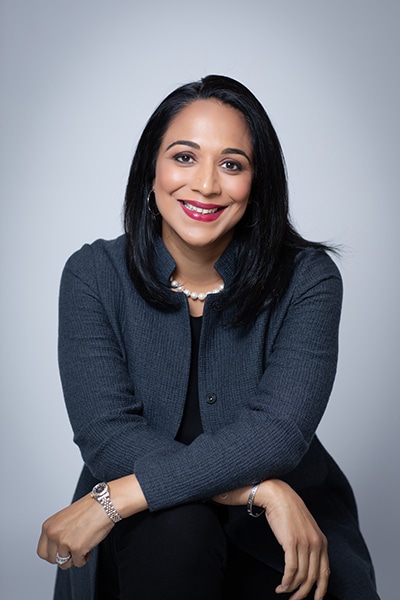 Upon graduating from the University of Michigan Law School, Bonthala and her future husband returned to New York, where she gained experience as a general corporate attorney at Kelley Drye & Warren. But the Midwest beckoned, and the couple opted to settle in Chicago. She spent four years at Winston & Strawn, where she continued her work in general corporate work.
A new position at BMO Harris Bank offered her the opportunity to become an in-house counsel. "I was interested in seeing client work from the inside," she says. "I have been there for ten years; it seems like yesterday [that I started here]."
Bonthala's primary role is helping manage and facilitate board meetings for the Bank of Montreal's US holding company and its banking entity. That involves everything from drafting the agenda and the governance documents to making sure participants are scheduled and present at the meetings and that the technology is functioning. She also takes minutes on the meetings that serve as a resource for the company directors and executives.
"We do everything you can imagine," she says, "the nitty-gritty. It's legal as well as events planning. Most people have no idea how much work goes into running board meetings. There is a lot of substantive and organizational work that goes unseen."
And it provides the adrenaline she still loves. One of the secrets to her success is her ability to remain calm while making sure the meetings run smoothly and productively. She attributes this to her experience as an athlete.
"Through college, I played basketball and field hockey," Bonthala says. "Competing in neck-to-neck competition, being a leader on the court and field, I learned how to stay calm under pressure. I would say my paralegal and transactional attorney experiences reinforced that as well. You had to be there for the client, get your work done, and keep those around you calm.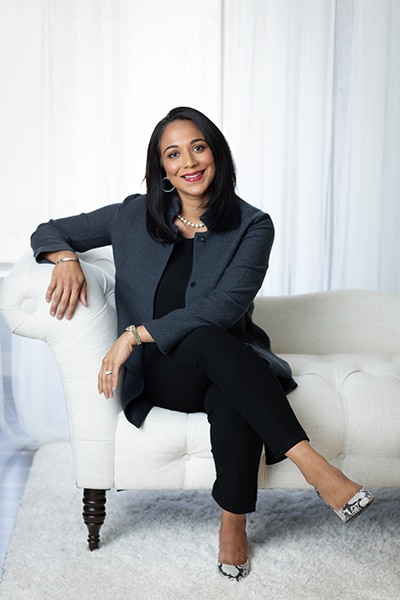 "What I really enjoy," she continues, "is the top-down view of the organization. We get the benefit of seeing how the executives and the board look at the entity. We touch on everything in the meetings, which to me is invaluable. I love working with our executives and board members, and I learn from all of them."
Bonthala is the right-hand woman to her manager, who leads a team of five. She serves as a resource to others on the team, who look to her for direction regarding work issues. She describes her leadership style as holistic. "It's important to be a leader to the whole person, professional and personal," she explains. "I always remember that everyone has their own challenges and struggles that may not be evident."
She considers herself lucky to have had a lot of "great mentors," starting with her parents. "They were immigrants from India and have always been selfless and worked hard. They always taught us the importance of working hard but also prioritizing family." Since Bonthala's mother passed away in the spring of 2021, "I've reflected on the unspoken leadership that she provided for us," she says.
On the home front, Bonthala has been married for sixteen years. The couple has three active boys, aged twelve, ten, and six, as well as what she calls a "pandemic puppy." "It's about as chaotic as you can imagine," she says with a laugh.
Bonthala enters her second decade at BMO Harris filled with anticipation. "BMO Harris is such a great cornerstone of Chicago, and there are exciting times ahead, including our new tower going up in the West Loop. The company already has such great initiatives in place for sustainability and community development. I look forward to being a part of all those initiatives and developing my skills."
And of course, keeping that adrenaline flowing.
An Active Giver
"Several loved ones have dealt with cancer," Vineeta Bonthala says of her decision to run several half marathons on behalf of the American Cancer Society. "Most significantly, my nine-year-old nephew, who was diagnosed with leukemia when he was two. The organization has been very meaningful to me, and I wanted to give back."
Another way Bonthala gives back is volunteering with Apna Ghar, an organization that provides support for survivors of gender-based violence. "They have the ability to provide assistance in more than thirty languages," she says. "It hits home with me; I worked on the rape and sexual assault hotline in college and was a women's studies major."