For Joshua Grossman, the COVID-19 pandemic turned his home and work life upside down in such a way that the only logical comparison to make is to a different reality altogether.
"If you play video games, you know your character usually has a health bar," he explains. "And that bar can decrease as different things hurt your character, but there can be tokens or other sources of power that can help replenish that lifeline. At the beginning of the COVID-19 pandemic, I was trying to read my mental health bar."
Grossman estimates that at the beginning of March 2020, his mental health bar was at 85 percent. He was living in an apartment in Chicago's South Loop with his wife and two young daughters (now aged two and four), the older of whom struggles with emotional regulation issues—often prompted by major life changes.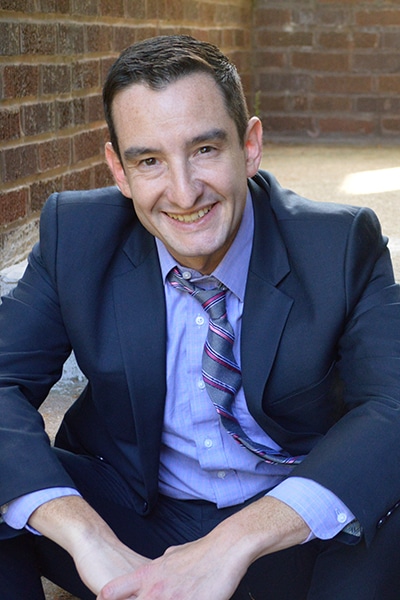 Before the pandemic began, both Grossman and his wife worked, and his daughters were in daycare. They had purchased their first home and were set to close in April 2020, but COVID-19 soon forced Grossman and his wife to work from home, the daycare to close, and a host of uncertainties to arise about how the ensuing days, weeks, and months would play out. Grossman's mental health bar was hit hard.
Grossman is associate general counsel for Enova International, a Chicago-based multinational company that uses technology to develop financial products and services for individuals and businesses. The company's technology, analytics, and customer-service capabilities rapidly evaluate new data sources to offer consumers and small businesses the right amount of credit or financing they require.
Grossman joined the organization in 2012, with a focus on supporting Enova's international consumer lending entities and keeping current with changing regulations at home and abroad that concern the company's products. In his current role, Grossman's focus is on small business lending and regulations, but he also oversees all litigation that involves Enova.
"My workload did not slow down during COVID-19, but the hours I could put in were significantly affected because of how much time I had to focus on my girls and their needs," he says. "It's a lot of major changes all at once. There was a six-month period where every single day, I found myself asking, 'How am I going to do this?' It also didn't help that I effectively had to turn my bathroom into my office."
Subscribe Now
Receive stories like this one in your inbox every two weeks!
Subscribe to the free Modern Counsel newsletter.
During those first six months, Grossman concedes, the reading on that health bar dropped into the single digits. There were days he could feel his body shutting down from sheer mental exhaustion. At work, he was negotiating the demands of his role and an early-pandemic temporary hiring freeze. At home, he was engaging in full-time parenting to kids who needed their parents' undivided attention—without the help of babysitters or daycare. Just as in a video game, obstacles, and challenges came at Grossman from every angle.
Nevertheless, Grossman says he started finding those tokens that replenished his lifeline. A good friend who's a child therapist was there to help assist with Grossman's kids. His oldest child started going to occupational therapy, which significantly helped her control her emotions. He moved into a house where his kids had space to play, and he could move his office out of the bathroom. And he felt fortunate to work for a company determined to weather the pandemic by doing right by its employees and clients.
"One of the greatest things about working with Enova is the team. You become very close working your colleagues," he says. "A lot of us are parents, and even in being able to discuss and relate to what each of us was going through, you find a lot of support. In some ways, being away from the office managed to bring us closer together." The support from his wife, his coworkers, and his therapist turned a solo campaign into multiplayer.
Acclimating to a completely new experience, where work and home life were all rolled into the same hours of every day, also prompted some unexpected benefits.
"Most lawyers are most engaged when they are trying to grow or learn a new skill or become an expert in a new area," Grossman says. "I was able to focus on soft skills—making sure I was more cognizant of speaking directly and being laser focused on the task in front of me when I had the moments to that. Putting more energy into being concise and productive. Just like with a video game, I developed new attributes that gave me a little extra boost."
Enova's concern for its clients—particularly the small businesses it supports—also stood out to Grossman in the initial months of the pandemic, when many businesses were nervous about finances and keeping the doors open.
"From the beginning, I saw that our customers, both consumer and small business, were the number one priority. The emphasis for Enova was not, 'How can we get paid back?' but instead was, 'What can we do to help our customers through this incredibly difficult time?' It not only fostered a real sense of appreciation to work here but also a new degree of gratitude and loyalty from our clients."
At the time of writing, the rise of the delta variant of COVID-19 poses more uncertainty for everyone in the ongoing pandemic. While it might be a new level of the theoretical video game for Grossman to navigate, he's gained confidence on how to keep his mental health bar in good condition.
"It's hard to say how things will shake out over the next few months," he says. "But I've talked to other in-house lawyers who feel like they're still this advisory role that amounts to just saying 'yes' or 'no.' I'm more of a problem-solver. 'Here's how this could work for you.' When you are in the middle of a pandemic, you feel like you have no control over these things that cause so much emotional and physical harm. It's that sense of being able to take action, and being a problem-solver, that brings me a feeling of control at a time when so much feels out of control.
"I've also had a number of instances where my suggestions are put to work, and that means a lot. It's not about who's the most senior person on the team or the direct advisor, but who has the best solution to a problem. Whatever else is going on, it's comforting to know I work somewhere where people leave their egos at the door and give their all for the team."
***
O'Hagan Meyer:
"Congratulations to Josh for this well-deserved recognition and to the entire Enova team for their vision, dedication, and great work."
–Chuck Seyfarth, Partner