Young siblings often take on informal responsibilities. One may be a leader; another, a planner. Terry Magid was the attorney.
"When I didn't like how things were going, I'd argue with my father," Magid recalls. "And not the typical 'I don't wanna!' either. I laid out my reasons and stated my case.
"My siblings often were too timid to do that, so they'd call on me to argue with Dad on their behalf. Eventually, he began calling me his 'lawyer son,' and that concept stuck with me."
After earning a Bachelor of Science in management from Tulane University, followed by a JD and LLM from the New York University School of Law, Magid worked five years as a private practice attorney in Columbus, Ohio, focusing on tax law and employee benefits.
In 1994, Eli Lilly recruited him. "I got that call just a month before my wedding date," he says. "So I told the recruiter to call back in a couple of months if there was still interest in me."

There was. He joined the global pharmaceutical company as an employee benefits and tax attorney and ended his ten-year stint there as director of corporate taxes.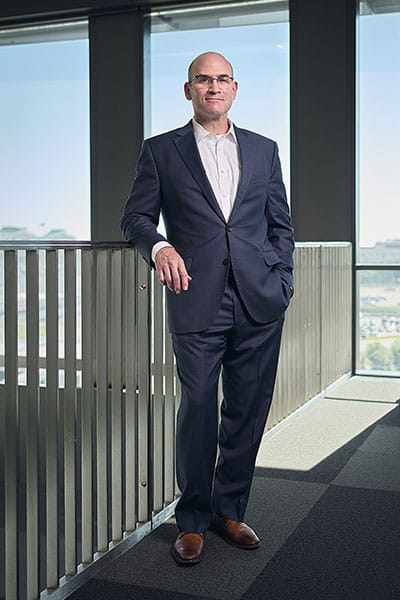 He spent the next year as vice president of tax for Great Lakes Chemical, where he restructured the tax department, oversaw the company's worldwide tax function, and was involved with Great Lakes' tax-free merger with Crompton Corporation to form Chemtura Chemicals.
After five years at the Indiana Public Employees Retirement Fund, the state's largest retirement system, the last three as its executive director, he served a brief term at Bingham McHale, where he advised clients on issues such as fund governance, fiduciary duty, benefits, and ERISA issues.
While there, he began calling on potential clients for the firm—including Cummins. "I knew some people there," Magid says, "and I called about once a month. Finally, I was invited to a breakfast meeting with Cummins' general counsel. It turned out to be a job interview."
He joined the company in 2011 as senior counsel, supporting the finance and supply chain functions.
Initially, he focused on the administrative side, including serving for four years as the company's assistant corporate secretary. Then, wanting to strengthen his understanding of Cummins's business, he took on legal leadership for the components segment in 2016. In this role, he's part of the components leadership team and involved in strategic planning for the segment.
"Through my leadership work, I've learned that it's important always to be yourself, whether at home or at the office. You'll be a better leader, because you'll build trust with your team and with others that you work with. And it really is a chore to pretend to be someone you're not," he says.
Magid also urges future leaders to be inquisitive. "It's pretty much a cliché to say, 'If you're not learning, you're not growing,' but it's true. So don't be afraid to ask questions, even if they seem dumb to you. The answers will help you do your job better," he adds.
Magid is keen on diversity as well. "Institutional racism in the corporate world has resulted in a pool of untapped talent. And I've always believed that diverse thoughts and experiences will enrich our outcomes and options," he says. "That's why I strive to hire the most competent people I can find, period."
Diversity has been in the Cummins DNA since 1950. Then-CEO J. Irwin Miller was a strong proponent of social justice. He chaired the National Council of Churches' Commission on Religion and Race, met with Presidents Kennedy and Johnson to promote what became the Civil Rights Act of 1964, and marched with Martin Luther King, Jr.
Today, Magid focuses on voting rights as an aspect of Cummins' Cummins Advocating for Racial Equity (CARE) initiative. "CARE grew out of the social unrest of summer 2020 but is part of Cummins's long-standing commitment to DE&I and civil rights" he says. "I heard a local government official insist that voting, as opposed to protesting, was the way to solve such problems. At the same time, officials closed the majority of Indianapolis voting precincts just ahead of the 2020 presidential primary. And most of them were in minority-majority districts."
He encouraged his colleagues to support a push on expanded voting rights, which falls under "social justice," one of the four pillars of CARE. Then the company learned that pending voter-restriction laws would be even more restrictive.
"We signed on to an amicus brief to remedy the 1965 Voting Rights Act," Magid says, "and joined a business coalition in support of the John Lewis Voting Rights Advancement Act. At Cummins, we believe voting is a core civil rights issue and we are a stronger, more prosperous nation when more people vote and are engaged in the civic process."
---
Foley & Lardner LLP:
"We work with counsel at very large companies, but few are as clearly on top of every issue as Terry Magid – smart, practical, intuitive and a genuine pleasure to work with. Add to that a great business sense and you have the full package."
–Phillip Goldberg, Partner