It was a regular day at the office when Robin Kaver got the results she had been waiting for. After waiting anxiously for the page to load, she asked a colleague to verify the news. He read her name on the bar examination pass list and screamed in celebration.
Kaver's colleague was shocked because he didn't know she had finally taken the bar exam—it had been eighteen years since she graduated from law school, and in the meantime, she had become a successful writers' agent and contracts manager.
In fact, Kaver's entire story is one of taking a nontraditional path. She's pushed forward by intellectual curiosity, unmatched persistence, and an impressive capacity for meeting challenges head-on. Having studied Romance languages at New York University, she was pursuing a master's degree in social work when she took an internship that involved advocating for inmates in alternative sentencing. A supervisor noticed how unflinching Kaver was in difficult circumstances and began to give her the most difficult cases, involving sex offenders and the criminally insane.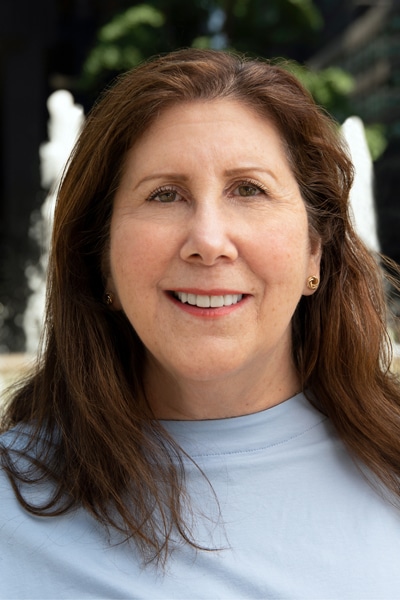 When a judge encountered Kaver, she was so impressed by Kaver's performance that she suggested that Kaver apply to law school. Kaver declined, pointing out that she had three young children at home. But the judge persisted, and Kaver, who was in her thirties at the time, ended up enrolling in Brooklyn Law School's part-time day program.
Four years later, having graduated, Kaver intended to take the bar exam, but a series of serious family issues delayed her plans. In the meantime, she took an opportunity to work for the director of the Anti-Defamation League, writing grants and lobbying on the Hate Crimes Bill. "I found other things that used my law degree and my logical mind," she explains. "But the further I got into other things, the further I got from the bar." She even coproduced a Holocaust documentary written by David Saperstein (Cocoon) and narrated by Hector Elizando.
After several years at the Anti-Defamation League, Kaver started working for a well-established boutique dramatic agency whose owner was looking for someone—preferably with a legal education—who could draft contracts for a job that didn't yet exist. The agency represented playwrights for some of Broadway's biggest shows and wanted to pump up its film and TV department. Kaver was asked to lead the way. She had a credit as a documentary film producer, after all.
"I basically talked myself into a job," Kaver says with a laugh. "I had no idea how to do it, but I knew I could figure it out." And she did: the Robert Freedman Dramatic Agency's slush pile of new screenwriters and television writers grew, along with some well-known crossover clients, with Kaver responsible for negotiating and drafting clients' contracts.
Although Kaver's career was progressing, she still longed to realize her original goal of passing the bar exam and working as a lawyer. In 2010, she was working for a market research company as a senior contracts manager when her son confronted her. He slid his outdated bar exam review books across the kitchen table and made her promise to take the test.
After Kaver passed, though, her status at work didn't change: her bosses wanted her to stay in the same position at the same pay rate. She decided something had to change.
As luck would have it, a recruiter called Kaver for a job at Nielsen, the famed market research company started in 1923. She passed two rounds of interviews, and when she stepped into her final meeting with the chief legal officer, Kaver decided to make a preemptive strike before she removed her coat. "Yes, I took the bar late," she said. "But my résumé will show you all the things I can do and the life skills I have that no other candidate can draw upon. I'm not afraid of anything." She got the job.
Initially, Nielsen hired Kaver to work on one specific segmentation business unit in what was to be at least a three-month long, supervised transition. After just a few weeks, she was taking on orphaned areas that needed dedicated attention. "If you're willing to take on new challenges and never say, 'I can't do it,' that's when you'll get the best experiences," she says. Soon, Kaver was lead counsel for multiple business units, including Nielsen Entertainment.
Kaver continued to demonstrate her transferable skills and is now deputy general counsel of North America for NielsenIQ (the stand-alone company resulting from the split and subsequent sale of Nielsen's Global Connect business). She is the lead counsel for negotiations and transactional matters related to all US retailers (including military exchanges), the G13, and other manufacturers in the NielsenIQ portfolio, and provides general legal advice and counsel to senior business leadership and client-facing business unit members.
Having settled in at Nielsen, Kaver is now finding ways to inspire young students and aspiring lawyers. She's teaching a clinical seminar class at Brooklyn Law School and threw out the existing syllabus to make it her own. Instead of relying solely on reading and writing assignments, she brings in privacy attorneys, outside lawyers, and other speakers who help present the full interdisciplinary nature of law.
"I tell my students that life after law school might not work out exactly as they plan, and that's OK," she says. "If you create your own path and refuse to give up, you'll go far."
***
Jenner & Block LLP:
"Robin is a brilliant, strategic, and hardworking lawyer who knows her industry inside out. It's a pleasure to work with her because she works particularly closely with her outside counsel. It's a true partnership."
–Alison I. Stein, partner and a cochair of the firm's content, media, and entertainment practice