Rich Rosalez's grandfather sold produce from his garden during retirement. It was a way for him to stay connected to his community, and Rosalez would help his grandfather. The vice president of litigation at Samsung Electronics America vividly remembers how upset he was when he was unable to start a lawnmower.
His grandfather walked over calmly and asked him how getting angry was going to solve any problem. It's a conversation that's stuck with Rosalez all these years later, and it's made him a calming leader.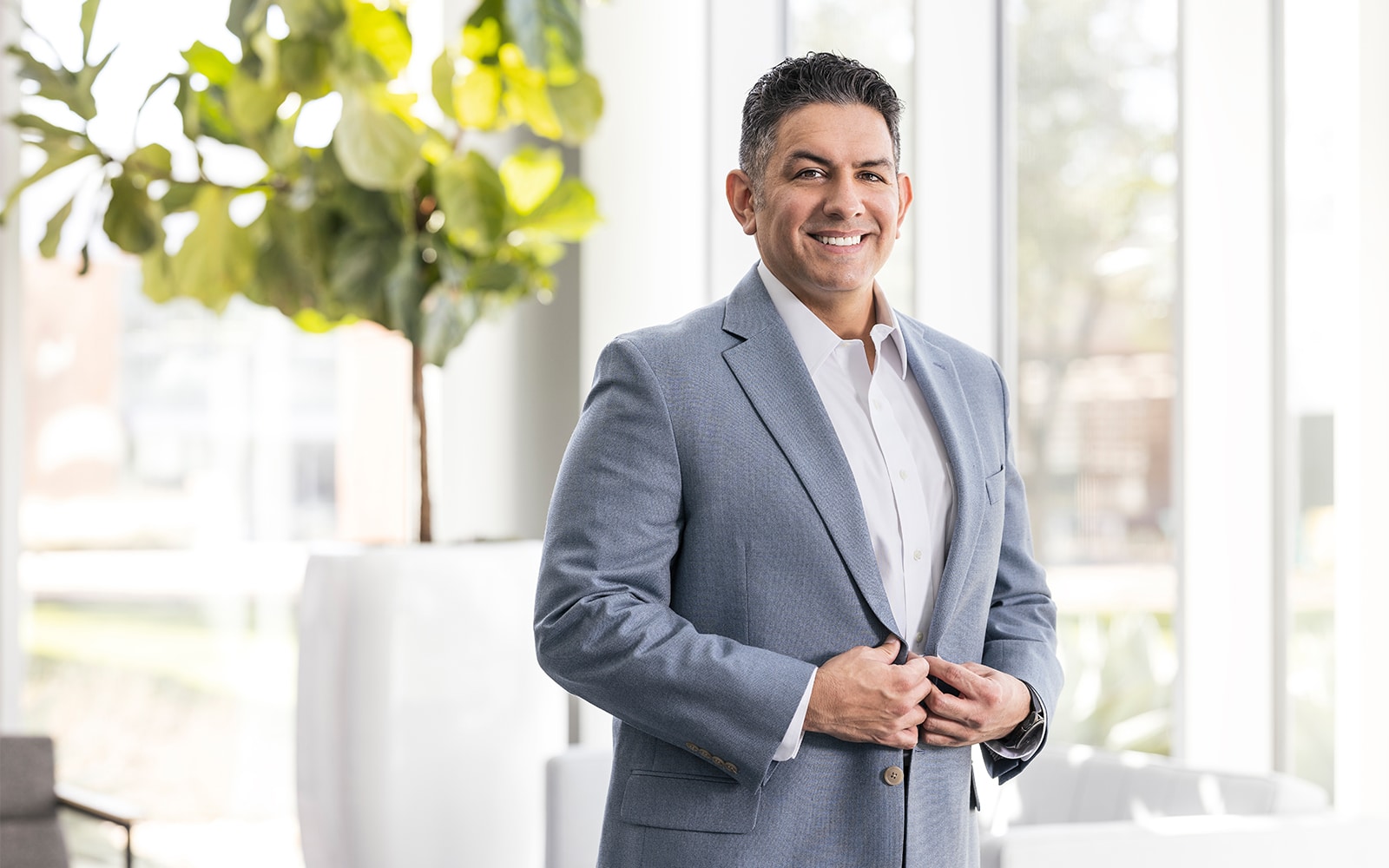 The attorney believes in dreaming big and hustling to get there. As a leader who believes in always bringing your best, Rosalez would rather not show up than bring his B-game. The VP employs sports metaphors at every turn, and it's clear that his track and cross-country background continue to inform his approach to his work and to his leadership.
"We're privileged to help Rich and his team with complex litigation," says Greenberg Traurig Vice-Chairman Richard Edlin. "Rich is aggressive and strategic, working tirelessly for the best outcome," adds Robert Herrington, cochair of Greenberg's class-actions practice.
"Throughout his life, Rich has been the first to accomplish many things in his family and community," says Crowell & Moring partner Juan Arteaga. "But more importantly, he's always made sure he's not the last. He has continuously fought to not only keep doors open for others coming after but also kicked those doors off the hinges to ensure that the opportunities he's been afforded remain open."
Rosalez spoke with Modern Counsel on his passion for diversity, where he sees the progress of the movement both abroad and within Samsung, and his passion for giving back to his community.
I understand you have been involved in the diversity space for some time. What has that looked like for you?
As a student, my involvement started not long after I left home for MIT. I valued how diverse the student body was and there was so much to learn from others, their journeys, and different cultures and perspectives. I worked for the admissions office and served as a student representative and admissions intern because I wanted to open doors for others. My extensive coursework and my involvement in these activities resulted in an appointment as special assistant to the president for multiculturalism my senior year.
In law school, I founded a student organization whose goal was to improve diversity on campus, with a focus on faculty and initiatives such as hosting a program on the path to becoming a law professor.
I expanded the group's definition of diversity and transformed it into an umbrella organization for all student affinity groups, which allowed us to gain broad support across the student body. I consistently followed up with the dean, and we experienced positive results. Years later, the law school and university adopted anti-racism initiatives similar to what I introduced more than twenty years ago.
Could you talk about your involvement with Unidos at Samsung as well as some of the other diversity, equity, and inclusion (DEI) initiatives you've helped spearhead?
Unidos is Samsung Electronic America's Hispanic/Latinx employee resource group, and I serve as an executive sponsor. I helped coordinate efforts and provide guidance during the launch, and I continue to lead, participate, and assist in any way I can to support the organization and the leadership team.
Our goals are to promote social and cultural awareness inside and outside of Samsung, foster a sense of community, and empower employees so we can be more connected and better prepared to have successful careers. The group encourages mentoring and networking, and it serves as a platform to connect employees and members that did not exist previously. We aim to give back to the community at large.
We believe this all leads to employees who are more invested, happier, and have a better overall experience at the company, which makes it a win-win for the company and its employees. In terms of other DEI initiatives throughout my career, I helped found and lead an ERG for minority attorneys and allies at one law firm, and I served on the diversity committee at another.
All along the way, I have been heavily involved in recruiting and mentoring—especially among underrepresented groups—and I am very proud of the many people I have helped. I believe both of those are important to pipeline and professional development, and it is more difficult to succeed without the aid of others.
Currently, I serve as a Hispanic National Bar Association deputy regional president and I am leading an effort to roll out a mentoring and networking program, which we believe is desperately needed given how the pandemic disrupted many of those initiatives and the benefits they would have provided. In Unidos, I have similarly introduced and led networking and mentoring initiatives.
What does your diversity experience tell you about the expanding DEI movement? What challenges still exist in the space?
It has been interesting to see diversity training programs and similar endeavors evolve over the years. I've been familiar with several programs that focused on diversity training, intersectionality, multiculturalism, implicit bias, and, more recently, DEI. There is an increasing amount of academic research to support the work in these areas, which is helpful to educate about the realities of our society, the different lives people lead, and the issues of power, privilege, and marginalization.
Like many workplaces, we've made significant progress at Samsung in recent years. Now, we have numerous ERGs, open forums and discussions, DEI initiatives, training sessions, and concerted focus in our talent acquisition efforts, which were not yet around when I started.
Samsung has come a long way, but we have room for improvement. In the legal profession, I have seen numerous calls to action regarding DEI over the years—some glimmers of hope, little progress, and then the cycle repeats.
It has been very exciting to see the energy and effort that activists, ordinary citizens, nonprofits, and companies have put into DEI, and I hope it is more than a trend. The civil unrest of 2020 was a flashpoint for many, but for some the tragedies were all too familiar. I truly hope we have experienced a collective paradigm shift and we will experience sustained change, which will require perseverance.
You seem to be a continually giving person, willing to reach out and help those others. Where do you find the time? What motivates those efforts? And what do you think this says about your own leadership?
When it comes to giving back and helping others, I once heard someone say, "It isn't do you have the time, but rather, how do you not have the time?" That is a powerful statement. Of course, there are reasonable limits because you have to focus your energy where and when you can without overextending yourself. In terms of motivation to help others, it is simply the right thing to do.
I do not have to think long to consider how I have had great opportunities, and some of that results from the struggles of those who came before me. Being in the position I am in, I should do what I can to create and enable opportunities, help others, and ease the path of those who will follow.
Perhaps more than anything, I do it because I should. In every step of our respective journeys, we should look for ways to help others and go above and beyond. I am not sure what it says about my leadership, but I hope I lead by example, that I inspire others to follow me, to be willing to sacrifice, and help one another.
---
Crowell & Moring:
"Throughout his life, Rich has been the first to accomplish many things in his family and community. But more importantly, he's always made sure he's not the last. He has continuously fought to not only keep doors open for others coming after but also kicked those doors off the hinges to ensure that the opportunities he's been afforded remain open."
–Juan Arteaga, Partner
***
Greenberg Traurig:
"We're privileged to help Rich and his team with complex litigation."
–Richard Edlin, Vice-Chairman
"Rich is aggressive and strategic, working tirelessly for the best outcome."
–Robert Herrington, Cochair of the Class-Action Practice
---
Expertise Spotlight
Greenberg Traurig's team of six-hundred-plus highly experienced litigators operates in sync worldwide via a unique global platform to assist clients wherever and whenever they need strategic representation.
Organized within numerous specialized practice areas, the firm's litigators have the rare ability to bring a combination of subject matter, geographic, and forum expertise in all major jurisdictions in the United States and beyond to virtually any case.
With a culture of collaboration facilitating local, regional, national, and international coordinated litigation counsel, Greenberg Traurig litigators utilize superior technology systems to provide clients with cutting-edge strategies and services. The team, which includes highly experienced trial attorneys who handle more than a hundred trials and arbitrations every year, also has ninety former federal and state prosecutors.
Greenberg Traurig litigators' legal talent has been recognized by many industry organizations, including Lex Machina, which has named Greenberg Traurig the number one law firm for US commercial litigation by cases filed since 2009. This comprises 1,200-plus litigations in federal and state courts in thirty-nine jurisdictions throughout the nation, including every federal appeals court and the US Supreme Court.
At the same time, our vast trial experience enables us to resolve cases with creative and strategic alternatives when trial is not in our clients' best interest and upon the most favorable terms possible.
Providing sophisticated trial and settlement strategies, Greenberg Traurig's litigation practice has handled some of the most complex litigation matters in challenging jurisdictions worldwide. Whether clients face a single complex dispute or a portfolio of disputes, the firm has vast resources across numerous practices and industries to serve.
Greenberg Traurig's wide-ranging litigation capabilities include:
In these areas, Greenberg Traurig's litigators are often sought in bet-the-company, bet-your-freedom, and bet-the-town cases. To address all litigation issues, we craft our client teams based on the industry, forum, and stage of litigation involved, matching our attorneys' experience to each client's specific needs.
About Greenberg Traurig: Greenberg Traurig, LLP (GT) has approximately 2200 attorneys in forty locations in the United States, Latin America, Europe, Asia, and the Middle East. GT has been recognized for its philanthropic giving, diversity, and innovation, and is consistently among the largest firms in the U.S. on the Law360 400 and among the Top 20 on the Am Law Global 100. The firm is net carbon neutral with respect to its office energy usage and Mansfield Rule 3.0 certified. Web: www.gtlaw.com