Like many recent graduates, Maura Neville put in her time at a large firm out of law school. Even back then, though, the current senior counsel for global labor and employment law at McDonald's had her eye on the hamburger fast food restaurant chain.
"After a year or two, one of my colleagues at the firm left and went to McDonald's," says Neville. "As time went on, I had other former classmates who moved over to work in-house at McDonald's, so it was always in the back of my mind."
A decade into her career as an attorney, Neville found herself browsing the McDonald's jobs page during a sleepless night shortly after the birth of her first child. She applied for an open commercial litigator role—and she's never looked back. Today, her love for McDonald's is stronger than ever. The company's values resonate deeply with her and shine through in her legal work, as does the support that she receives from her team as she balances motherhood and her career.
When she first joined McDonald's, Neville handled a wide variety of litigation matters around the world. As she did so, she gained a strong understanding of the core values that define McDonald's as an organization. "McDonald's is a company that always strives to do the right thing," she says. "That really resonates with me because I'm always striving to do the right thing professionally, and I'm always striving to do the right thing as a mom, as a friend, and as a partner."
A driving force in McDonald's company culture, the idea of "doing the right thing" encourages employees to engage with and support one another and to give it their all when it comes to work. "We are all in it together, trying to make McDonald's the best that it can be," Neville confirms. "I've felt so appreciated in the legal department, not only for the work that I'm doing but also as a person and friend. It makes coming to work every day a total joy."
Neville felt particularly supported during her journey to parenthood, which she admits was not easy. Now, as a mother to a five-year-old and two-year-old twin daughters, she remains grateful for her team's recognition and understanding of her family life.
"I was really excited when my oldest learned to ride a bike, and I'm excited that she's starting kindergarten. I was excited when my twins took their first steps," she says. "When the people on my team ask me how my kids are doing and I share those types of things, they're genuinely interested. And that genuine interest makes such a difference in my morale as a working parent of young kids."
Indeed, those little moments motivate Neville to keep going despite life's challenges. She gains further confidence by looking to other parents working at the company. "I see so many colleagues at McDonald's who have been where I am, in the throes of raising small kids and trying to balance a full-time job," she says.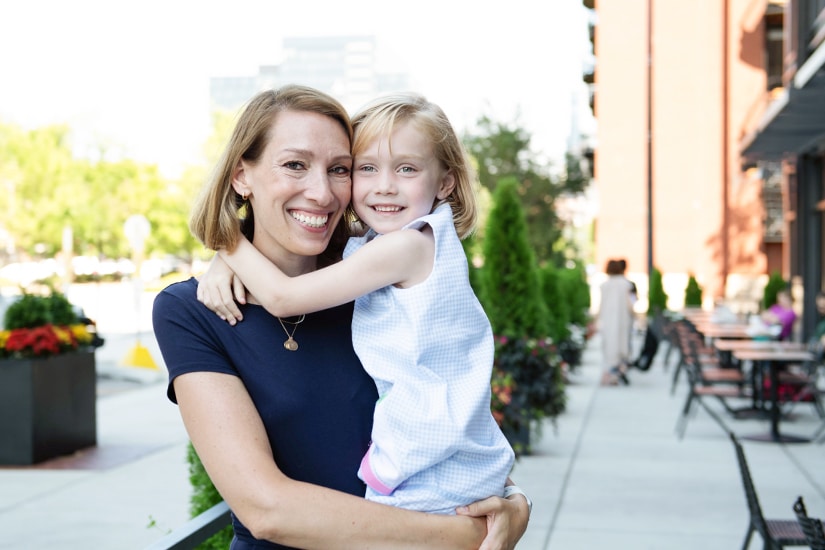 Having learned firsthand the value of surrounding herself with relatable role models, she advises young attorneys to seek out mentors based on their own goals. "When you're starting your career, look for people who are living a life that you aspire to have in ten or fifteen or twenty years," she emphasizes.
Neville also believes in remaining curious, whether about other people, new roles, or unfamiliar areas of the law. "Take advantage of interesting opportunities that present themselves to you.  Don't hesitate to throw your hat in the ring for something that falls outside your comfort zone or area of expertise. You never know where it might lead," she adds.
That very mindset pushed Neville toward the global labor and employment team, where she has sat since July 2021. Although her current role marks her first time operating in a traditional labor setting and offering counsel at preliminary stages of the corporate decision-making process, she is leveraging her extensive litigation experience in her quest to become a trusted partner to the McDonald's human resources team.
Beyond satisfying her intellectual curiosity, Neville chose to step into her current role to get more involved in McDonald's diversity, equity, and inclusion (DEI) efforts. "As a mom of three young girls, I'm even more appreciative of those efforts," she says. "I'm really grateful that McDonald's has given me the opportunity to take on this new role because I get to dig into some of our DEI initiatives from a legal perspective, educate myself through the work that I'm doing, and then take those learnings home to educate my daughters."
By helping make McDonald's as inclusive as it can be, Neville knows that she is continuing to embrace and foster the values that make the company such a special place to work. "I feel so lucky to have the job that I do," she says. "I love working at McDonald's so much, and I'm looking forward to continuing to promote our values in my new role to ensure that everyone else here feels the same way."
***
Kramon & Graham, P.A:
"Maura is a smart, dedicated, and hardworking attorney with great judgment. We at Kramon & Graham particularly appreciate her good nature and her commitment to creating a more diverse and inclusive work culture."
–James P. Ulwick, Principal
***
Freeborn & Peters LLP:
"Maura understands litigation, has a strong analytic mind, is incredibly dedicated, and knows how to get efficient, excellent results. Most of all, she's such a delight that working with Maura doesn't feel like 'work.'"
–David J. Doyle, Partner