Like many people around the world, Mark Pasko of QBE North America found his schedule upended in 2020. While his work as chief legal officer for the global insurance leader certainly kept him busy, the COVID-19 pandemic meant he would be working from home, thus eliminating his ninety-minute commute to the company's New York office every day, as well as business travel and trips with his family. Most of the extra hours went back into his work. And some of them went into catching up on reading.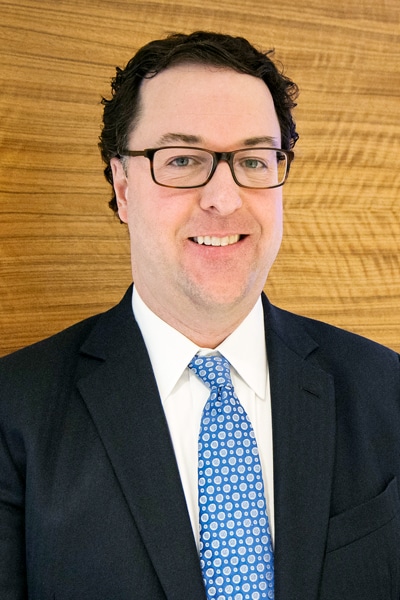 "I had stacks of books that had been piling up for years—most of them about ancient history," Pasko says. Of the twenty-odd historical texts he read in 2020, he cites the Anabasis as his favorite. Penned by the soldier/philosopher Xenophon of Athens in 370 BC, its seven volumes chronicle Cyrus the Younger's attempt to wrest the Persian throne from his brother Artaxerxes II.
"Cyrus didn't have an army, so he hired ten thousand Greek mercenary soldiers from the various city states," Pasko explains. "Then he died in the first battle. The Greeks were winning but they had lost their leader. So, the book is about how they got out, which took them about two years as they fought their way through modern Syria, Iraq, and Turkey until they hit the Black Sea. Imagine being a thousand miles from home. They had no food, no water. Despite overwhelming odds, these soldiers managed to overcome and fight their way out."
Although Pasko notes that the current pandemic is a bit different than the Greek army's plight ("We don't have it quite as bad as Xenophon," he says with a laugh), he also recognizes that, in a challenging year for himself and his legal team at QBE, the Anabasis holds relevant lessons in how to persevere.
"What was striking about the story was the importance of teamwork, communication, and technical expertise," he says. "These were excellent soldiers who showed great leadership, resiliency, and poise in the pocket."
"I thrive in those high-leverage, difficult, stressful situations because that's when we can be our most impactful."
Pasko sees similar strengths in his own team, and the onset of COVID meant making strategic adjustments so everyone could still thrive in the new remote environment. The first goal was maintaining connectivity. Normally, he holds meetings with his leadership team every few weeks and individual meetings with his direct reports every week. During the pandemic, he increased the frequency of meetings with his department and held individual meetings with most of his team.
"A lot of people will say, 'I'm doing fine, I'm doing fine' when that isn't always the case," Pasko says. "I wanted to make sure my managers and I were confirming what the reality was. So, I connected with my leaders on how they were personally doing and how their teams were doing."
Pasko also held recurring town halls with his entire team. "The content of our town halls is targeted, calibrated toward what our employees want," he says. "I wanted to make sure the meetings weren't just me talking at them but actually responding to their questions. They shaped the format and content. I think everyone really appreciated that."
Pasko says that another vital component to the overall health and efficiency of his team is maintaining traditions in the company culture—with necessary adjustments, of course. The most prominent example of this is an annual off-site team summit, usually held at QBE's location in Sun Prairie, Wisconsin. Employees always look forward to the event, which consists of team-building exercises, team dinners, and presentations from both in-house and outside counsel where team members can earn legal education credits. But when COVID hit, the leadership at QBE wasn't sure if they should have the event at all.
"I was a big believer in keeping the team summit," Pasko says, pointing out the importance of maintaining continuity. QBE ended up moving forward with the event in a virtual format, with the team receiving presentations from members of the executive committee, fellow colleagues in their department, and presentations from outside counsel that enabled the attorneys to earn legal education credits. There were even some advantages to holding the event remotely, such as easily being able to accommodate everyone's schedule and saving on travel expenses for flights and hotels.
"I want my managers to understand that some colleagues might need a little assistance. And that's okay. It is absolutely okay to raise your hand and say, 'I have a question' or 'I need help with this.'"
Pasko also acknowledges that, for every tradition that's been kept in place during COVID, it's also important to balance it with flexibility. That's especially true when it comes to the mental well-being of QBE's employees.
"For some members of my team, they can have ten things on their plate, and if you give them that additional two or three, they can handle it," Pasko says. "But that is difficult for other members of my team who have extra responsibilities as a result of COVID, such as caring for elderly family members or homeschooling their children. That's where it goes back to connectivity and communication. I want my managers to understand the needs of our colleagues. It is absolutely okay to raise your hand and say, 'I have a question' or 'I need help with this.' I don't want to ask everyone to do the same amount of additional work and expect the same results from everyone. That's unrealistic."
For Pasko's part, keeping a personal routine has helped him stay focused and efficient during the pandemic, whether it's reading about ancient history or running (he completed his fiftieth half-marathon last November). Having a good leader to look up to himself helps too.
"Our CEO, Todd Jones, has been terrific," Pasko says. "He's been a very calm, steadying influence throughout the year—compassionate, honest, knowledgeable, and authentic. I hope I have those same communication styles."
As Xenophon of Athens might have attested, it's often the most challenging times that put these skills—strong communication, adaptability, and empathy—to the test. In fact, Pasko remembers stressing exactly that idea when he interviewed for the chief legal officer position back in 2019.
"I wanted to be CLO when things were tough," he says. "I think I thrive in those high-leverage, difficult, stressful situations because that's when we can be our most impactful." He may not have realized at the time just how soon he'd have to lead during tough times—but despite the challenges of the pandemic, he's still managing to thrive.
***
Dentons US LLP:
"Mark Pasko is a mission-focused, thoughtful, and forward-looking leader.  His exemplary service to QBE North America and commitment to the greater good make Mark one of the finest CLOs in the insurance industry today." 
—Jack Vales, Partner
***
Locke Lord LLP:
"We are honored to have worked with Mark for many years on transactional, regulatory and compliance, and litigation matters, and admire his knowledge, tenacity and great disposition."
–Alan Levin, Partner
***
Norton Rose Fulbright:
"Mark is an effective leader who inspires his team and gets results. It has been a delight working with Mark, who has such deep insurance industry expertise, and the QBE team on interesting and challenging transactions."
– Scarlet McNellie, Head of Corporate, M&A and Securities, US