Most college students look for internships in finance, tech, or politics, but when Manav Kumar was a Harvard undergrad, he did something entirely different. Rather than taking a traditional internship, he headed to the disputed region of Kashmir—one of the most volatile parts of the world—to track down legal human rights and aid organizations where he could volunteer. The son of Indian immigrants, Kumar had grown up in Milwaukee, but had always felt a connection to the region and wanted to do something meaningful there.
Kumar arrived in Kashmir, which remained mired in an armed insurgency, without a place to stay and little more than a few names and email addresses. Over the course of four consecutive summers during his time as a political science major at Harvard, he became part of an international cohort of human rights lawyers and advocates working in the region. His work and advocacy, particularly the painstaking and dangerous job of documenting abuses in the inaccessible region, was with the purpose of ultimately influencing policy-making in New Delhi, Geneva, and Washington, DC.
As Kumar's involvement in Kashmir grew, so did his admiration for the dedicated lawyers with whom he was working. "To see firsthand the work and leadership of these lawyers, in the face of great personal risk, was my first exposure to the power of law, advocacy, and a vibrant civil society. They were my earliest professional role models, and it was difficult to imagine a higher calling," he recalls.
The experience altered the professional trajectory of Kumar's life. After writing his academic thesis on the origins and aspirations of the Kashmiri separatist movement and graduating from Harvard, Kumar enrolled at Yale Law School in 2006. There, the value of public service continued to be impressed upon him.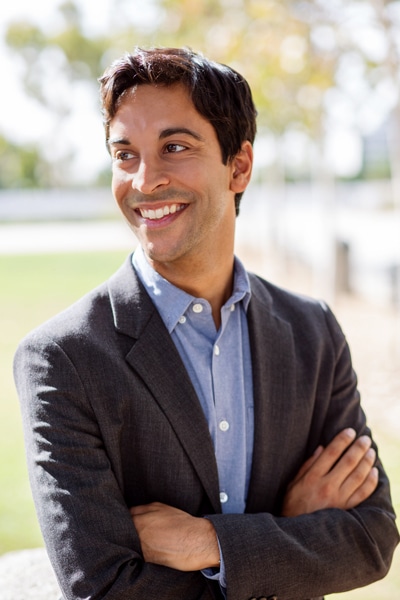 "The culture at my law school emphasized being mindful of our place in the world, the necessary guardrails to power and influence, and our responsibility to the community around us," Kumar says. "The basic framework has influenced every career decision I've made since." Yale sends fewer graduates to private practice than its counterparts: 44 percent of alumni pursue careers in the public interest.
As Kumar entered his third year of law school, his interest in public service and international work remained strong. A series of cold calls to congressional offices led to a connection with a senior member of Senator John Kerry's foreign policy team. Kumar left New Haven in the middle of final exams to interview for a volunteer role on the transition team for the Senate Foreign Relations Committee.
Taking his exams and classes remotely, he talked a high school friend into letting him crash in the friend's basement in Washington, DC. Soon, Kumar had his first US Senate ID card and was exploring the hallowed halls of the Capitol. He later took another role in another Senate office working as a special advisor for foreign affairs and defense.
After his time on Capitol Hill, Kumar spent time in private practice at both a major international law firm and a smaller boutique firm, served as a law clerk on the United States Court of Appeals for the Ninth Circuit, and accepted a position as deputy counsel to Los Angeles Mayor Eric Garcetti. At one point Kumar held five different positions in five years—roles that spanned local government, federal government, private practice, and the judiciary. This exploratory phase helped the young lawyer discover how to marry his passions to his profession.
"Having a series of short stops in different professional worlds early in my career allowed me to have a broader perspective of how I could maximize the impact of my skills and legal training in a meaningful way," he says. "Ultimately, success in my government work required navigating the private sector, and my corporate work has felt more political than anything I experienced in politics." 
In 2017, with his work on Los Angeles' bid to host the Olympic and Paralympic Games coming to an end, Kumar started to think about a professional home where he could marry his interest in large transformational projects with his commitment to cities and the public interest. He started to look at the infrastructure industry, which quickly led him to the largest publicly traded corporation in the city of Los Angeles: AECOM.
"Having a series of short stops in different professional worlds early in my career allowed me to have a broader perspective of how I could maximize the impact of my skills and legal training in a meaningful way."
With $13 billion in annual revenue and approximately sixty-thousand employees, AECOM is one of the world's largest engineering and infrastructure consulting firms. Each year, the company delivers professional services to private and public sector clients, solving challenges related to transportation, water, energy, buildings, and the environment.
Kumar initially joined AECOM in a nonlegal capacity, as chief of staff to the chairman and CEO. "The concept was to replicate the well-understood role of a political chief of staff into the context of a major corporation, as the challenges and imperatives of leadership are similar across the public and private sector," he explains.
In 2019, after a leadership transition at AECOM, Kumar moved into his current legal role. Today, he serves as senior vice president and deputy general counsel, while also serving as corporate secretary and leading the company's public affairs functions, including government relations and communications.
Whenever Kumar commutes to his office in Los Angeles or travels the world for work, he takes pride in passing the bridges, airports, transit lines, stadiums and arenas, and communities that AECOM helps shape. "I get to use my legal training and prior experiences across the public and nonprofit sectors to help steer a global company that touches the built environment in over a hundred countries and is committed to making the world a better place," he says.
In addition to his leadership of AECOM's legal function, he has played a key role in major transformations in the company's recent history, which included the spin-off and ultimate sale of its government services division and its $4 billion in annual revenue and 19,000 employees. Kumar coled that year-long process, as well as a set of subsequent transactions to divest a series of construction-related businesses and complete AECOM's strategic shift into a professional services firm. At the same time, Kumar played an integral role as AECOM navigated public issues with shareholder activism and completed a transition of its leadership and board of directors.
Colleague Jake Kling, corporate partner at Wachtell, Lipton, Rosen & Katz, believes there's a good reason that Kumar has accomplished so much. "Manav is incredibly smart and savvy," Kling says. "An exceptional leader, he's overseen AECOM's most complex carve-out transactions, never losing sight of the bigger strategic picture. We're fortunate to call Manav a client and a friend."
It has been a little over a decade since Kumar left Yale for Capitol Hill, and he's accomplished a lot since then. For those who'd like to follow in his footsteps, he advises that they should appreciate the unpredictable events and stops in their professional trajectory, as those detours bring a diversity of experience that will open doors down the road.
Most importantly, he encourages others to think about the themes that have made a difference in his own career. "Civic responsibility, impact, and community," he says. "You would be surprised at the wide range of professional homes where you can meaningfully realize those values."
Bringing the Olympics to Los Angeles
In 2013, Los Angeles Mayor Eric Garcetti asked Manav Kumar to assist on the city's bid for the 2024 Summer Olympic and Paralympic Games. Initially, they were unsuccessful: the United States Olympic Committee chose Boston as the candidate city to represent the country. But in July 2015, Boston withdrew, which meant that Kumar and a small group of colleagues had just weeks to refresh and resubmit their bid for LA to host the 2024 games.
To do so, they stood up an effort to quickly negotiate and secure the necessary legal and political commitments from private venues, local and state authorities, and the federal government. As Los Angeles made progress, major cities including Rome and Budapest withdrew, while Paris remained a strong competitor. The team soon realized the 2028 games might provide greater opportunity for Los Angeles.
"The mayor wanted the children and communities of Los Angeles to see the legacy of the games immediately, and not wait years to reap the benefits of hosting the event," Kumar says. The team negotiated an unprecedented deal that would bring IOC funding to fund youth sports programs over a decade before the games. In July of 2017, the IOC made a surprise announcement and awarded the Summer Games to two cities—Paris in 2024 and Los Angeles in 2028.