It's never too late in life to make a career change. Just ask Lynda Guild Simpson, vice president and assistant general counsel of litigation and investigations at the Boeing Company.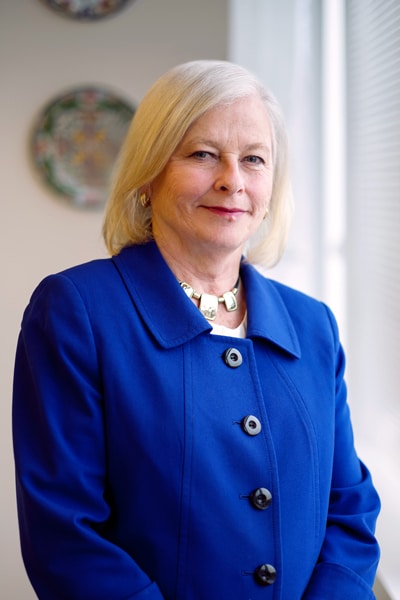 On paper, the first half of Simpson's career is one defined by diversity in experience. After graduating from the University of Chicago Law School, she worked at a law firm in New York and had a clerkship on the United States Court of Appeals for the Second Circuit, before landing another with Justice Lewis F. Powell at the United States Supreme Court.
While clerking for the justice, she met Mike Luttig, who later became a judge on the United States Court of Appeals for the Fourth Circuit and, at the time, was clerking for Chief Justice Warren Burger. He subsequently hired her to be his deputy at the Office of Legal Counsel in the US Department of Justice. As much as she loved her work at the OLC, she took a hiatus in 1990 to focus on raising her children alongside her husband, also a high-powered DC lawyer. The break turned out to be a bit longer than expected—seventeen years, to be exact.
"I refer to it as my 'Long Summer,'" Simpson says with a laugh.
By the time 2007 rolled around, she and her husband were empty nesters. Their youngest daughter had gone off to college, and they had just planned a wedding for their oldest. While Simpson had worked part-time from home over the years for her husband's firm, she found herself pondering her next career move now that she had more free time. She knew she wanted something new; she just didn't know what it was.
Meanwhile, Judge Luttig was experiencing his own career transition. In 2006, he resigned from the Fourth Circuit and joined Boeing as executive vice president and general counsel for the aerospace giant. And in 2007, he called Simpson in an effort to expand his legal team, just one day after she and her husband had their "what's next" conversation.
"It really was a crossroads for me," Simpson remembers. "And Judge Luttig called me at the right psychological moment: 'I'm at Boeing now. I need you to come help me.' I hadn't ever thought about working in-house. But I decided to give it a try." She then joined Boeing in its DC office.
The uniqueness of Simpson's career trajectory isn't lost on her—or the legal world at large, for that matter. In a study on Supreme Court clerks conducted by the National Law Journal from 2005 to 2017, most former SCOTUS clerks ultimately ended up in private practice rather than at corporations. Judge Luttig has been noted for his ability to funnel his talented former colleagues in-house to Boeing—a company (and position) they might not otherwise have considered.
His instincts about Simpson proved to be correct. She's now been at Boeing for fourteen years, although it didn't take her nearly that long to realize what a good fit the company was. Far from it.
"As soon as I got there, I absolutely loved it," she says. "I said to my husband after only being here for about two weeks that this is probably where I should have been my whole career. I found that I really preferred the in-house role."
In fact, Simpson loved being in-house so much that she coined a term for it and how her role connects to the overall philosophy and ambitions of Boeing: shared enterprise.
"When you're at a firm, you're working on your case or with this lawyer or that lawyer and with a client that you want to do your best for," she explains. "But once that case is over, you go on and do something else. When you're in-house, you pretty quickly figure out what the company's priorities are as a whole as well as those of your individual clients within the company. You realize everybody's working toward the same goal. I just love that. I love the feeling that we're each doing our little part, but we're all pulling together for that same goal. I find it really rewarding."
In other words, the idea of shared enterprise views a company as a constellation, a honeycomb, a coral reef.
"When you're in-house, you pretty quickly figure out what the company's priorities are as a whole as well as those of your individual clients within the company. You realize everybody's working toward the same goal. I just love that."
Obviously, a huge part of that ecosystem is Simpson's team, which comprises sixteen attorneys—relatively small for a multinational corporation as large as Boeing. As such, the legal department relies heavily on outside counsel.
"The best relationship with outside counsel happens when you can find that right team of lawyers," Simpson says. "And it is a team of lawyers. It's not an entire firm. I should also say that we have really high standards when we're determining strategy for a case and in our written work. We review—very closely—every piece of work we submit to the court. That means lots of redlining. Lawyers don't always take well to having their work edited, but our best teams of outside counsel know our standards and how involved we are, and as we work together, we make each other better."
Given the scope of Boeing's work, the organization works with numerous lawyers at numerous firms depending on the legal matter at hand, including Wiley Rein, Perkins Coie, Kirkland & Ellis, and McGuireWoods.
The concept of shared enterprise became more important than ever in 2020, when Boeing had to contend with the COVID-19 pandemic. Simpson fondly remembers going to work every day at Boeing's DC office, where a significant number of the company's law department was based. This created a close-knit atmosphere that was abruptly taken away on March 15.
"Suddenly, you're stuck at your kitchen table," she says. "Even though you're talking to people, you're just not having that personal interchange. And your tendency is to keep answering emails whenever they come in, at night or on the weekends. You have to assert a little discipline on that. It can all be very isolating."
Fortunately, the legal team has persevered by remaining flexible, being patient with one another, and recognizing the effectiveness of simple gestures, such as making those periodic check-in phone calls that have nothing to do with work. Regardless of space, pandemics, and physical limitations, shared enterprise—and Simpson's role within it—continues.
---
Kirkland & Ellis:
"Lynda is a brilliant lawyer, strategic thinker, and gifted writer. She is also a wonderful person and a pleasure to work with. In her cheerful way, she has delivered victory after victory for Boeing."
­–Craig Primis, Partner
***
McGuireWoods:
"McGuireWoods shares the Boeing Company's commitment to excellence and innovation and values our partnership. Lynda Simpson's knowledge and leadership are unsurpassed, and I look forward to our continued relationship with her and Boeing's world-class legal department."
—Benjamin L. Hatch, Partner
***
Perkins Coie:
"We at Perkins Coie salute Lynda Simpson for her stellar track record of success over many years and across a wide variety of challenging legal matters."
—Steve Koh, Partner