Hiro Oshima didn't know it at the time, but his childhood experiences were priming him for a decades-long stint as a legal leader at a major financial corporation.
As the son of a diplomat, Oshima grew up moving back and forth between Japan and the United States. He eventually settled in the US, attending Carleton College in Minnesota and New York University School of Law.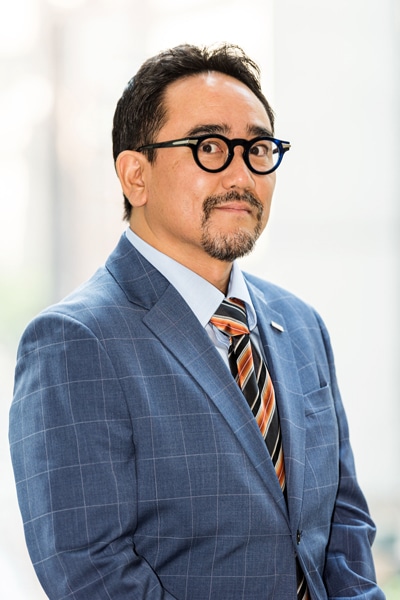 "I consider myself to be truly native to both places," Oshima says. "Whether Japanese or English is more accessible to me changes from time to time."
Today, that cultural flexibility serves him well in his position as managing director, general manager, head of the legal department, and deputy US general counsel at Sumitomo Mitsui Banking Corporation and SMBC Group (SMBC), a multinational Japanese financial services institution that continues to grow its presence in the Americas.
Oshima came to SMBC nearly twenty years ago, when the organization needed someone to bridge the cultural gap between its lawyers—who, at the time, were all American—and its Japanese bankers. Prior to his arrival, Oshima says, business meetings were confounding affairs where neither side felt certain that the other fully understood its concerns.
"When I was hired, the two different sides (legal and business) thought they both had me as their fly on the wall, their mole on the other side," Oshima remembers with a laugh. "I wasn't quite sure if they knew that the other was saying the exact same thing to me, but that's how I ended up here. My role is to be the problem-solver—to get everyone to understand where the other side is coming from and to establish a network of trust so that people can admit to their faults and failures, learn from them, and move on. Companies can't survive on perfectionism."
As Oshima explains, the differences between Japanese and American work cultures are nuanced and complex. The most prominent is that in the US, the individual takes precedence, whereas in Japan, it's more about the company as a whole. Neither outlook is inherently better or worse, he says, and both have their advantages and disadvantages.
At SMBC specifically, there's also a strong emphasis on the long-term view, which likely comes from the organization's age and history. The Sumitomo family business traces its roots to 1590, and SMBC employees see the impact of that longevity every day. Oshima recalls a time when an elderly widow called him and said that her husband had been a client of a Sumitomo Bank in Hawaii prior to World War II. He had recently died, and she wanted to see what had happened to his account.
"Companies can't survive on perfectionism."
"I reached out to my colleagues in Tokyo, and against all odds, they knew where it was," Oshima says. "The account at the Hawaii branch in the early 1940s was transferred immediately upon the breakout of war to a Hiroshima branch. Obviously, that branch was severely affected by the events at the end of the war, but the accounts had been transferred on paper to yet another branch. The records of that account kept getting transferred around, but we were able to find it seventy years later. I don't think any other institution in the world would have been able to track that money down."
Over the past ten years, Oshima has worked to preserve this legacy—while also making the necessary changes for the future—by building out the legal team, one employee at a time. When he first started at SMBC, he was the company's first Japanese-speaking attorney in the US, and the legal team comprised only seven people. Today, the team is thirty people strong, with 20 percent of its hires brought on board between November 2020 and January 2021.
"My intention has always been to surround myself with people who are far more qualified and smarter than me," Oshima says. "The tremendous growth we've achieved can't be done without hiring from outside." He describes the ideal candidate as someone who not only possesses the raw legal abilities essential to an organization as large and complex as SMBC but also understands the unique cultural space in which the company operates, especially as it continues to expand its international footprint.
"We need the fresh ideas that are being brought in to stimulate growth and change," Oshima says. "But we need to do that while keeping the soul of SMBC—while not losing track of what makes us unique and good. There's a lot of talent out there that won't fit."
Of course, Oshima acknowledges, SMBC's identity will likely change in the future. As the world slowly makes its way out of the COVID-19 pandemic and the economic turmoil that has come with it, he predicts that the organization will reach a cultural crossroads—a time when it can truly claim its identity as a global institution.
"Ten or twenty years from now," Oshima says, "I want to look back and say that we evolved through this period while still keeping our heart."
---
Paul Hastings:
"Hiro is smart, hard-working, and thoughtful, with deep legal experience and unparalleled knowledge of SMBC and its business. We always look forward to working with Hiro."
–Michael Spafford and Eric Schwitzer, Partners