As the eldest of four children, Karen Turner McWilliams got used to leading the way long before she became a teacher. Although McWilliams likes to think of her younger siblings as her first students, she wasn't the only educator in the house.
"My mother was a Sunday school teacher for many years," McWilliams explains. "So I had an example of a teacher at home."
Between that example and her own aptitude for both learning and teaching, McWilliams was a natural in the classroom. These days, however, she applies her skills in a different setting. She serves as deputy general counsel, senior vice president of legal, and chief HIPAA and EEO/AAP compliance officer at SAIC, a technology company whose clients include agencies of the US federal government. She may have come a long way since her time as a teacher, but McWilliams still bears in mind the leadership lessons that she learned back then as she carries out her current duties.
After graduating with a BS in early childhood education, McWilliams started teaching kindergarten in Charlottesville, Virginia. "I found that young minds are like a sponge, in that they're very naïve and eager to learn," she says of the yearlong experience. "Children aren't jaded and they don't know what they can't do, so you're able to shape and mold them."
As much as she enjoyed her work at the school, McWilliams had been considering a legal career since she was in college. Over the course of her year as a teacher, she studied for the LSAT and got accepted to law school.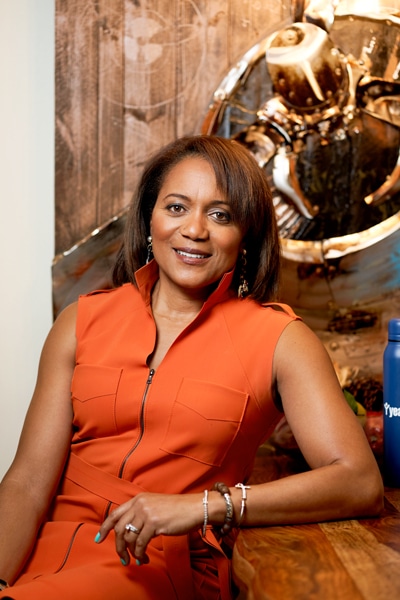 Upon completing her JD, McWilliams honed her legal expertise through roles at the US General Accounting Office (now the Government Accountability Office), the Arlington County Office of Human Rights, and the Superior Court of the District of Columbia. She went on to make partner at global law firm DLA Piper before going in-house at one of the firm's clients, financial services company E*Trade.
In 2017, McWilliams left E*Trade to join SAIC as vice president of legal. Today, she manages a lean team composed of four attorneys, one compliance professional, and one paralegal. In addition, she counsels the company's human resources (HR) and employee relations teams on employment and labor issues ranging from hiring and promotions to acquisitions-related due diligence.
"Karen has a laser-point focus on how labor and employment issues impact SAIC as a business," says Ashley Cuttino, a shareholder with Ogletree Deakins. "Karen is both dynamic and innovative in her approach to L&E issues. At the same time, Karen is a collaborator and works tirelessly with both the SAIC legal team and its business units to achieve effective and efficient results. It is this combination that makes Karen and her style of leadership so impressive."
Rather than giving a simple "yes" or "no" answer, McWilliams explains the legal principles underlying her advice when a colleague from HR or another department contacts her. "I like to work in a collaborative fashion and educate them about why we're making a certain decision. That way, the next time that they come across a similar situation, they have the tools to understand it," she says.
Beyond capitalizing on teachable moments, McWilliams brings an educator's perspective to her managerial duties. Her leadership style involves treating others the way that she wants to be treated, minding her manners, and allowing her team members to feel heard—all concepts borrowed from the classroom.
"You have to be approachable to problem-solve and help the company achieve its goals. I don't want people to think of the legal department as the school principal's office."
McWilliams also prioritizes clear communication. She makes sure to schedule time to touch base with her entire team as well as individual direct reports. "We have regular team meetings where we talk about the projects that we're working on and some of the challenges that we're facing," she elaborates. "And I have an unofficial policy that if we've traded three emails or other forms of written communication about something, someone needs to pick up the phone or jump on a Zoom call so that we can have a more collaborative conversation."
McWilliams places the same emphasis on communication and collaboration when interacting with parties outside the legal department. "You have to be approachable to problem-solve and help the company achieve its goals," she says. "I don't want people to think of the legal department as the school principal's office."
To encourage business colleagues to keep the legal department in the loop, McWilliams participates in community service and other extracurricular activities through SAIC to build relationships with employees across the company. Those colleagues then feel more comfortable asking her for legal advice—and doing so at the earliest stage possible—in the future.
On top of her role as a legal leader, McWilliams contributes to SAIC as GC and corporate secretary of the company's charitable foundation, which she helped found in 2020 in the wake of the COVID-19 pandemic. "We didn't have a company-sanctioned method for employees to donate to colleagues experiencing financial hardship," she says. "Establishing the foundation to collect money—and having the company match employee donations—is something that I'm very proud of."
McWilliams plans to remain involved in SAIC's charitable endeavors moving forward and to keep bonding with colleagues in the process. With stronger ties come stronger collaborations—a lesson that McWilliams has learned well, and one that she will no doubt continue to impart to others.
***
Expertise Spotlight
In response to the COVID-19 pandemic, Ashley Cuttino leads Ogletree Deakins' nationwide unemployment response team. In this role, Cuttino tracks unemployment changes nationwide and provides counsel to clients on related issues. Cuttino is also the cochair of the Ogletree COVID-19 litigation practice group. COVID-19 litigation involves all areas of employment law as well as personal injury claims. Cuttino has been able to utilize her substantial past litigation experience, which includes employment litigation, personal injury litigation, and complex toxic tort defense, in this role.
Outside COVID-19, Cuttino concentrates her practice in management-side employment litigation, including defending against wage and hour, discrimination, wrongful discharge, and breach of contract claims. Cuttino's specialty is complex litigation, class actions, and multiplaintiff litigation.
Cuttino is actively involved in raising the profiles of women in her own firm and in her local community. Cuttino is the former chair of the Ogletree Deakins Women's Initiative (ODWIN) and remains on the steering committee. In addition, Cuttino is president of the board of directors of the South Carolina Women Lawyers Association.