You may not have heard of dentsu international (at least not yet). Originally founded in Japan, the massive network of marketing, advertising, and public relations agencies is behind some of the biggest media campaigns in history. The company works with eighty-five of the world's top one hundred advertisers and has more than eleven thousand clients in nearly 150 markets. Despite those numbers, dentsu is pursuing continued growth in a competitive environment—and turning to veteran legal leaders like General Counsel of the Americas Kamla Alexander to reach its lofty goals.
Alexander joined dentsu international in 2021 to scale the department in response to overall organizational growth. She coordinates ethics and compliance, mergers and acquisitions, privacy, employment, litigation, commercial contracts, and all other legal matters in the United States, Canada, and Latin America. It's a big job that requires both a robust team and strong leadership. And although Alexander is up for the challenge, the ongoing COVID-19 pandemic adds new obstacles to an already demanding role. Alexander leads a team of forty-seven people and has yet to meet most of them face-to-face.
Stepping into an important leadership position with a massive global company during the height of the pandemic is a difficult task, but Alexander prefers to focus on the many associated benefits of doing so. "COVID has been hard, but it's also uncovered new opportunities, and leaders who focus on those things will take their teams far," she says. Alexander herself is a good example of such a leader. The fifteen-year veteran of Coca-Cola Company accepted the position at dentsu without relocating from Atlanta, even though most of her colleagues in the United States work in New York and Maryland.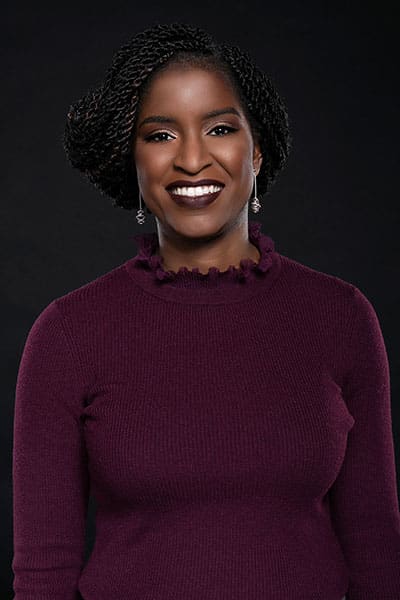 New and emerging technologies have helped Alexander get to know the team she leads. For instance, when she started, she set up one-on-one video calls with everyone from the newest analyst to her deputy general counsel. "I wanted to hear each person's story and make sure they know that they matter to me," she says. "If you don't hear their stories, you're going to make wrong decisions as a leader because you'll be relying on assumptions."
The information Alexander received helped her decide how to move forward in dentsu's hybrid return-to-work model. The team also enjoys optional digital meetings, more formal online presentations with guest speakers, and scheduled biweekly watercooler social times. Alexander is also always available during her biweekly "spill the tea" office hours.
Alexander has realized that many employees need more time than ever to unwind and find enjoyment in their day-to-day. "It's easy to burn out in the remote and COVID environment," she says. "We need to build in time where people can be themselves without always thinking about the important work we're doing."
While Alexander pushes her team to produce great work product, she also makes sure they have time to laugh together. She has added some special events to break up their workdays, including a Halloween costume party.
With strong relationships and a foundation of trust in place, Alexander has turned her attention to what the team can accomplish together. They keep dentsu operating in a compliant manner and serve as strategic advisors. Dentsu's business and legal teams have also partnered to take the organization from 160 brands to 6 global flagship brands by the end of 2022. The move allows dentsu to focus on deep, holistic capability in three areas of service (media, creative, and customer experience management) while providing efficient, data-driven solutions.
Alexander studied law at Duke University and started her career at a large firm in the greater Atlanta area. After nearly five years, she transitioned to an in-house role at Coca-Cola. First, Alexander worked for the bottler and enjoyed handling a variety of legal matters that came through the door, from antitrust training to college sports partnerships. During that time, Alexander also supported Coca-Cola Enterprises' efforts to merge its multibillion dollar business with the Coca-Cola Company.
Those projects put Alexander on a new path, as she learned to apply her legal training to help solve business problems. She took on several diverse roles in partnership with Coke's marketing and business teams, and in 2018, she accepted an international assignment in Canada to gain international experience with the company. For Alexander, who was born in Canada and left at age two, the experience was especially meaningful.
When she returned, Alexander took on a leadership role managing the company's global sports legal work, which included renewing its century-plus sponsorship of the Olympic Games. She also began leading the US team, formed to create the framework to comply with the impending California Consumer Privacy Act. Later, she took on a leadership role managing the legal team, handling the company's global bottling, supply chain, and customer agreements, which included evaluating and implementing legal technology solutions to increase operational efficiency.
Exposure to international business and global privacy laws helped prepare Alexander to lead as part of a company with headquarters in London and a board of directors in Japan. For dentsu, 2022 is an important year, as the group completes its restructure to tailor its services to its clients' needs. The company is laser focused on creating value for all stakeholders, and Alexander has taken the time to build the legal underpinnings that will propel the organization into the future.
***
Holland & Knight:
"Kamla's collaborative approach with outside counsel, combined with her business acumen and legal expertise, leads to the best possible results. We are honored to work with Kamla and delighted to see Modern Counsel recognize her extraordinary talents."
–Kwamina Williford, Equity Partner