Joan Aristei came to Oportun in 2014, after having been a leader in the legal teams of some of the most well-known names in financial services. Aristei spent nearly eight years at JPMorgan Chase, four more at CitiBank, and also worked at Toyota Financial Services. She describes her previous experiences as having set the ground for her to be a well-rounded corporate attorney who specializes in legal compliance, privacy, and other complex legal and business endeavors.
When she arrived at Oportun, Aristei found an organization that was transitioning from a start-up to becoming a well-established and reputable business. This would also apply to the legal team, which she explains "was a barebones legal department and I knew this would be a great opportunity for me to build a team from the bottom up." Aristei spent a handful of years as VP of regulatory legal and compliance and then chief compliance officer roles prior to ascending to her current role as the company's general counsel and chief risk officer.
"I was brought in to scale the compliance function and quickly realized that we had no regulatory legal, we had no compliance, and we had no risk management function," the GC says, laughing. "I just offered to do all three."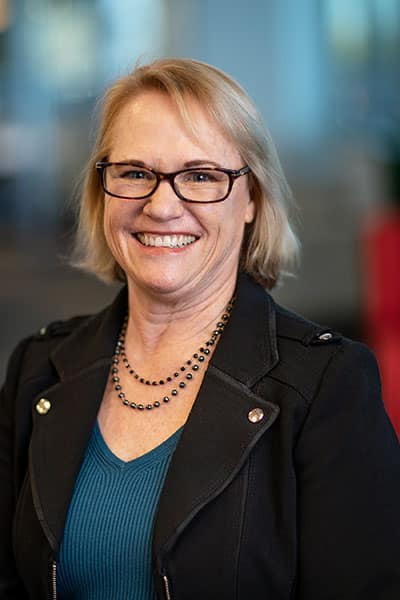 A Different Kind of Diversity Initiative
Aristei's initial legal team was a relative rarity in corporate law, let alone private practice. "It just so happened that all the leaders were women," the GC says. "It wasn't that way by design, but I do think diversity of thought and experience are very important."
As Aristei slowly grew her team, she also realized that cultural diversity was an important factor she needed to address.
"One of the things that helps drive diversity at Oportun is the fact that we originally started out almost exclusively catering to the Latinx community," the GC explains. "When I started, we had a lot of materials that were only for Spanish-speaking customers. I needed to hire bilingual lawyers immediately, and I'm proud to say that our legal team today is a reflection our broader customer base."
In a national legal landscape whose reputation still may be described in two words—White and male—Aristei's approach to diversity and inclusion was a breath of fresh air. She also accounted for an important aspect that legal leaders don't always factor in when hiring new team members—the different mind frame that exists between a law firm and an in-house attorney. As the general counsel puts it, "I spent exactly one year in a law firm before decided that tolerating the hyperaggressive and literally smoke-blowing senior attorneys yelling orders at me was no way to spend or further my career."
---
Joan Aristei strives to be a true business partner at Oportun
---
Aristei's previous experience would serve her well in building the legal team at Oportun. She recruited former colleagues from both JPMorgan Chase as well as CitiBank. And her experience at Toyota Financial, would help her hone in on what type of experience she was looking for in future team members.
"Toyota taught me that you don't just need to know the financial part of the work; you need to understand the business," the GC says. "That's one key I look for in finding good in-house counsel. You have to understand that you are here to be a good business partner and that you need to roll up your sleeves and figure out how you can do what the business needs to get done in a compliant and legal way. My team are willing partners who help the business achieve their objectives."
Recruitment, Retention, and Creating the Right Environment to Thrive
Aristei believes that direct intent is the only way to truly make progress when it comes to creating a diverse team.
"It's not just about consciously recruiting people from different backgrounds," Aristei explains. "You also need to make sure that you have created an environment where they can thrive and develop."
That means assisting with candidates' transition into a new organization, making sure that they have a means to make their voices heard, and ensuring development opportunities for them to rise in their careers.
Early in her tenure, Aristei made sure that team members were attending networking events, going to seminars, and receiving coaching from more senior attorneys, including herself. "It's much easier to create this culture from our little legal department," the GC says. Even so, the legal team undoubtedly provided the groundwork for wider business efforts on the diversity and career development fronts.
While Oportun continues its own evolution, Aristei says the pandemic has helped shine a light on the issues of so many working mothers and caregivers across the corporate world.
"For the primary caregivers of families, this was an especially difficult time being at home, when the work simply never stopped," the GC says. "I had to become very strict with my team about drawing boundaries for themselves and sticking to them. The pandemic was a very difficult time, and we all could have worked 24/7, but you have to learn to take the time you need for you. Those boundaries may shift over different periods of your life, but you have to learn to draw them."
Developing Leaders
Joan Aristei believes that "it is not enough to build a diverse corporate legal team. The real challenge lies in training and developing them to be leaders.
"The transition from a law firm to being in-house can be a difficult one. You have to lay a solid foundation so they can be more creative in their legal approach and understand that we all have one goal—to serve the business.
"There's a clear leadership path that you have to lay for members of your team, and it starts with a creative legal approach to making young lawyers understand that you are an in-house counsel and accountable to a business. Many lawyers think of their career in terms of hierarchy, and you have to teach them that working in-house is a meritocracy."